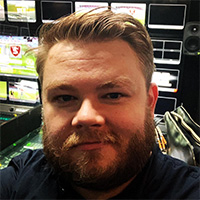 Stuart Hodge
GPFans Chief Editor Stuart Hodge is a multilingual media professional from Ayrshire in Scotland. He has been working in journalism and media for 15 years across a range of sports, topics and specialisms – whether that be as a writer or a broadcaster.

Stuart's experience is incredibly diverse, ranging from writing about technology to reading ski jumping reports for Eurosport News, from presenting at movie premieres to commentating on Madrid derbies for international TV channel DAZN.

Of course, Stuart is also a massive F1 fan and believes the Murray Walker-Martin Brundle tandem to be the best sports commentary pairing of all-time. He is also a massive Michael Schumacher fan and relished the chance to make a radio documentary for Radio France Internationale about the great man in 2012.

Stuart also works as play-by-play commentator for the Caledonia Gladiators basketball team and recently did voiceover work for a BBC documentary about the team, called 'Ballers'.

Prior to his current position, he was leading the digital content on NBA for Sky Sports in the UK, a role he executed to award-winning standard – and he still also works as a freelance writer for a vast number of different local, regional, national and international publications on a variety of topics regularly.

After graduating as Staffordshire University's Journalism Student of the Year in 2012, Stuart has worked in Paris and various locations in the UK for companies including Sky Sports, Eurosport, Norwich City FC as well as various newspaper titles in a variety of roles, covering everything from UEFA Champions League matches to the NBA Finals.

As someone passionate about technology, Stuart has worked on various projects within that field. For example, he was Content Manager on CelticLIVE – the world's first stadium matchday app for mobile – as well as consulting editorially for technology publisher BizClik Media, before co-founding a digital publishing company (now known as VWDA) as well as contributing articles for its primary digital publication Digital Bulletin and sister title Tech For Good.

Within five months of Stuart being in post at GPFans, our website tripled its audience and turned into the fastest-growing in the UK market. Next, he wants to push GPFans on to become the best possible website it can be – by continuing to grow, evolve and develop what we are doing to ensure we remain the number one site to visit for our audience!