Perez shows true character with reaction after Alonso near miss
Perez shows true character with reaction after Alonso near miss
Fernando Alonso and Sergio Perez shared a friendly hug following their closely contested battle for a podium finish at the Brazilian Grand Prix.
Alonso clinched his eighth podium finish of the 2023 season, although this outcome was uncertain until the very last moment of the race.
The podium was determined by a photo finish that showed Alonso marginally ahead of Perez after their intense on-track battle during the last lap.
With Red Bull possessing the more dominant car, Perez did overtake Alonso earlier in the race. However, Alonso's experience and skill allowed him to make a comeback and secure the podium at the last moment.
Yet despite their on-track battles, Alonso and Perez displayed respect for each other after the race, sharing a warm embrace and demonstrating their friendship beyond the racetrack.
READ MORE: The answer to F1's sprint race woes despite exciting Brazil dash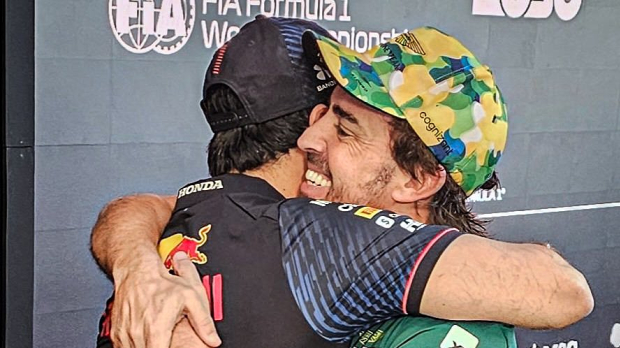 Fernando Alonso and Checo Perez post-race #BrazilGP #F1 pic.twitter.com/575sQJ7sxX

— F1 To Rule Them All (@F1RulesMedia) November 5, 2023
Perez's future
Perez's missed opportunity to secure a podium at Interlagos could have proven significant in his battle with Lewis Hamilton for second place in the drivers' championship.
The Mexican has held second position for the majority of the season, but seven-time world champion Hamilton sits 32 points behind with two races to go.
After the race, Perez expressed his disappointment in not securing a podium finish but praised the battle between himself and Alonso.
"It was quite an intense battle," Perez told media after the race. "We tried everything, unfortunately we didn't succeed on that. But it was well deserved for Fernando.
"I think we had a great fight, very fair and to the limit. I think this is something that a lot of drivers can learn from.
"What we did, the way we fought today, it's how it should be done. I'm in the wrong side, I ended up losing but it's fine because it was a great fight."
With Perez's future a hot topic in the paddock, his ambition to secure second place in the championship could play an important role in his career decisions.
However, he remains optimistic that the battle in Brazil showed how Red Bull can maintain their dominance and potentially secure the top two positions in the drivers' championship.
"We've seen in the last couple of races that the pace has been there," he added. "That we've been really strong and for some reason or another, we haven't been able to get the final end result. But I just know it's a matter of time."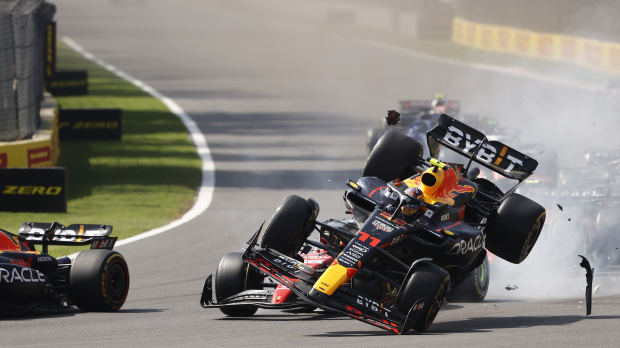 READ MORE: F1 Driver Of The Day: Podium drive earns Brit third consecutive award