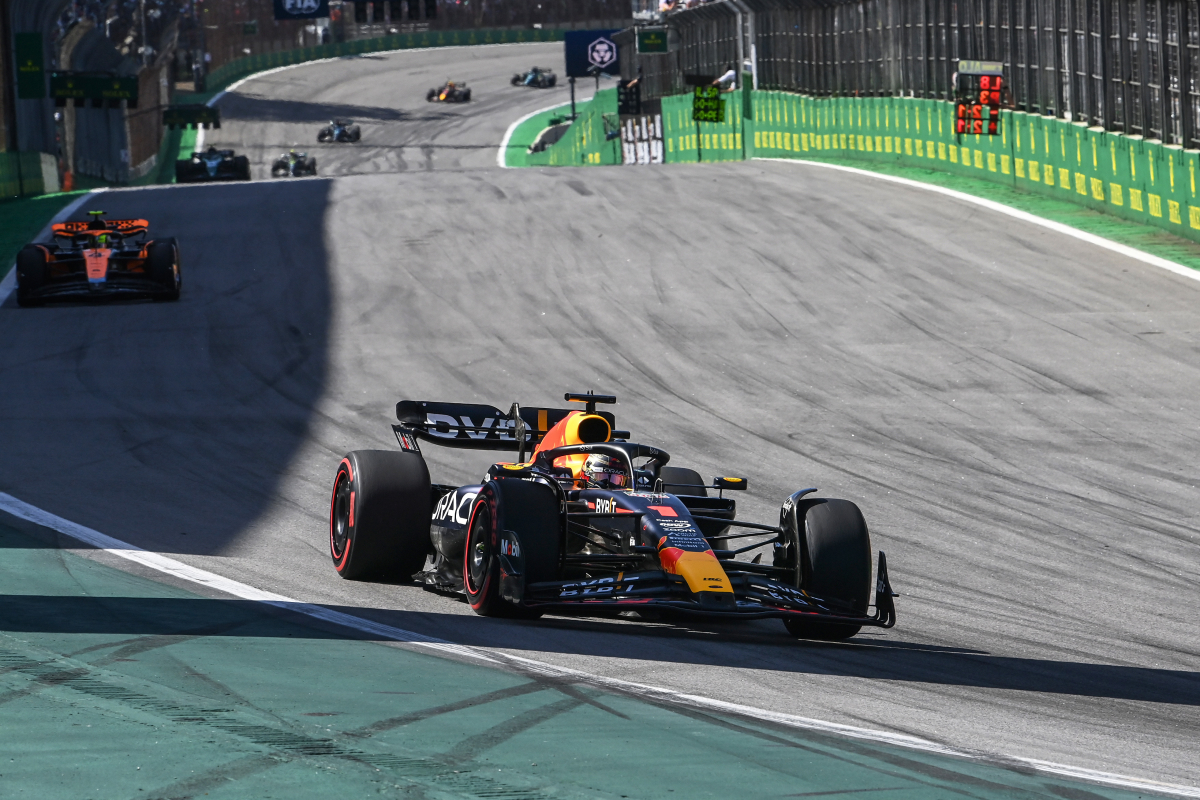 Verstappen victorious in Brazil as Mercedes endure nightmare after early chaos
Verstappen victorious in Brazil as Mercedes endure nightmare after early chaos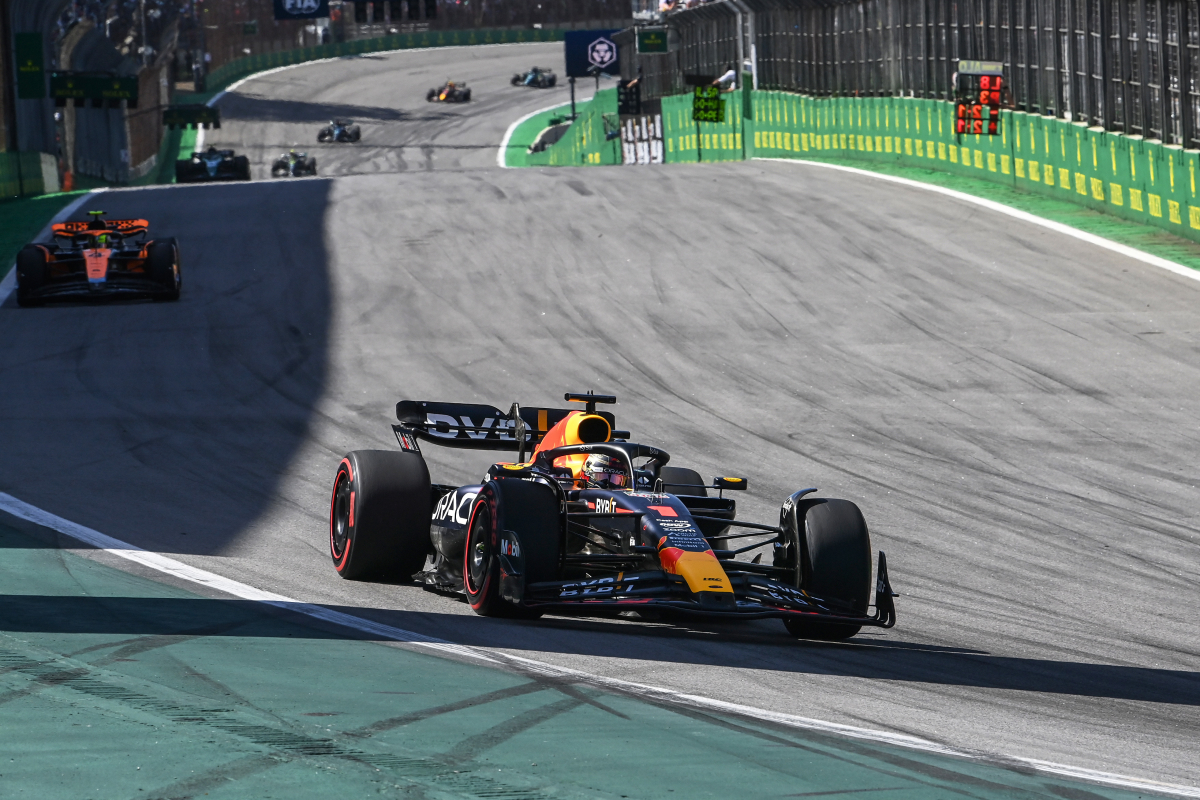 Max Verstappen cruised home to yet another victory at the Brazilian Grand Prix after surviving early drama to ease away from the challenge of Lando Norris.
Fresh from breaking his own record for the most wins in a single Formula 1 season, the world champion took his tally of victories to 17 at Interlagos.
It was far from plain sailing after a turbulent opening lap, however, with several drivers crashing out and retiring, scattering debris and bringing out the red flags.
Charles Leclerc, who had qualified in second, was the first out of the race and failed to even make the start line after spinning out during the formation lap.
READ MORE: Leclerc crashes BEFORE Brazilian Grand Prix start
With the second Ferrari on the grid missing, Verstappen was largely untroubled aside from Norris' attempted charge and expertly steered his Red Bull home.
Fernando Alonso returned to the podium for the first time since the Netherlands after fending off Sergio Perez's push and re-overtaking him on the final lap.
Behind Perez, Lance Stroll finished fifth, an impressive result for Aston Martin and their under-fire driver, while Carlos Sainz, the only Ferrari to finish, took sixth.
Pierre Gasly, Lewis Hamilton, Yuki Tsunoda and Esteban Ocon completed the top 10, with George Russell also retiring on a miserable afternoon for Mercedes.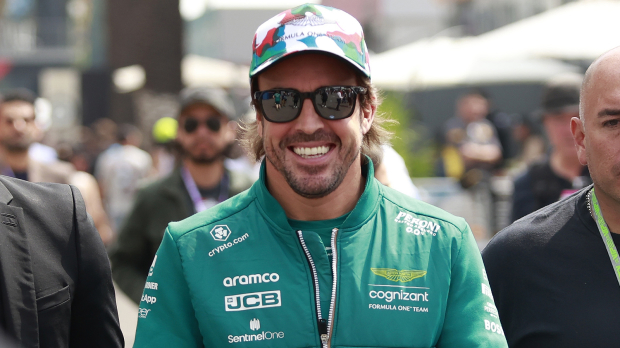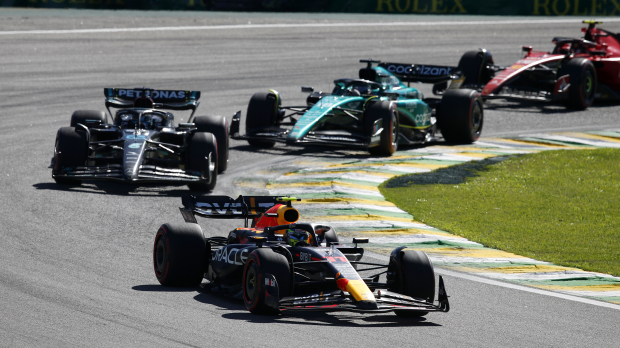 Opening lap chaos
Leclerc was left dejected before the race had even begun, having been forced into the earliest of retirements after suffering a failure and crashing.
After pulling away from second looking to pump heat into his tyres, Leclerc suddenly spun after losing his hydraulics and thumped into the wall.
"Why am I so unlucky?" he asked over team radio before returning to the garage.
Following a brief delay, Verstappen enjoyed a superb start into Turn One, with Norris bombing into space to take second ahead of Hamilton.
At the back, however, a number of incidents saw the red flags deployed.
Alex Albon made contact with Nico Hulkenberg, pushing him further into the other Haas of Kevin Magnussen, with Oscar Piastri then clipped by the latter.
Albon and Magnussen were forced out of the race, while Piastri limped back to the garage to allow McLaren's engineers to desperately look to fix the damage.
Daniel Ricciardo proved to be collateral damage, too, with a stray tyre carcass spinning into the air and clipping his rear wing. He was able to continue, however.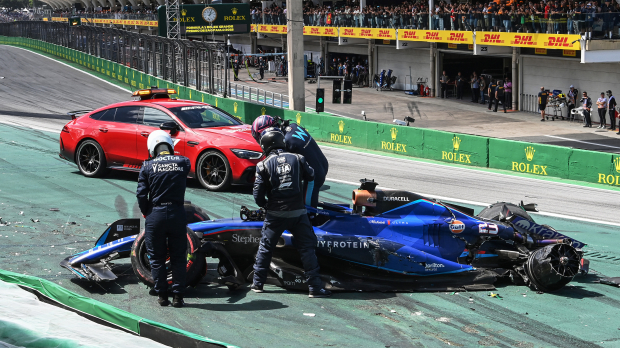 Podium scraps
From the restart, Verstappen again set the early pace, allowing him to keep Norris at bay at Turn One. Hamilton remained third but locked up in the first corner.
With the door gaping ajar, Alonso snaked his Aston Martin through the Senna S and alongside Hamilton, before he took advantage on the brakes to overtake.
At the front, Norris opened his rear wing to stay on the tail of Verstappen, who was forced to defend stoutly in both DRS zones at the start of lap eight.
For a split second, it appeared Norris was lining up an audacious overtake, only for his McLaren and his significantly degraded soft tyres to slip comfortably adrift.
In ruthless fashion, Verstappen extended his lead to over the two-second mark. As the race unfolded, the world champion's advantage continued to tick ever upward.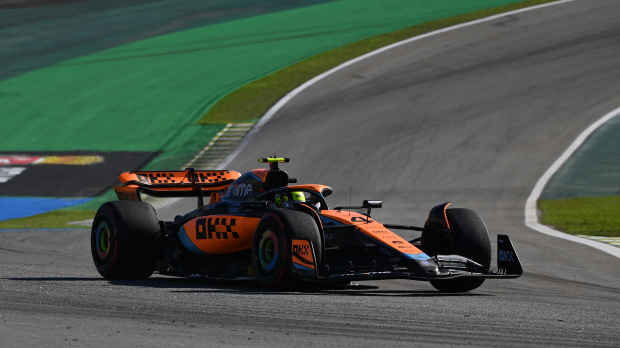 More Mercedes misery
Compounding Mercedes' frustration across the entirety of the race weekend, Russell, languishing behind Hamilton, urged his team-mate to speed up.
With the team pondering over making a change, though, Russell dropped out of DRS range of his sparring partner and promptly paid a costly price.
Perez, on his rise from ninth place, gobbled him up at Turn One, leading an exasperated Russell to ask whether Mercedes were "working as a team".
Hamilton was then dispatched by Perez, again at the first corner.
Both Mercedes drivers pitted to bolt on medium tyres, with Perez following to avoid the undercut. He emerged sandwiched between the Silver Arrows.
But in a throwback to his more daring form earlier this year, Perez completed a pass on Hamilton and moved up into P7, the podium spots firmly in his sights.
With the Mercedes pairing stuttering along on their mediums, Sainz, the lone Ferrari, found them easy pickings and passed both in quick succession to take P6.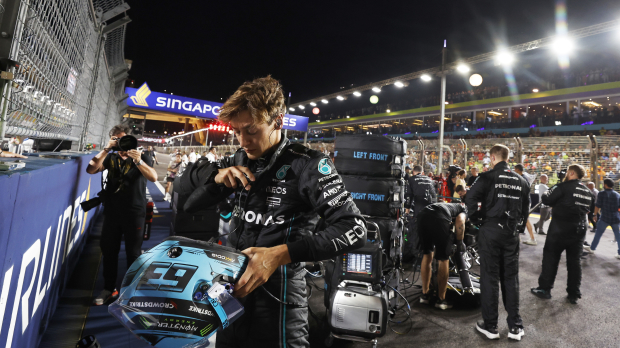 Action hots up
Piling home the misery for the struggling heavyweights, Pierre Gasly was the next to cruise beyond Russell and later passed the similarly stuttering Hamilton.
Closer to the front, Alonso, jostling for the final podium place behind Verstappen and Perez and fresh from a stint protecting his tyres, re-opened his gap on Perez.
Trailing by around 3s, Perez pitted in a bid to undercut the veteran but his push petered out in agonising fashion during a last-gasp dash to the chequered flag.
With the finish line in sight, the duo battled it out in a jaw-dropping drag race, though the Aston Martin emerged on top by a nose to thrill the crowd.
Russell retired, meanwhile, the sixth to do so on an action-packed weekend.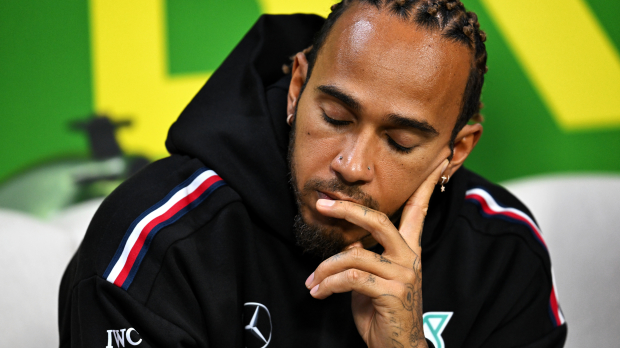 Brazilian Grand Prix 2023 results
The final classification from the Interlagos circuit was as follows:
1. Max Verstappen (Red Bull): 1:13.395
2. Lando Norris (McLaren): +8.277s
3. Fernando Alonso (Aston Martin): +34.155s
4. Sergio Perez (Red Bull): +34.208s
5. Lance Stroll (Aston Martin): +40.845s
6. Carlos Sainz (Ferrari): +50.188s
7. Pierre Gasly (Alpine): +56.093s
8. Lewis Hamilton (Mercedes): +62.859s
9. Yuki Tsunoda (AlphaTauri): +69.880s
10. Esteban Ocon (Alpine): +1 LAP
11. Logan Sargeant (Williams): +1 LAP
12. Nico Hulkenberg (Haas): +1 LAP
13. Daniel Ricciardo (AlphaTauri): +1 LAP
14. Oscar Piastri (McLaren): +2 LAP
15. George Russell (Mercedes): DNF
16. Valtteri Bottas (Alfa Romeo): DNF
17. Zhou Guanyu (Alfa Romeo): DNF
18. Kevin Magnussen (Haas): DNF
19. Alex Albon (Williams): DNF
20. Charles Leclerc (Ferrari): DNS
READ MORE: Russell retires from Brazilian Grand Prix after MISERABLE Mercedes showing