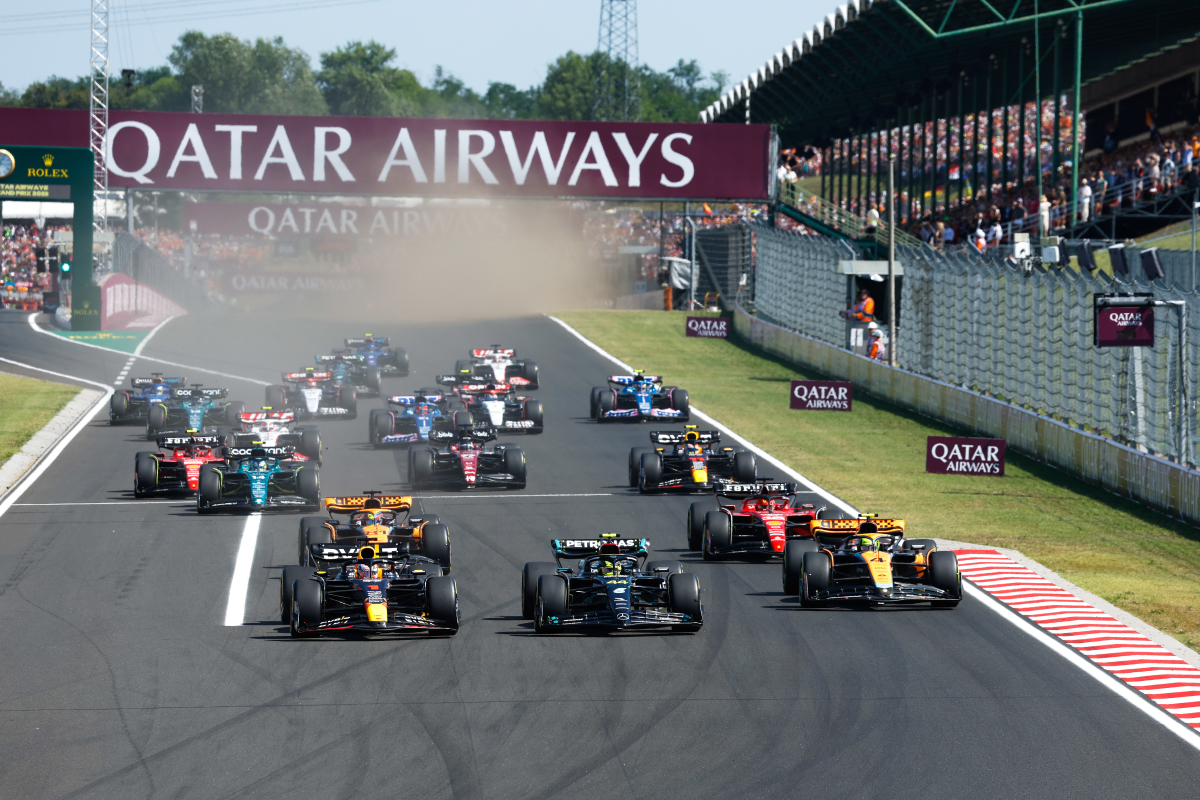 Verstappen claims RECORD Hungarian GP victory after fending off McLaren charge
Verstappen claims RECORD Hungarian GP victory after fending off McLaren charge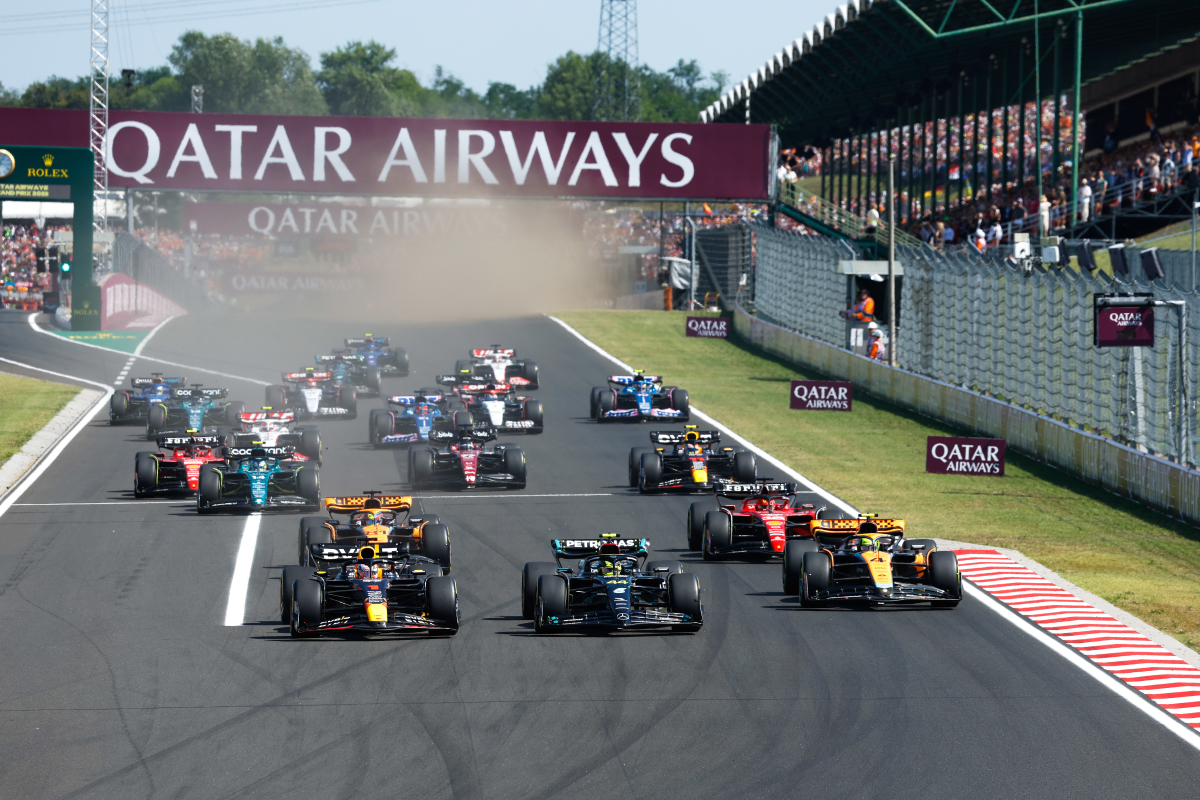 What promised to be an exciting race, with Lewis Hamilton in pole position and McLaren drivers hungry on the heels of Max Verstappen, ended in predictable fashion at the Hungarian Grand Prix.
After a difficult start for Hamilton, Verstappen, Lando Norris and Oscar Piastri slid past, and the Red Bull of Verstappen eventually took an easy P1 and the fastest lap, after running a lonely race.
It was a 12th consecutive win in a row for Red Bull setting a new record, beating the 11 set by McLaren in the 1988 season.
Verstappen's team-mate, Sergio Perez, drove a determined and aggressive race to climb from P9 to P3; though he could not make it past Norris.
The final top five running order was Verstappen, Norris, Perez, Hamilton and Piastri.
George Russell worked incredibly hard to climb from P18 to P7, speeding past Carlos Sainz in the closing stages and getting within a five-second range of Charles Leclerc, whose time penalty cause him to fall behind the Mercedes in the final running order.
Daniel Ricciardo, in his first race back on the grid in the AlphaTauri formerly driven by Nyck de Vries, looked like he may be out of the running early after a bump with Zhou Guanyu; but managed to hold on to end the race in P13, where he started.
But the disaster of the day was endured by Alpine, as both French cars finished their races almost as they began.
READ MORE: Verstappen drops BOMBSHELL on possibility of Ricciardo taking Perez's Red Bull seat
Waste of a weekend for Alpine
It was all over within seconds for Alpine in Hungary, with yet another double DNF. Pierre Gasly was first to officially retire, coming into the pits on the second lap after contact with Daniel Ricciardo, who veered into the Alpine after being bumped by Zhou Guanyu.
Gasly then bumped Ocon and the second Frenchman soon suffered a similar fate to his team-mate, retiring one lap later after his team told him the damage was 'terminal'.
Zhou later received a five-second penalty for the incident.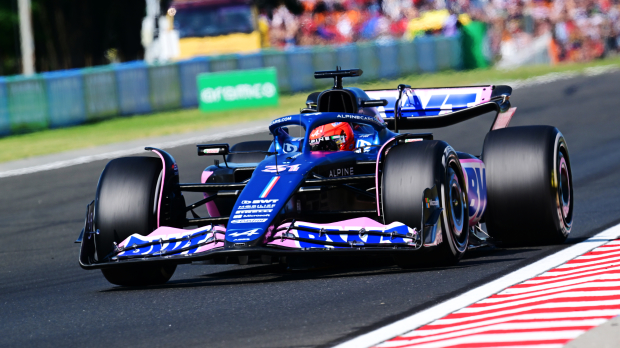 McLaren go from strength to strength
Lando Norris and Oscar Piastri proved that their performance at Silverstone was no fluke, as Norris secured another podium finish and Piastri held P2 for several laps in the race's early stages.
Both McLarens made a strong start, leaping ahead of Lewis Hamilton in P2 to follow Max Verstappen.
Norris, though supportive of his young team-mate's attempt to get a podium at the recent British Grand Prix, was competitive until the end, undercutting Piastri with his mid-race pit stop and then building a lead to take P2.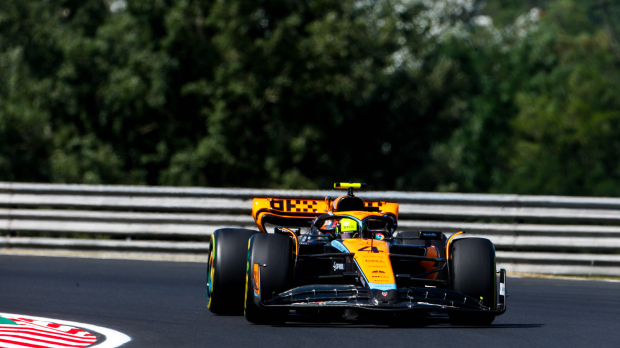 He held the position until the end, almost being overtaken by Perez in the closing stages but driving superbly to hold off the Red Bull.
Piastri came in one place lower than his starting position by the end of the race, after Hamilton overtook him with 12 laps to go.
Statement drive from Perez
Perhaps he wanted to prove naysayers wrong, or show Red Bull that he deserves to be Verstappen's team-mate; but whatever his motivation, the Hungarian Grand Prix proved a statement drive for Perez.
Starting in P9 after an improved but imperfect qualifying, the Mexican driver was aggressive in his overtakes of Carlos Sainz and George Russell among others as he climbed through the ranks.
On Lap 48, Oscar Piastri was even forced onto the sand after a particularly aggressive overtake from the Mexican driver, as Perez left him very little room to manouevre.
Perez finished the race in third place behind Norris and his dominant team-mate, and is likely to be hoping this proves his worth to remain in the winning team.
READ MORE: F1 owners set sights on PREMIER LEAGUE investment after huge success
Logan Sargeant made it almost to the end of the race, but spun off the track on lap 68 and had to head into the pit lane with one lap to go, unable to finish the race.
His team-mate Alex Albon, however, pushed hard to make P11, tantalisingly close to the points.
It was another disappointing weekend for both Ferraris, who were unable to make an impression and take a top-five spot on the grid. Leclerc had a disastrous, nine-second pit stop and eventually managed P6, with Sainz in P8 behind George Russell.
However, Leclerc unfortunately got a five-second time penalty for speeding in the pitlane, leading Russell to be ahead of him in the running order by the end of the race.
READ MORE: Best F1 TV commentators and presenters: GPFans Broadcaster Power Rankings