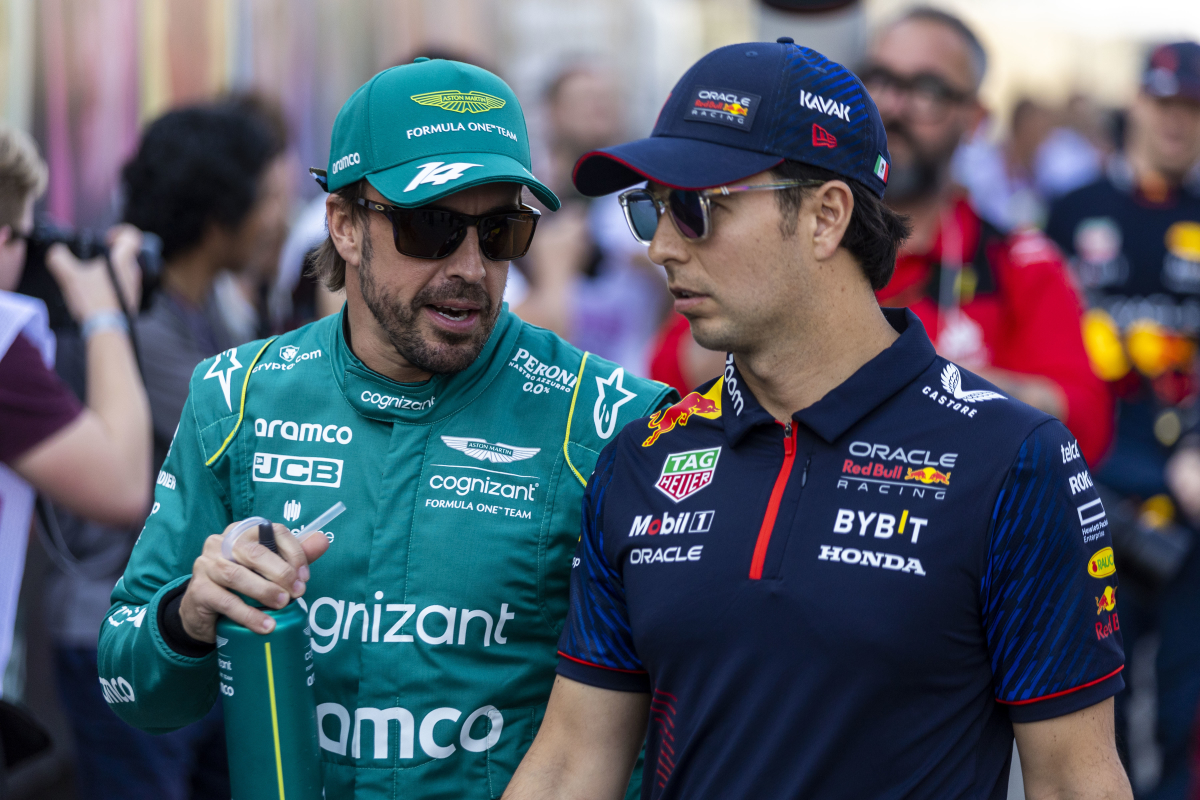 Alonso admits 'aggressive' Perez battle more difficult than expected
Alonso admits 'aggressive' Perez battle more difficult than expected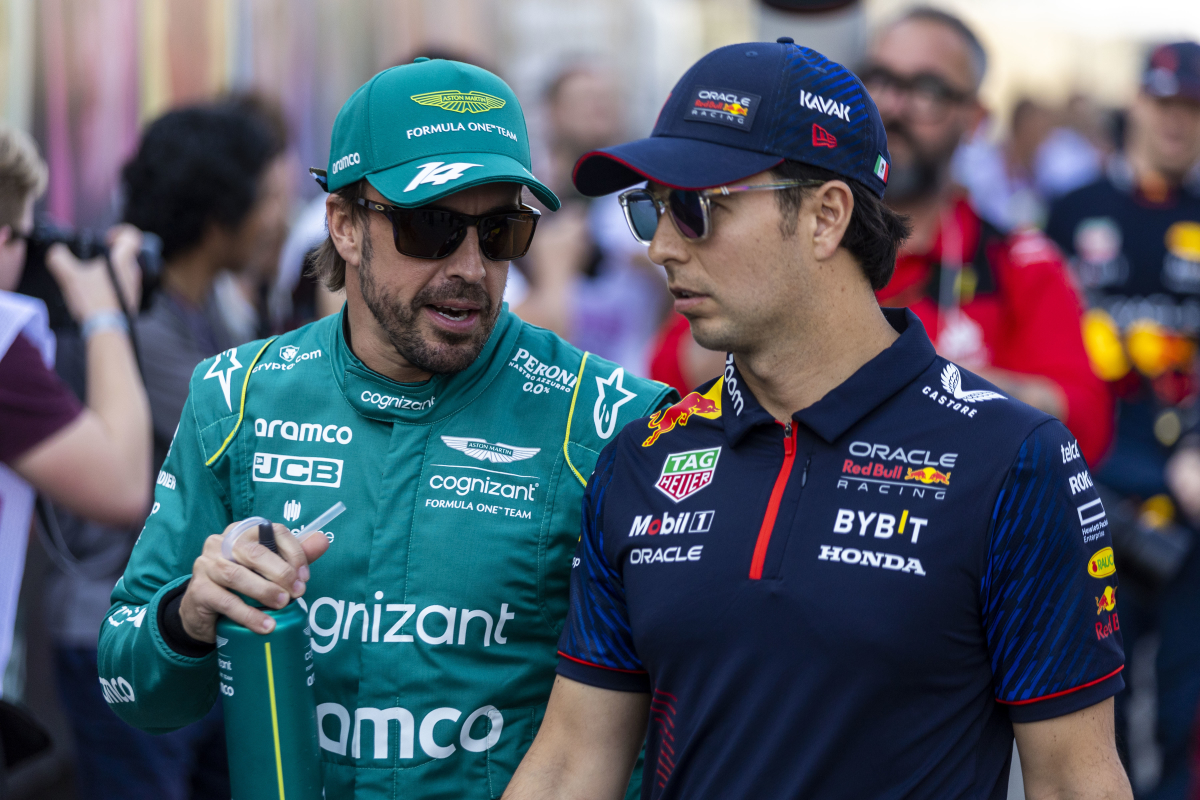 Two-time world champion Fernando Alonso has praised Sergio Perez for his 'clean but aggressive' approach to their podium fight in the closing laps of the Brazilian Grand Prix.
Having recently lost fourth place in the constructors' championship to McLaren and facing a podium drought, Alonso admitted prior to the race that a strong result was vital for Aston Martin.
The timing was perfect then for what could be considered one of Alonso's best career drives from his long catalogue of Formula 1 performances. Qualifying fourth behind his team-mate Lance Stroll, the 42-year-old Spaniard had to repass several cars after a slow getaway. Despite initially losing some time, Alonso was able to fight his way up to third come the close of the race.
It was at this point that the faster Red Bull of Perez sought to steal the final podium spot off Alonso. What followed was an all-time historical battle that allowed the Aston Martin veteran to utilise every ounce of skill he has developed from his 20 years in F1.
Holding off Perez for multiple laps, Alonso eventually had to concede third place to the Mexican driver. Although Perez didn't pull away and was soon himself defending from a rampaging Alonso. The pressure forced the Red Bull to run wide into turn one and Alonso was able to repass for third before holding on by mere inches in a drag race to the line.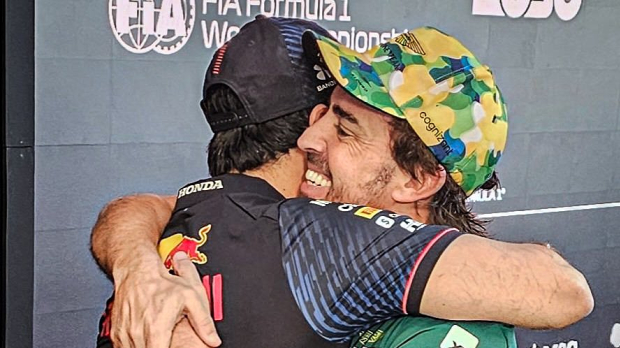 Speaking to Sky Sports F1 after his podium celebrations, an ecstatic Alonso praised Perez for allowing the pair to fight hard but fair.
"It was nice. It was a clean battle, very aggressive, but it was a clean battle with Checo," said Alonso.
"I think he has a very good record on finishing the races and always battles hard, keeping both cars on track. I knew that it was coming, I knew that he was a threat and it was maybe more difficult than I thought, to be honest. Five laps to the end, I thought that I had things under control, so I start pushing and I look at the mirror and Checo was there and I said 'Uh-Oh!'"
A well-timed podium for Aston Martin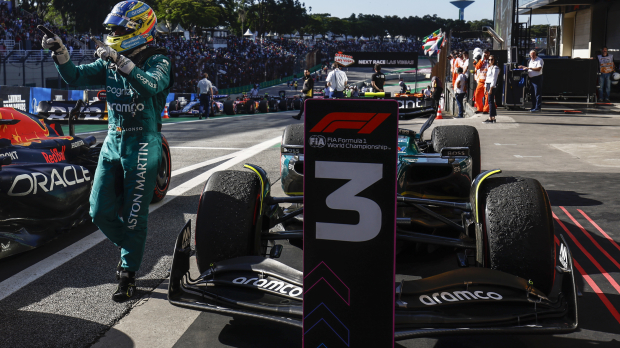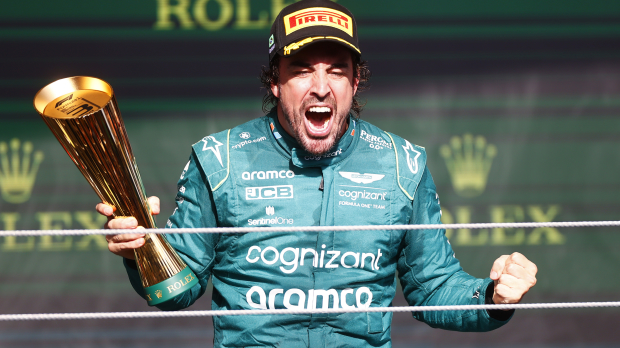 While this performance handed the Aston Martin team their eighth podium of the campaign, it has come off the back of their worst run of results all year long. Six of those rostrum appearances came in the opening eight rounds, but since then the British team have struggled to develop their AMR23.
With failed upgrades being brought to their previous two rounds in Austin and Mexico City, Alonso was looking to bounce back and provide the team with some much-needed lift.
"For the team, I think we struggled a lot in the last few races but we never lost focus and what was the target," Alonso continued. "We went deep in analysis, we stayed untied, we stayed together and this was a very nice thing to witness in the last few events."
READ MORE: Verstappen reveals KEY factor behind F1 win in Brazil