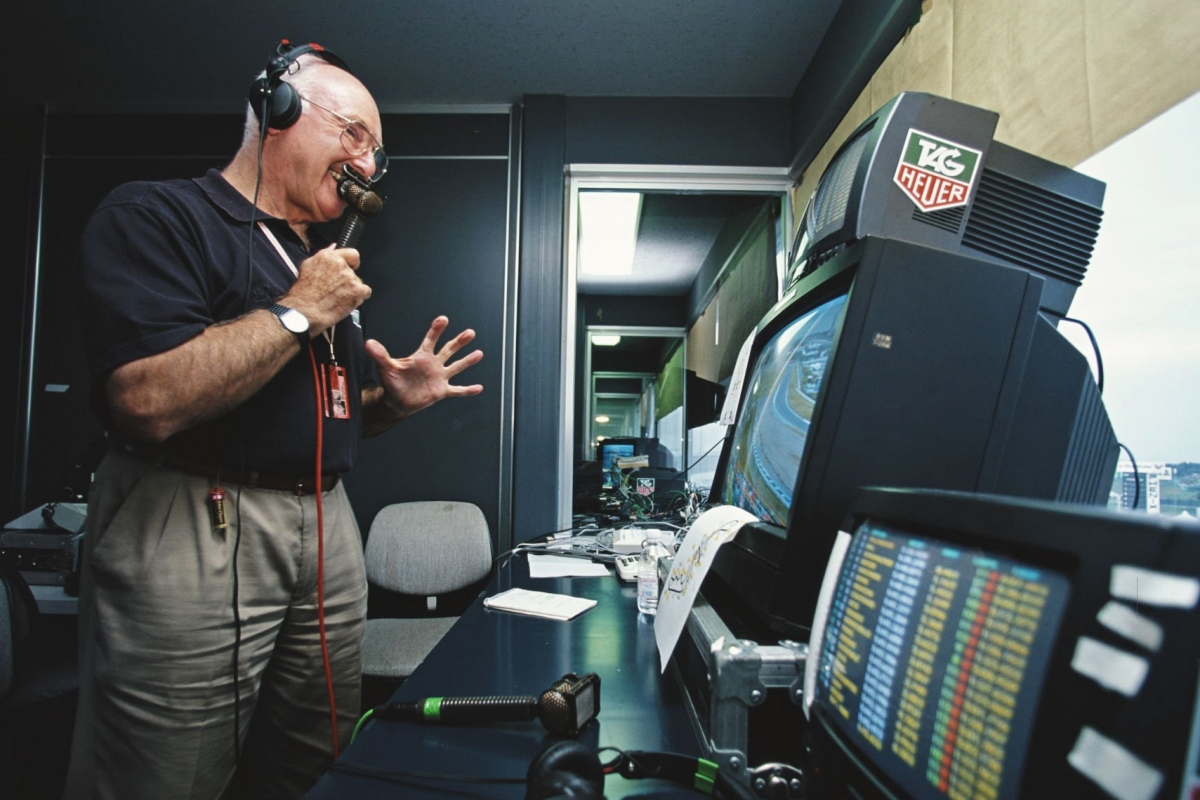 Murray Walker: The legendary voice of F1 on the BBC and ITV
Murray Walker: The legendary voice of F1 on the BBC and ITV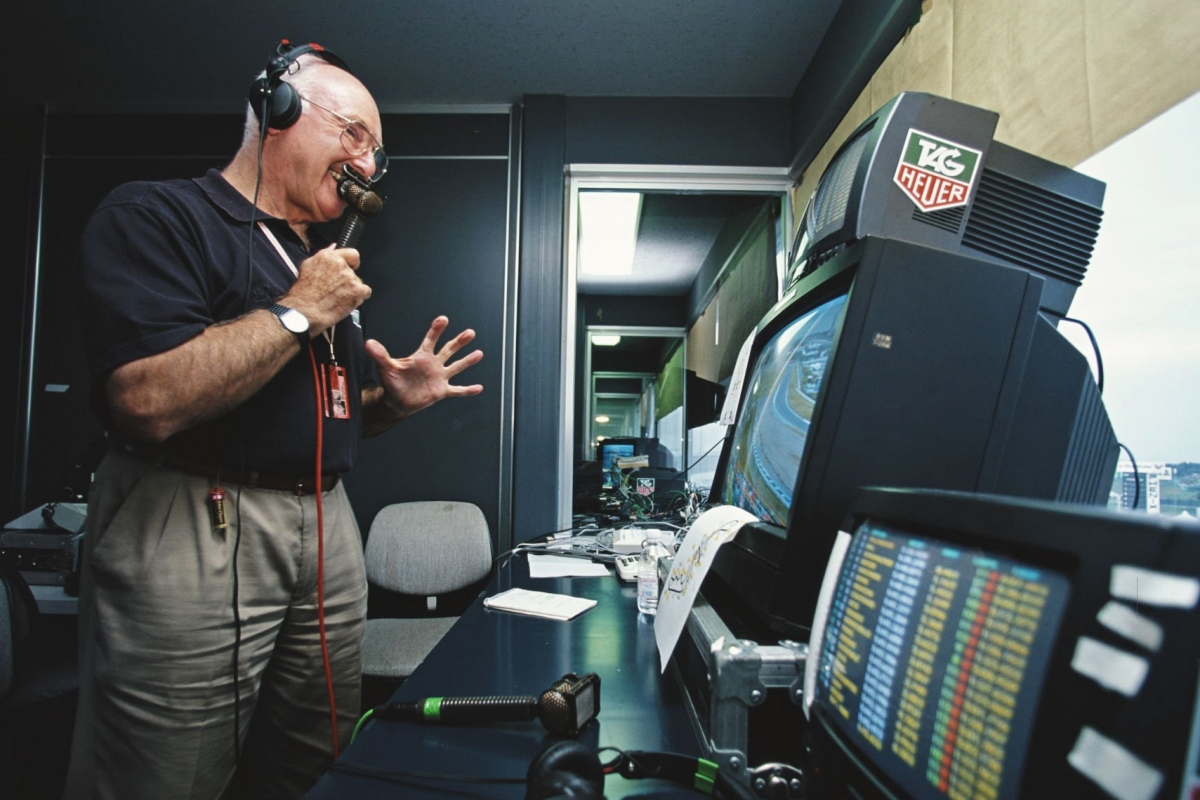 Murray Walker was quite simply a TV great, and for so long the voice of F1.
His exceptional and unique commentary style and unwavering passion for the sport made him a household name both in Britain and around the world, and his legacy will be cherished by motorsport fans for generations to come. 
Murray Walker's road to F1
Born in Birmingham on October 10, 1923, Graeme Murray Walker was destined to be a part of the world of motor racing. His father Graham Walker was a British motorcycle champion and broadcaster who passed on his deep love for all things racing to his son.
Murray initially tried his hand at motorcycle racing, but soon realised it wasn't his forte. After serving in World War II, he pursued a career in advertising and came up with several successful slogans. However, his true passion lay in the world of broadcasting.
In 1949, at the age of 26, Murray made his debut behind the microphone as a commentator for the BBC, covering his first-ever Grand Prix race at Silverstone. He continued to provide radio coverage for the Isle of Man TT alongside his father during the 1950s and took over the lead role after Graham's passing in 1962.
Over the next two decades, Murray's broadcasting career flourished as he covered a wide range of motorsport events. However, it was one particular moment which transformed him into a beloved household name.
A BBC F1 great
After James Hunt became an F1 world champion in 1976, the BBC decided to do a half-hour programme about F1 every Sunday. Murray Walker became the main man from the 1978 season onwards.
Soon after retiring in 1979, Hunt joined Murray in the commentary box, and the partnership quickly became one of the most iconic in F1 broadcasting history.
Murray's high-octane style, once described by Australian critic and journalist Clive James as "sounding like a man whose trousers are on fire", was the perfect foil for Hunt's more laid-back approach.
Although the duo initially had a difficult time getting along, their contrasting styles would provide broadcasting magic and ultimately transcended the sport in the English-speaking F1 world.
The iconic duo shared the microphone for 13 years before Hunt tragically passed away from a heart attack in 1993 at the age of only 45.
Throughout his career at the BBC, Murray witnessed some of the greatest and most heartbreaking moments in the history of F1 and relayed them to the rest of the world through his breathless style and distinctive voice.
From Damon Hill's sole championship win in 1996 to the intense rivalry between Alain Prost and Ayrton Senna, both are remembered now through the words of Walker.
There was a sombre side to Walker too. Having commentated on the death of Senna at Imola, he provided a fitting tribute to the F1 legend, showing he had a style to fit all occasions.
Murray witnessed it all, and his voice will always ring in our ears whenever we recall so many unforgettable moments.
Moving to ITV F1 and a fresh start
In 1997, F1 rights made the move to ITV, and Murray teamed up with former F1 driver Martin Brundle. It was during this time that ITV introduced Brundle's gridwalks at the 1997 British Grand Prix, which quickly became a fan favourite.
For a remarkable five seasons, Walker and Brundle worked together to bring their expertise and unique perspectives to fans worldwide until Walker's final race at the US Grand Prix in 2001. At the age of 77, he decided to retire from his broadcasting career, leaving behind a lasting legacy in the world of motorsport.
In 2002, ITV kept Murray on in a part-time role to review the F1 season. He also wrote a best-selling autobiography titled "Unless I'm Very Much Mistaken" in late 2002.
Despite retiring, Murray remained involved in F1. He made regular appearances on broadcasts until he passed away on March 13, 2021, at the age of 97.
READ MORE: Martin Brundle gridwalks: Best moments including Patrick Mahomes (Paolo Banchero)
Murray Walker may no longer be with us, but his voice and legacy will continue to live on in the world of motorsport.
Famous Murray Walker quotes
Walker's encyclopaedic knowledge of the sport and his ability to capture the drama and intensity of each race made him a beloved figure among the F1 community.
But what really made him a national treasure were the occasional mistakes during commentary, later nicknamed "Murrayisms." Here are 10 of our favourites:
- "There's nothing wrong with the car except it's on fire."
- "With half the race gone, there is half the race to go."
- "I imagine the conditions in those cars are totally unimaginable!"
- "You might think that's not cricket, and it's not. It's motor racing."
- "Do my eyes deceive me or is Senna's car sounding a bit rough?"
- "And now excuse me while I interrupt myself!"
- "If is a very long word in Formula 1. In fact, "if" is F1 spelled backwards."
- "That's history. I say history because it happened in the past."
- "One light, two lights, three lights, four laps, five lights, go, go, go!"
- "Unless I'm very much mistaken – and I am very much mistaken!"
Five iconic Murray Walker moments
Damon Hill becomes world champion at Suzuka (1996)
"This is something that many people didn't think could possibly happen today, they thought Damon would drive a cautious race, but he fought, He fought from second on the grid, he passed Jacques Villeneuve, he took the lead, he stayed there, and Damon Hill exits the chicane and wins the Japanese Grand Prix. And I've got to stop, because I've got a lump in my throat."
Mansell's tyre explosion in Adelaide (1986)
"And look at that! And colossally that's Mansell! THAT IS NIGEL MANSELL! Now this could change and will change the world championship!"
Alain Prost vs Ayrton Senna, Suzuka (1989)
"This is the opportunity that Senna was looking for, and he's going through...OUT! Oh my goodness, this is fantastic! They meet, this is what we were fearing might happen during the race, and that means to say that Prost has won the World Championship. Alain Prost, World Champion of 1989!"
Alain Prost vs Ayrton Senna, Suzuka (1990)
"And Senna spints away – but Alain Prost takes the lead. It's happened. Alain Prost has taken the advantage, Senna is trying to go through on the inside – and it's happened immediately! This is amazing! Senna goes off at the first corner! But what has happened to Prost? He has gone off too! Well that is amazing but, I fear, absolutely predictable."
Michael Schumacher wins the first world title with Ferrari (2000)
"A buh-ruh-rilliant race for Michael Schumacher, who exits the chicane for the 53rd and last time, to win the 2000 Japanese Grand Prix and the world championship for the third time. To give Ferrari and Italy their dream. And look, look! He knows it. He is absolutely beside himself with joy!"
Murray Walker and family
Murray was born to Elsie Spratt and Graham Walker, who was himself a former motorcycle champion and broadcaster.
In 1955, Walker married his beloved Elizabeth, but the couple did not have any children together.
READ MORE: EXCLUSIVE: F1 commentator reveals GREATEST ever Murray Walker moment