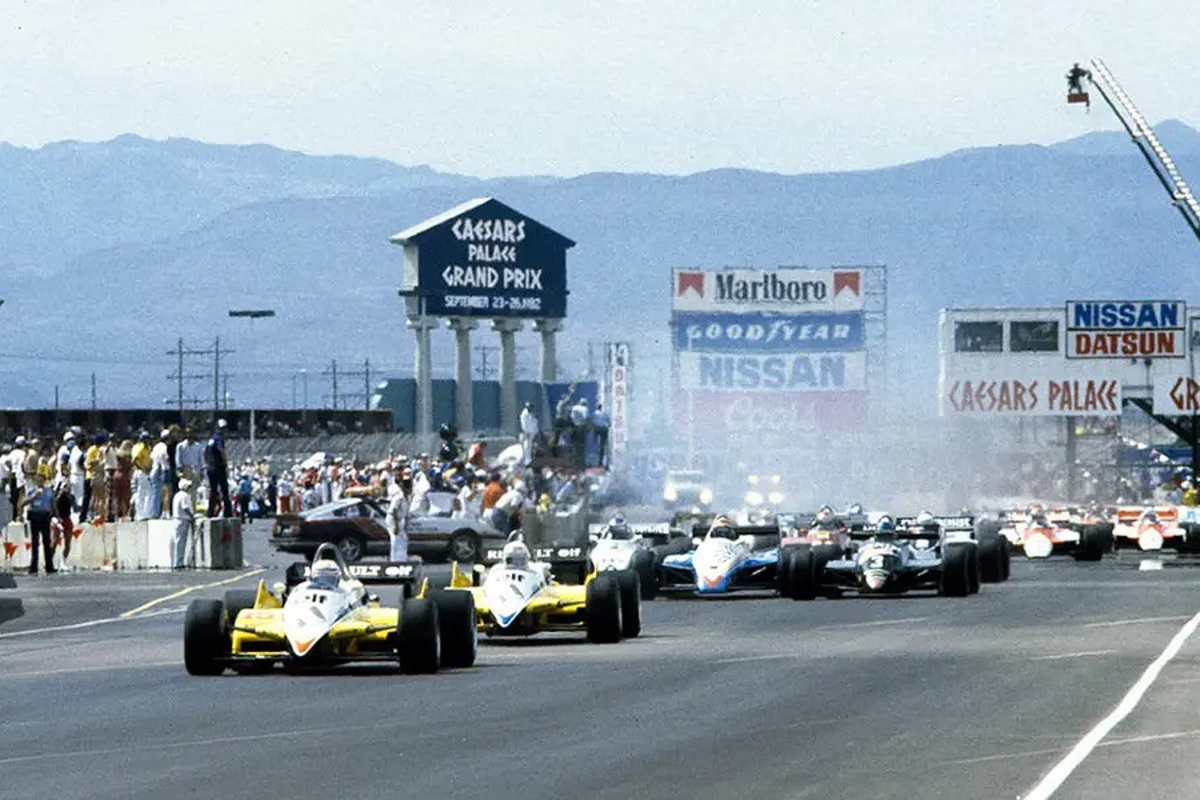 F1 in Las Vegas: The crazy history of the Caesars Palace Grand Prix
F1 in Las Vegas: The crazy history of the Caesars Palace Grand Prix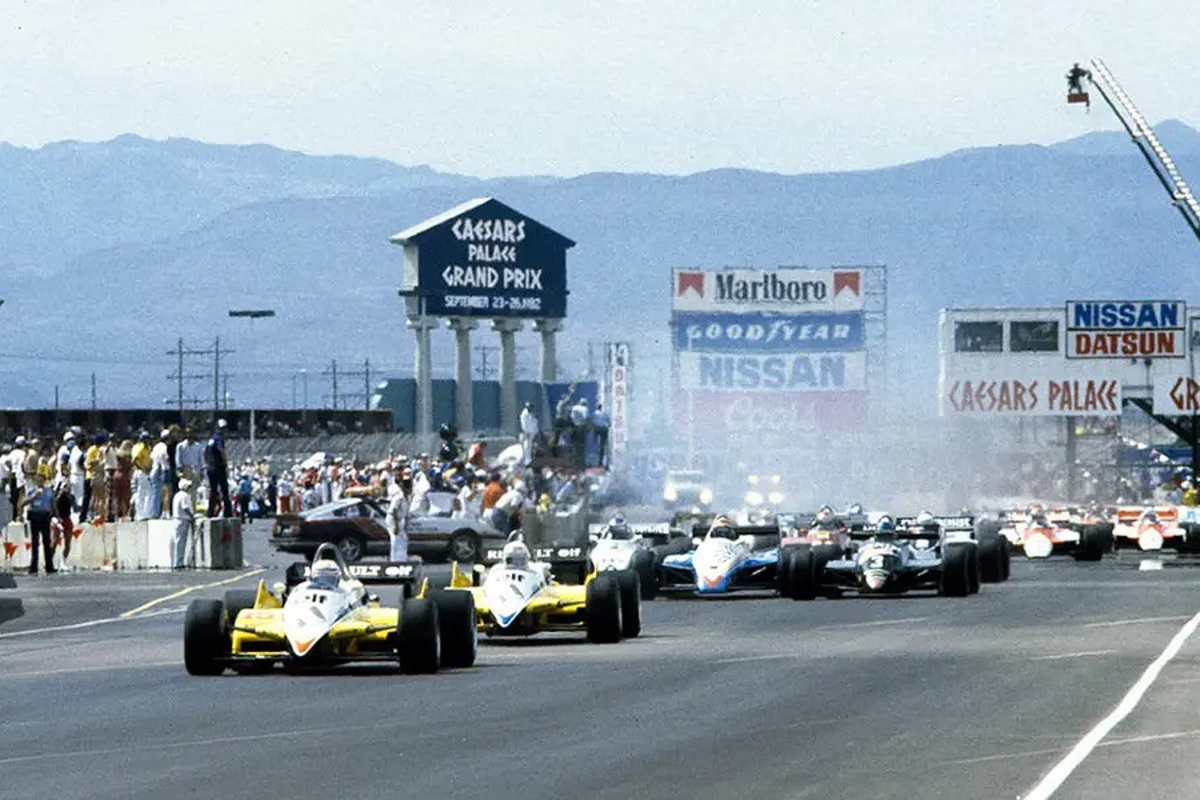 There is a ton of hype and buzz about the 2023 Las Vegas Grand Prix, but this isn't the first time F1 has strutted its stuff in Sin City.
As well as hosting some of boxing's biggest ever fights (including Marvin Hagler vs Thomas Hearns and Hagler vs 'Sugar Ray' Leonard), the world-famous Caesars Palace also welcomed motorsport to its palatial surroundings in the early 1980s.
Hotel bosses saw it as an excellent opportunity to host another event to attract high rollers who would then drop a fortune at the casino. The result was a pair of Grands Prix taking centre stage.
This was a far cry from the 2023 setup though, which promises a jaw-dropping track taking the cars past some of the city's iconic landmarks. Instead those 1980s races happened on one of the strangest circuits ever constructed.
READ MORE: Las Vegas Grand Prix: A detailed look at the 6.2km F1 street circuit
Take a trip back in time as we fill you in on all of the crazy details...
F1 Caesars Palace Grand Prix
In 1981 and 1982, the F1 season finale took place at a temporary street circuit in the parking lot of Caesars Palace. Yes, you read that right! Drivers weaved their way around a 14-turn, 2.26-mile hotel car park.
However, the circuit's location was not the only issue. The anti-clockwise layout was a huge physical challenge for the drivers, and the scorching desert heat made things even worse.
Although it is widely considered the worst circuit F1 has ever visited, and drivers hated it, the two races saw plenty of action and drama as the 1981 and 1982 Drivers' Championships were both decided there.
READ MORE: F1 in Las Vegas: All you need to know about the showdown on The Strip
1981 Caesars Palace Grand Prix
It was the 15th and final round of the 1981 season when F1 headed to Las Vegas, with three drivers all eyeing the Drivers' Championship. The two main title contenders were Brabham's Nelson Piquet and Williams' Carlos Reutemann, with Jacques Laffite of Ligier also in with a slim chance of stealing the crown.
The heat of the Nevada desert and the anti-clockwise layout took their toll, as many drivers suffered from neck pain and extreme exhaustion during the 75-lap race. Piquet vomited into his helmet while racing and had to be lifted out of his car after the race.
Fast forward to the finish line, and Williams' Alan Jones took his 12th and final victory, with a fatigued Piquet finishing fifth, enough to clinch the first of his three titles by just one point over Reutemann.
1982 Caesars Palace Grand Prix
The following year's race featured another title battle, this time between Williams' Keke Rosberg (father of 2016 world champion Nico) and McLaren's John Watson.
Rosberg arrived in Vegas needing just one point to seal the title. To take it from him, Watson needed to win the race and Rosberg to finish fifth or lower. That would mean both drivers would finish on equal points, but Watson would have won three races to Rosberg's one.
However, things did not go as planned for Watson, as he finished second and Rosberg finished fifth. Despite only winning one of the 16 races, the Finn took home his first and only world championship with a total of 44 points.
F1 waves goodbye to Las Vegas
Sadly for F1 and Caesars - this first foray in hosting a Grand Prix didn't play out well for the gambling hotspot.
Turnout was low and hosting F1 resulted in a huge financial loss for the hotel. Consequently, Las Vegas was dropped from the calendar.
Caesars didn't give up completely on motorsport though, and shifted focus to IndyCar - again on a modified version of the parking lot.
Former F1 world champion Mario Andretti would clinch the series championship in 1984 after finishing second in the race that marked the end of that parking lot circuit.
F1 at Caesars Palace FAQ
Has F1 ever raced in Las Vegas?
Yes, F1 has raced in Las Vegas twice before. The city hosted the season finales in 1981 and 1982.
Where was the Caesars Palace Grand Prix?
The Caesars Palace Grand Prix took place on a temporary circuit in the parking lot of the Caesars Palace Hotel and Casino in Las Vegas, Nevada.
READ MORE: F1 in Las Vegas: 5 interesting facts about the inaugural Grand Prix