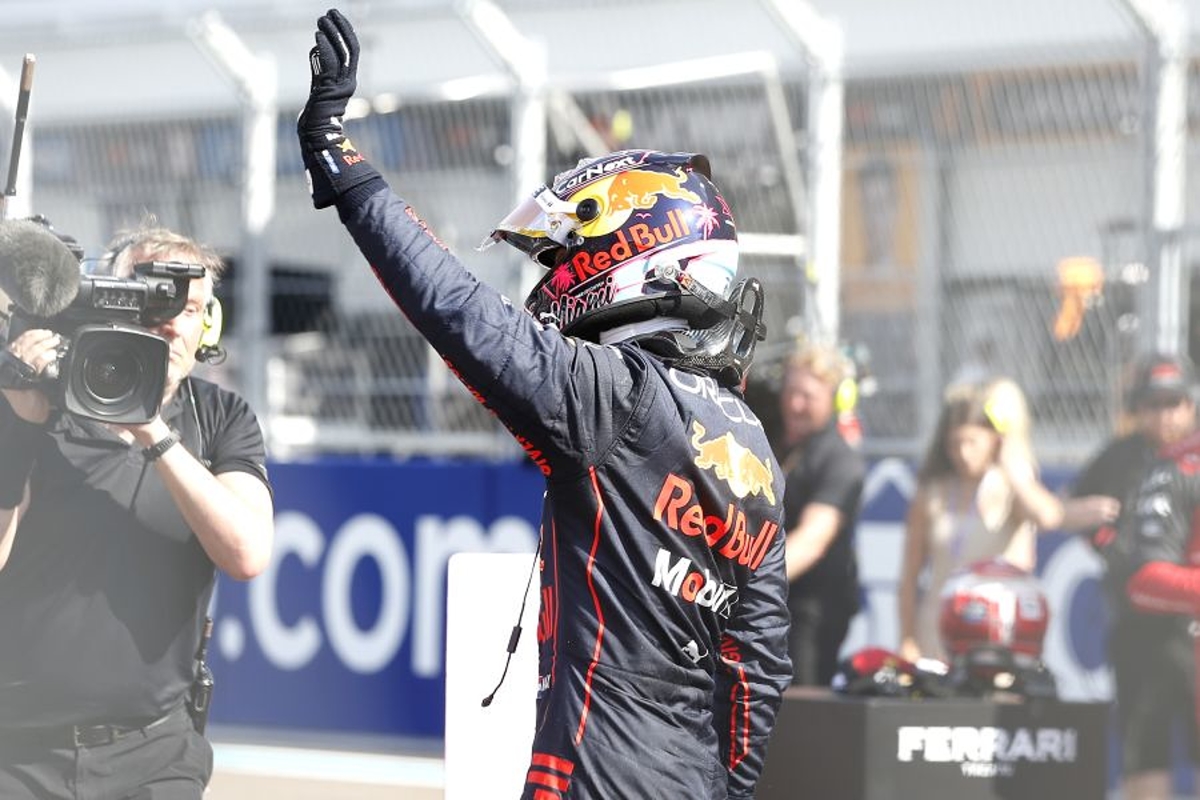 Verstappen wins star-laden F1 Miami GP after Norris crash sparks late Leclerc duel
Verstappen wins star-laden F1 Miami GP after Norris crash sparks late Leclerc duel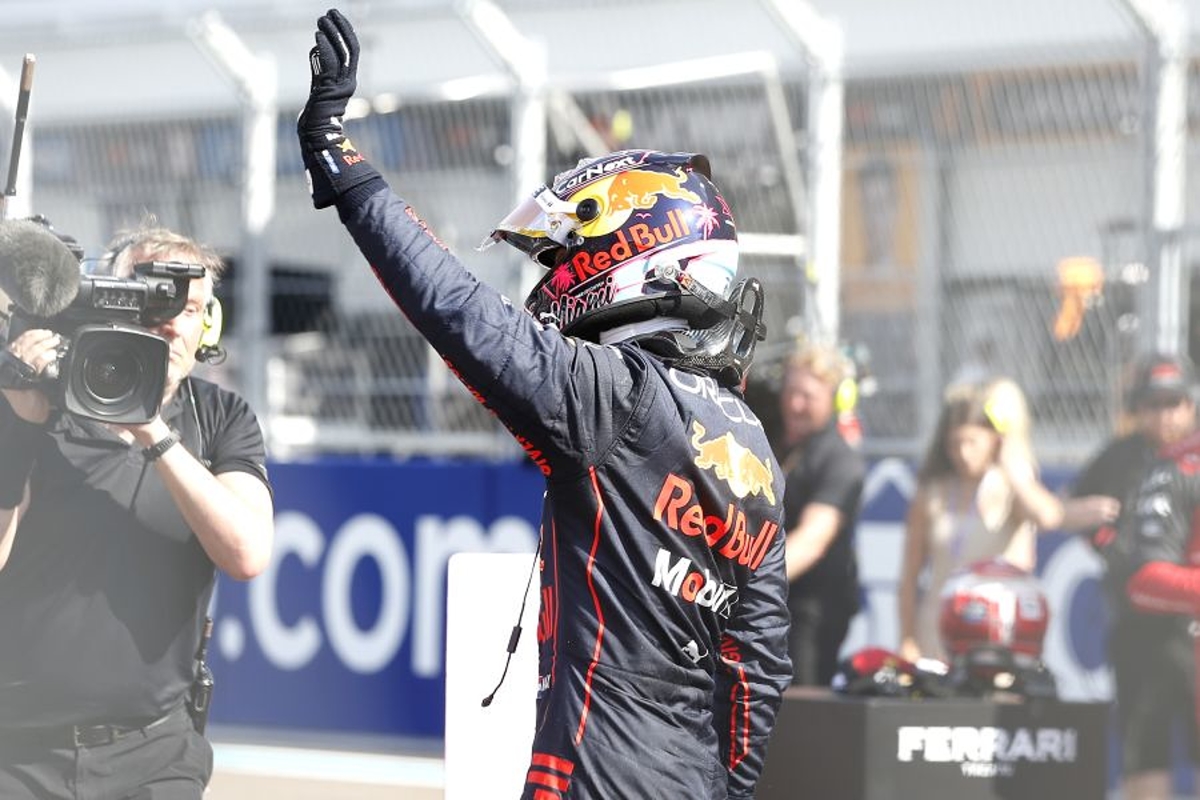 Max Verstappen cut Charles Leclerc's lead at the top of the F1 drivers' standings to 19 points after emerging the victor following a brilliant late scrap for the lead that lit up the inaugural Miami Grand Prix.
After all the hype in the build-up to this event in south Florida, a $60million track build around the Hard Rock Stadium, and a paddock filled with big-name stars, reigning champion Verstappen was initially on course for a routine win.
But a lap-41 crash involving McLaren's Lando Norris made for a breathtaking finish, with the Red Bull driver forced to fend off title leader Leclerc's advances in his Ferrari to take the chequered flag by 3.7s.
In an equally enthralling scrap behind, Ferrari's Carlos Sainz kept Sergio Perez at bay in his Red Bull to take the final podium place.
For Mercedes, they again had to settle for best of the rest, with George Russell fifth - after being as far back as 15th at one stage - ahead of Lewis Hamilton.
Aston woe as Verstappen makes a flier
Before the start, Aston Martin's dismal year took a turn for the worse when the team declared its cars had sustained a fuel temperature issue, relegating both Sebastian Vettel and Lance Stroll to pit lane starts.
It is believed the fuel temperature was less than the minimum prescribed by the FIA, forcing the AMR22s to remain in the pits to warm up the fuel.
With 18 cars on the grid, and with a red wall in front of him, Verstappen made the ideal start as he quickly cleared Sainz through turn two after drawing alongside the Spanish driver in the opening corner.
Hamilton suffers turn-one lock-up
It was a first turn that proved problematic for Hamilton as the seven-time champion locked up his right-front tyre on entry, allowing AlphaTauri's Pierre Gasly to take advantage.
Lacking momentum, Hamilton was then soon swallowed up by Fernando Alonso in his Alpine, although the two-time champion twice banged the left-rear wheel of the W13 with his right-front before making the pass.
Once DRS came into play at the start of lap three, Hamilton wasted no time in picking off Alonso, and then three laps later easing past Gasly, a driver he had spent 40 laps behind at the last race in Imola with and without the overtaking device.
Verstappen takes the lead
As the opening laps unfolded, Verstappen was able to keep Leclerc constantly in his sights until he took his first opportunity to grab a lead he never truly relinquished.
Closing in at the end of lap eight, Verstappen pulled out from behind Leclerc as the duo crossed the line at the beginning of lap nine.
From that moment on, the Dutch driver slowly eked out an advantage of just over four seconds by the time Leclerc pitted at the end of lap 24, swapping his race-starting mediums for the hard compound.
That came after the Monégasque had set the fastest lap of the race at the time, which in turn had followed a radio message in which he declared his F1-75 "so difficult to drive".
Verstappen took on his own set of hards two laps later, briefly handing the race lead to Sainz who pitted at the end of lap 27, albeit with a slow fitting of the right-front at 5.4s cutting the advantage he had been enjoying over Perez.
A few laps earlier, the Mexican had suffered a power unit issue that cost him 4.3s on one lap compared to Perez, leading to a panicky radio message before a reset aided his cause.
It was an issue, that in tandem with Sainz's slow stop, ultimately cost Perez a place on the podium alongside Verstappen and Leclerc who went on to trade fastest laps in a bid to claim a key extra point, one that exchanged hands four times in eight laps.
Norris and Gasly collide
On lap 41 came the decisive moment, sparked by Gasly running off track out of the left-hand curve of turn eight.
As the Frenchman returned to the track, Norris attempted to sweep by, only for a high-speed tyre collision to unfold as the front-left on the AT02 caught the rear-right on MCL36.
That tyre immediately flew off Norris' McLaren which pirouetted through 360 degrees on three occasions before he finally came to rest, ultimately sparking a safety car.
That played perfectly into the hands of Perez and Russell who both rid themselves of their hard tyres - the Briton had started the race on that rubber - to take on mediums, running in fourth and seventh positions respectively.
The leading trio of Verstappen, Leclerc and Sainz all stayed out on their hard tyres.
As Verstappen and Leclerc pulled away to take on a battle for the lead, Sainz was able to keep Perez at bay as they duelled over third. The Mexican overshot a pass at one point that allowed Sainz to reclaim and hold onto the final podium place.
Behind them, fifth-placed Bottas made an error on lap 50 that allowed Mercedes duo Hamilton and Russell to ease past before the latter then overtook his fellow Briton on the following lap.
Ahead, Verstappen had Leclerc in his mirrors for several laps, coming close to making a move on a couple of occasions but unable to get a clear sight of an overtaking move, leading to him settling for second.
Bottas managed to claim seventh ahead of Alpine duo Esteban Ocon and Alonso, with Alex Albon claiming another point for Williams with 10th.
That was as a consequence of Haas' Mick Schumacher and Vettel colliding late on as they fought over 10th place.