Russell makes podium claim after 'MISTAKE' cost Mercedes star at Monaco
Russell makes podium claim after 'MISTAKE' cost Mercedes star at Monaco
George Russell has claimed that he "should have had a podium" at the Monaco Grand Prix, but that his own mistake prevented Mercedes from celebrating after the race on Sunday.
Max Verstappen claimed his fourth win of the season, ahead of Fernando Alonso's Aston Martin in second and Esteban Ocon's Apline in third.
The trio may have crossed the chequered flag in the order that they started the race, but a rain-impacted finale ensured that this year's Monaco Grand Prix was anything but a procession.
READ MORE: Hamilton UPLIFTED as he predicts ANSWERS from Mercedes upgrades
Russell, who started the race in eighth, made it as high as third place. But after pitting for intermediates along with the rest of the grid, a mistake on his out lap saw him lose out to both team-mate Lewis Hamilton and Ocon.
"I'm kicking myself to be honest, one small mistake cost us a podium," Russell told Formula 1 after the race. "I came out of the pits comfortably ahead of Esteban and Lewis, there was a yellow flag at Turn 5, I backed off and as soon as I pressed the brakes I locked up and followed the yellow flag.
"I think that's almost a lesson that when you're not focussed sometimes – or not on it – that's when mistakes happen. I probably wouldn't have made that mistake if there hadn't been a yellow flag there.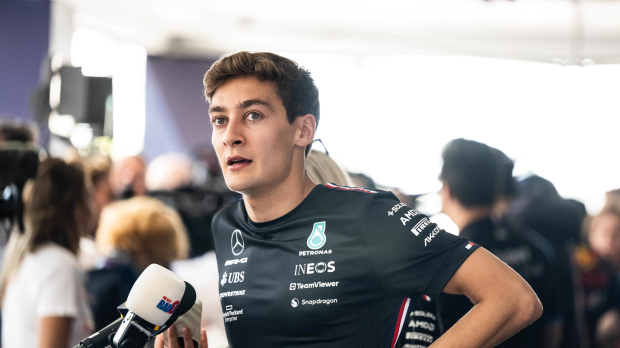 "[I am] really disappointed because after that pit stop it would basically have guaranteed a podium… P3 was definitely achievable today. I have only learned afterwards that my mistake wasn't shown on TV – not sure if that's a positive thing or not.
"It wasn't the easiest conditions [with the rain]. But they were conditions where I feel like we can maximise the opportunities.
"Where you know as a driver, if you do a better job than the rest you can pick up the pieces, and we were on course for that until we weren't, or until I wasn't with my mistake."
READ MORE: Brundle warns of Mercedes' FRANKENSTEIN car and issues warning for Spanish GP