Verstappen fastest in FP2 at Miami as Leclerc involved in COSTLY crash
Verstappen fastest in FP2 at Miami as Leclerc involved in COSTLY crash
Max Verstappen topped the second practice session ahead of the Miami Grand Prix, with the action red-flagged late on after Charles Leclerc crashed.
Leclerc was unable to recover despite catching his initial spin at turn seven and his Ferrari then collided with the barriers with just minutes remaining, in what will prove to be an expensive shunt.
Carlos Sainz came home second, narrowly ahead of his team-mate, while Leclerc took third despite his minor incident, replicating his finish from FP1.
Mercedes' George Russell and Lewis Hamilton endured an underwhelming hour, however. Russell, the fastest driver in the first session, was made to settle for 15th, while Hamilton came home seventh.
Perez, who finished 11th in FP1, topped the chart early on before Verstappen jumped ahead of him with a time of one minute 30.146sec, six-tenths ahead.
Leclerc and Sainz then leapfrogged the Red Bull duo, only for the world champion and Perez to rally back into second and third respectively, the rivals trading blows in their second taste of action ahead of this weekend's showpiece.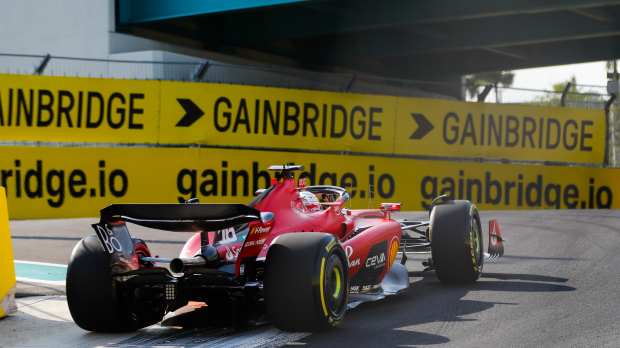 As the first period of the session unfolded, Kevin Magnussen's Haas lost control at turn 11 and spun before making slight contact with the barrier. Luckily for the team fighting on home territory, though, the car avoided serious damage.
Team-mate Nico Hulkenberg was able to race after his shunt with the wall during the first practice session, with the front and rear right corners of his machine fixed.
But it was Verstappen who stole the show, setting a time of one minute 29.380s to move top, a tenth quicker than Leclerc.
Lando Norris then moved the pack below the 1:28s mark, his McLaren moving top on his soft tyre run, half a second ahead of Oscar Piastri.
The lead continued to change hands before Verstappen took control after a pause to allow Red Bull to adjust his headrest. After clocking a time of 1:28:255s, he then broke into the 1:27s, extending his advantage over Sainz to over three-tenths.
The action came to a late stop and resumed with little incident after Leclerc's crash.
More home drama
Haas' mechanics, who had performed miracles to patch up Hulkenberg's damaged car, were left with their hearts in their mouths once again early in the session.
Magnussen lost control at turn 11 and spun, brushing the wall as he slithered along it. However, he was able to continue with only minor work needed.
Yellow flags were waved in sector two but, unlike earlier, no halt was needed.
Russell's struggles
Russell endured a notably underwhelming session despite his late charge earlier in the day. With around 20 minutes left, he signalled issues with his Mercedes.
"I think it's three-wheeling through the left-hander turn two," Russell reported over the radio. Later, he slipped off the track at turn 11.
Ultimately, he finished 15th on the timesheet, comfortably adrift of the pace.
Norris' blistering lap
Around halfway through the session, flashes of red began to appear with the medium and hard tyres making way for soft rubber.
The first driver to move below the 1:28 mark was Norris, whose McLaren briefly jumped above Verstappen and Leclerc to go quickest.
Piastri took second before the usual contenders raced back to the front, although he remained half a second behind his experienced team-mate.
Full Miami Grand Prix FP2 practice results
1. Max Verstappen (Red Bull): 1:27.930
2. Carlos Sainz (Ferrari): +0.385
3. Charles Leclerc (Ferrari): +0.468
4. Sergio Perez (Red Bull): +0.489
5. Fernando Alonso (Aston Martin): +0.730
6. Lando Norris (McLaren): +0.811
7. Lewis Hamilton (Mercedes): +0.928
8. Lance Stroll (Aston Martin): +1.000
9. Esteban Ocon (Alpine): +1.007
10. Alex Albon (Williams): +1.116
11. Pierre Gasly (Alpine): +1.168
12. Kevin Magnussen (Haas): +1.241
13. Zhou Guanyu (Alfa Romeo): +1.251
14. Valtteri Bottas (Alfa Romeo): +1.259
15. George Russell (Mercedes): +1.286
16. Oscar Piastri (McLaren): +1.409
17. Nico Hulkenberg (Haas): +1.463
18. Yuki Tsunoda (AlphaTauri): +1.683
19. Nyck de Vries (AlphaTauri): +1.998
20. Logan Sargeant (Williams): +2.108
READ MORE: George Russell and Lewis Hamilton record one-two finish in FP1 at Miami