Kelly Piquet: Girlfriend of Max Verstappen and daughter of Nelson Piquet
Kelly Piquet: Girlfriend of Max Verstappen and daughter of Nelson Piquet
Kelly Piquet is the girlfriend of Max Verstappen and the daughter of three-time Formula 1 champion Nelson Piquet. Put simply, she is motorsport royalty.
Full name Kelly Tamsma Piquet Souto Maior, she was born in Homburg, West Germany, on December 7, 1988, and is now 35 years old. She stands 1.7m (5ft 6ins) tall and now lives in Monaco.
Piquet has worked as a model and fashion columnist as well as a social media and PR consultant, most notably working alongside Formula E in 2015. She has been a health and wellbeing coach for the last five-and-a-half years.
Kelly Piquet and Max Verstappen
Piquet and Verstappen are said to have started dating in 2020, but did not become official until January 2021.
Kelly has been reluctant to reveal too many details about how they met, given the intense media focus which is constantly on Verstappen.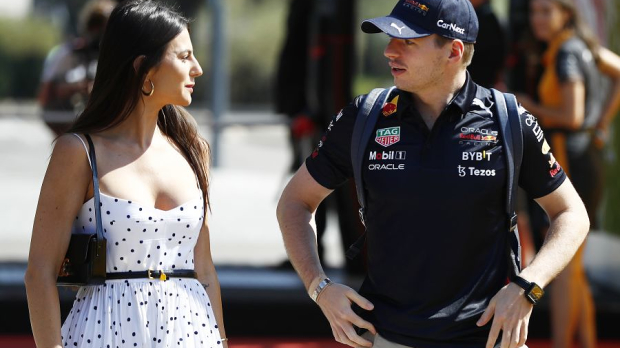 "Maybe one day we will reveal the whole story, but I am careful with what I say," she explained. "On the internet, everything derails so quickly. It's nice to keep some things between us and us alone."
The pair often share updates on their lives away from the track on their social media accounts.
They were pictured sharing a passionate Valentine's Day kiss in February 2023, and more recently, they shared adorable snaps of their family time at the season-opening 2023 Bahrain Grand Prix. This included a family karting day with Kelly's daughter, Penelope.
Kelly, Nelson Piquet and a famous F1 family
Piquet was well known in Formula 1 long before her relationship with Verstappen as the daughter of the legendary Nelson Piquet.
Nelson Sr was one of the most formidable drivers in the sport during the 1980s - winning the world championship in 1981, 1983 and 1987. In more recent times though he was ordered to pay almost $1million in damages for racist and homophobic comments made about seven-time champion Lewis Hamilton.
Kelly has six siblings, including another former F1 driver, Nelson Piquet Jr. The Brazilian represented Renault for 18 months between 2008 and 2009, partnering Fernando Alonso.
Nelson Jr was the driver infamously involved in the F1 'crashgate' saga, alleging that he had purposely crashed during the 2008 Singapore Grand Prix under instruction from team bosses to benefit the Spaniard's chance of winning the race.
Before she started dating Max Verstappen, Kelly had been in a relationship with another F1 driver in the shape of Daniil Kvyat.
Kelly and Kvyat officially got together in January 2017 and their daughter Penelope was born in July 2019, just one day before the Russian claimed a podium at the German Grand Prix. They split up in December of that year.
A model, influencer and much more
Kelly studied at the International School of Nice, St Clare's Oxford and the Marymount Manhattan College with her final degree coming in Politics and International Relations.
Piquet has spent time as a model, posing for PatBO, Lucas Boccalão and taking to the catwalk in numerous fashion shows. She was the cover star of Vogue in the Netherlands in early 2023.
Kelly has also worked as a fashion stylist and columnist as well as taking on numerous roles within marketing. She took over the social media for Formula E between April 2015 and December 2016 as she utilised her in-depth knowledge of motorsport.
She has an influential social media presence today and has over 1.3 million followers on Instagram.
She now works as a health and wellbeing coach at the Institute for Integrative Nutrition and has done so since January 2018. The business is based in Monaco.
READ MORE: F1 WAGs: Wives and Girlfriends of Lewis Hamilton, Max Verstappen and Daniel Ricciardo