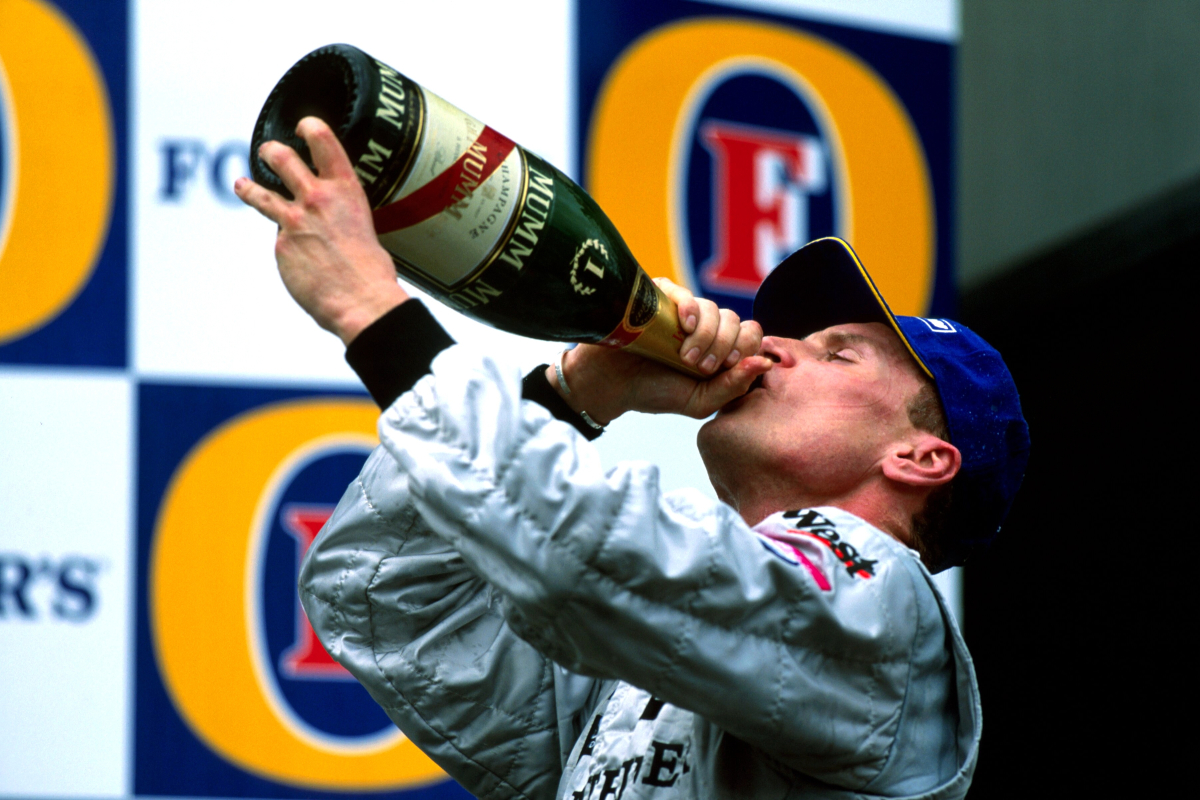 Remembering 2003's UNBELIEVABLE F1 season opener
Remembering 2003's UNBELIEVABLE F1 season opener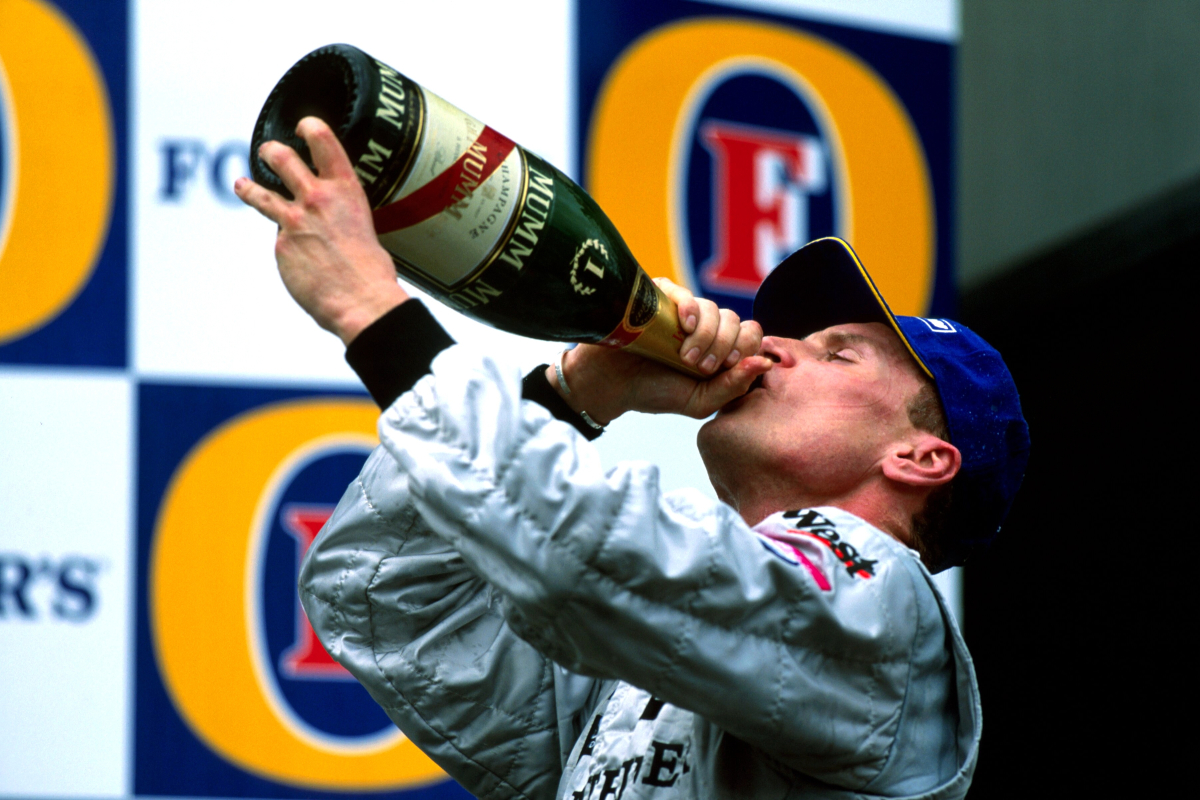 New qualifying regulations led to one of the most memorable season openers in history in 2003, with unbelievable drama, crashes, and heartbreak for multiple drivers!
After Ferrari crushed all that lay before them in 2002, the FIA brought in new regulations to spice up the action – and that is certainly what happened in the 2003 Australian Grand Prix.
Qualifying became a two-day, one-lap shootout with pole position decided on Saturday, with the fastest car on Friday lapping last on Saturday.
The added exciting detail was that cars had to qualify with the fuel intended to start the race, with no setup changes allowed. Back in 2003, these changes were nothing short of revolutionary.
Teams could no longer predict strategy and had to carefully consider options before qualifying. Add too much fuel and a car would be stuck at the back of the grid. Add too little and any advantage would be gone within a few laps as a driver would need to pit.
Qualifying
Ferrari opted for light-fuel qualifying runs. The F2002 (the new car would not run until round four) lapped nearly a second faster than the nearest non-Ferrari, Juan Pablo Montoya's Williams in P3 on Saturday.
McLaren endured a nightmare qualifying. Kimi Raikkonen ran wide at turn ten but recovered. He would line up P15. Teammate David Coulthard also struggled and lined up P11. Rumours were his MP4/17D carried a heavy fuel load. McLaren badly needed a win after a lean 2002 season.
Expectations were kept low as Sunday approached. The new regulations from an outside view had made no difference, with a dominant Ferrari locking out the front of the grid. Schumacher speaking after qualifying pointed out the irony of the situation.
Jokingly he said, "You complain so much…that someone felt something had to be done and now we have to live with the result!"
READ MORE: Rosberg outlines key reason WHY Aston Martin are fast
Race start and risky strategies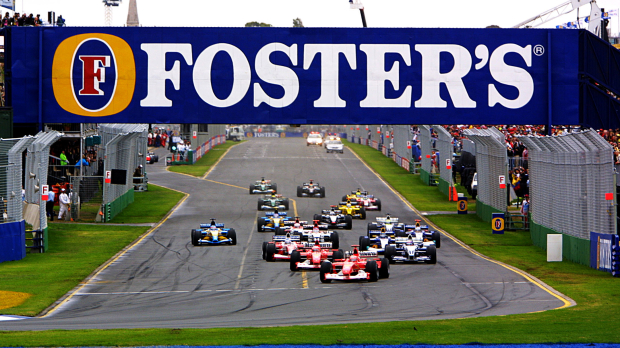 Drama unfolded before the lights had even gone out. Kimi Raikkonen's McLaren headed for the pits for fuel and dry tyres, in a calculated gamble.
Meanwhile, as the cars lined up the grid, the second Ferrari of Rubens Barrichello jumped the start. He realised his error, but it was already too late. His start compromised; he fell into second place behind teammate Schumacher.
The F2002 continued to show even a year on from its debut why it gained the reputation as one of the best cars in F1 history.
After the first lap, the Scuderia's intermediate shod cars led the field by almost six seconds, in a display of total dominance. Shallow-wet Michelin runners began to warm up their tyres, but no one could touch the Ferraris.
Coulthard changed to dry tyres shortly after the race started, reacting to the weather around him.
Fortunes reverse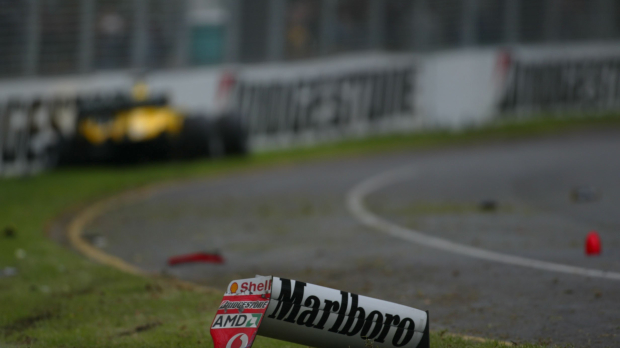 Ferrari's race began to unravel as the pit stops approached. After Barrichello received his inevitable drive-through penalty, he hit the wall at turn five, demolishing his F2002. The Safety Car made its first appearance of the afternoon.
Schumacher pitted for dry tyres, his right rear tyre sticking to his car during the stop. An omen that for once the Scuderia would not have the race entirely its own way, Schumacher re-joined P7 in the queue with work to do.
Juan Pablo Montoya's Williams now led, with Raikkonen's early pitstop leaving him P4 after a decisive move on Mark Webber's Jaguar at the restart. Webber's strong showing would sadly end in suspension failure, bringing out the Safety Car once again.
Williams reacted quickly, bringing in both new leaders Montoya and Ralf Schumacher, together. Ralf suffered an agonisingly slow stop and promptly spun at turn one on returning to the track, though he continued.
Battle Royale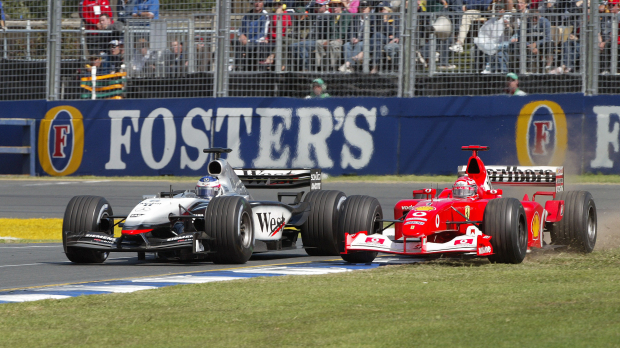 Once the Safety Car came in, Raikkonen found himself in P1 and pushed hard to increase the gap between himself and Schumacher now back in P2. Schumacher's relentless speed saw his Ferrari soon climbing all over the rear of the McLaren, a move seemed inevitable.
The moment came on lap 37. Schumacher slipstreamed Raikkonen down the pit straight and attempted an overtake on the outside. The young Finn, not intimidated by the scarlet Ferrari, forced Schumacher onto the grass – a bold statement of intent from a promising driver.
Sadly, the Finn lost his lead and first victory chances for being one kilometre per hour over the pitlane speed limit. His drive-through penalty dropped him down to P8. It was the start of an outstanding comeback drive from the Finn.
READ MORE: Despondent Hamilton frustrated by Mercedes after 'repeat' Bahrain blunder
Leader in a spin
Schumacher now looked set to take victory, leading in the closing stages. But in a final cruel twist of fate, the Ferrari's left barge board detached itself from his F2002, leaving the reigning World Champion trailing to the pits for repairs.
Montoya now led once again after his final pitstop, with David Coulthard chasing hard. Then with just a few laps to go, Montoya spun his Williams in the same place as his teammate earlier. The Scot now led, with Raikkonen and Schumacher chasing hard.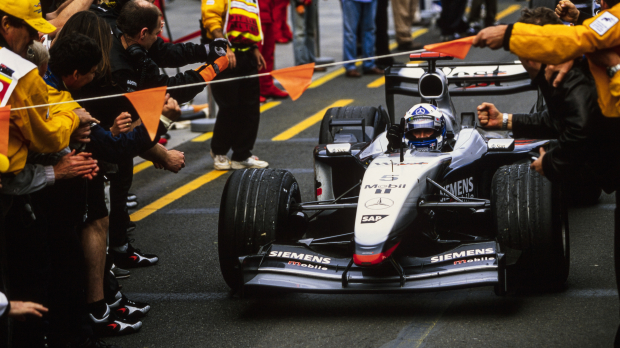 McLaren was unable to secure a one-two, but Raikkonen did hold on to third place. Compared to the predictability of previous years, 2003 began with a bang. After the race, Schumacher said it was "an interesting day with plenty of action".
Coulthard's 13th and final win in F1 proved that Ferrari could be beaten and provide genuine excitement, not seen since the Scuderia began its crushing dominance. Seven leader changes and high-profile crashes saw F1 reborn in 2003. 2023's opener will hope to emulate it.
READ MORE: F1 is for everyone – stop gatekeeping and make room for all