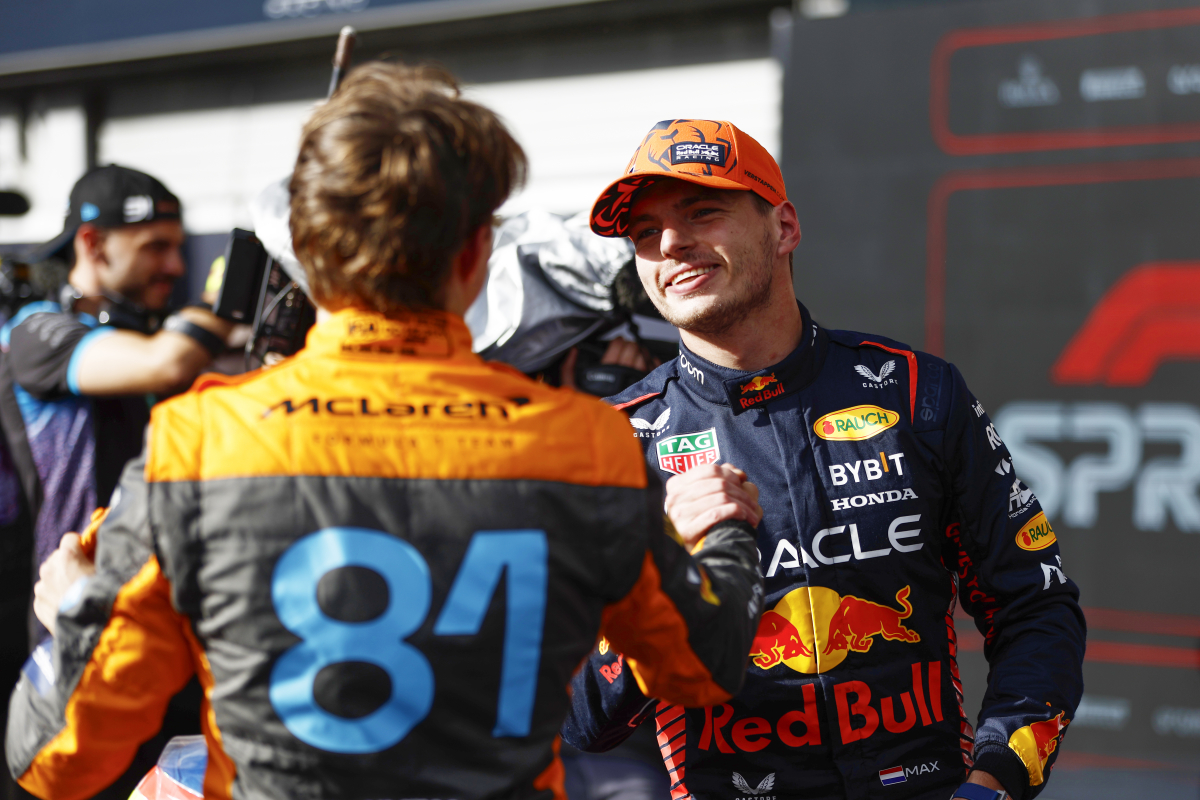 Piastri takes sprint VICTORY as Verstappen claims third world championship
Piastri takes sprint VICTORY as Verstappen claims third world championship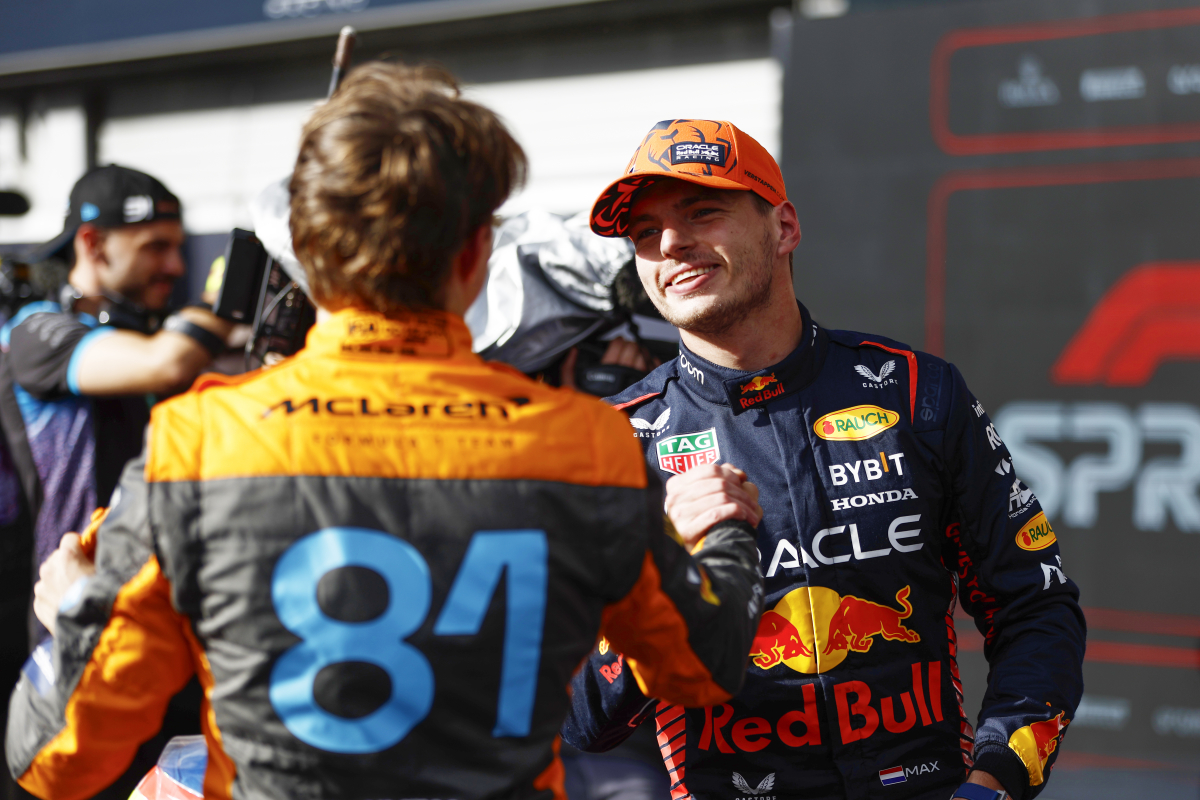 Oscar Piastri stormed to his first win in Formula 1 after claiming sprint victory in Qatar having held off a challenge from newly crowned three-time world champion Max Verstappen.
Piastri started on pole after being quickest in the earlier sprint shootout, with his McLaren team-mate alongside him on the front-row. The top three, including Max Verstappen who only needed three points to clinch a third drivers' title, all started on the medium-compound tyre. Then it was George Russell and Charles Leclerc behind them on softs.
Slow start for the medium tyre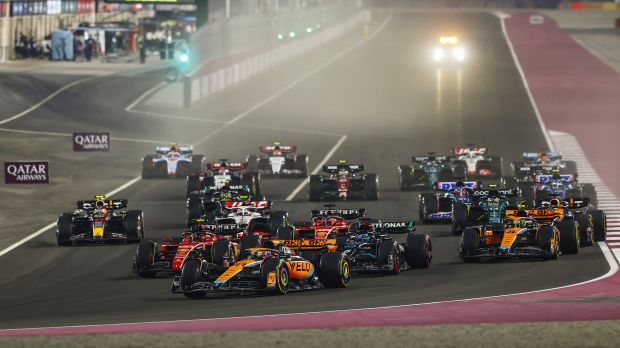 A slow start for both Norris and Verstappen allowed Russell and both Ferraris to move ahead of the pair. Piastri meanwhile kept his lead after a strong getaway. Unfortunately, the recently impressive Liam Lawson caused an early safety car after completely losing control and beaching his AlphaTauri into the gravel on the opening lap.
READ MORE: Horner issues verdict over F1 track limit controversy at Qatar Grand Prix
With three soft-runners directly behind, Piastri led the restart on lap three but would quickly lose the lead to the pacier Russell. The Aston Martin of Fernando Alonso put an strong attack on Norris, but would ultimately lose out to the Alpine of Esteban Ocon while battling for sixth.
Williams' Logan Sargeant meanwhile became the second driver to beach his car in the gravel as the Safety Car made a second appearance of the sprint.
After five laps in, it was Russell ahead of Piastri, Sainz, Leclerc, Verstappen, Norris, Ocon, Alonso, Hulkenberg and Gasly in the top ten.
READ MORE: Sargeant spin brings out SECOND safety car in Qatar Sprint
Russell leads at the second restart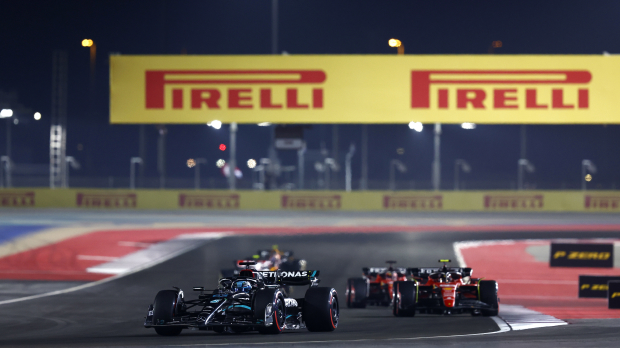 With the second restart culminating on lap seven, Russell executed the perfect getaway to lead by over a second ahead of Piastri, successfully breaking the DRS. With the fastest lap of the race after eight laps, Russell began to lay down the gauntlet in the fight for victory. Meanwhile, the Aussie was now defending his position from Sainz behind. Fellow Spaniard Alonso was able to regain seventh place by re-passing his old Alpine team-mate Ocon on the main straight.
With the continued degradation having an effect, the medium tyre would begin to come into its own as Verstappen highlighted his dominant speed with an overtake on Leclerc for fourth place. Then it was the turn of Piastri to show the speed on the medium tyre by performing the new fastest lap. Meanwhile, towards the back of the points, Perez showed signs of pace in the Red Bull with an overtake on Gasly for P10.
As the graining of the soft tyre began to accelerate, Sainz would lose third to Verstappen and fall off from the podium-sitters. Next was the turn of Russell to struggle as he lost the lead to Piastri on lap 11. Norris continued this theme with a move on Leclerc for fifth.
READ MORE: FIA announces sweeping changes to Qatar Grand Prix weekend after safety concerns
Verstappen becomes champion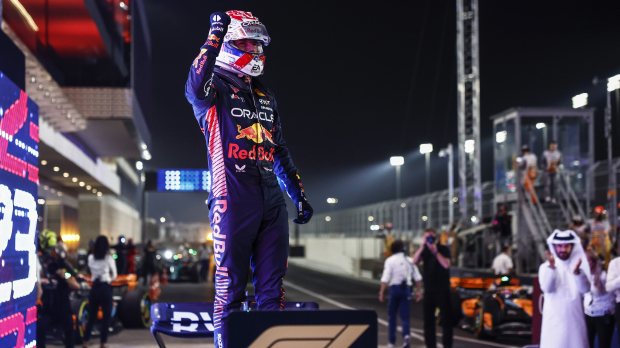 Then was the moment that Verstappen became a three-time world champion. A three-way collision involving championship rival Perez, Ocon and Nico Hulkenberg led to the retirement of all involved. This confirmed that Verstappen could not be caught by Perez in the drivers' standings, handing him the championship mid-race. As a result of the crash, the safety car came out for a third time.
Under the Safety Car, Russell tried to plead his case to the team to pit, however the Mercedes squad chose to leave their leading driver out in second place with five laps remaining. In a similar vein, another sarcastic conversation ensued between Verstappen and his race engineer Gianpiero Lambiase, with the Dutchman alerting his right-hand man to the degrading state of the tyres.
With five laps left, Norris was the only driver still in the race who had lost places. After clearing the debris from the Perez accident, the safety car came in for one final time.
Another poor getaway from Norris allowed Leclerc past for fifth place at the final restart. Further down, Hamilton was fighting to overtake Gasly for eighth after also losing a place at the restart.
READ MORE: Pirelli chief reveals how tyres are being damaged in Qatar
Piastri brings it home in P1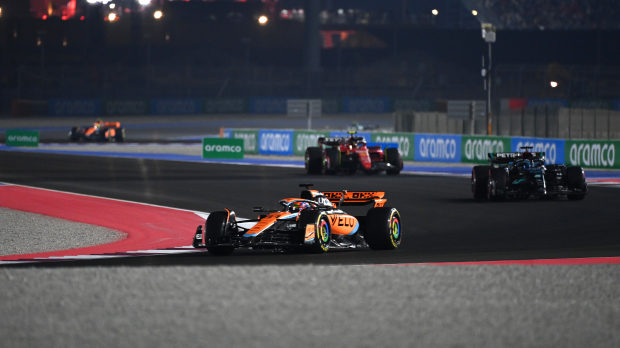 With Russell continuing to struggle on the softs, Verstappen ploughed past into second place with the aim of catching Piastri for the victory. The Dutchman was three tenths faster than Piastri on his first clean chasing lap but needed to make up a further two seconds behind the leading Australian.
Now that the mediums were returning as the optimal tyre, Norris was able to once again attack and repass Leclerc. Next up was Sainz, and the British driver passed his old team-mate with ease.
In a battle of champions, Hamilton was able to pass Alonso for seventh and closed up behind the pair of Ferrari's. On the final lap, the Mercedes had different fates. Russell lost out on a podium spot to Norris, while Hamilton pursued and passed both Ferrari's for fifth place. After exceeding track limits for a four time, Leclerc received a penalty that pushed him out of the points.
In a great sprint drive, Oscar Piastri took his maiden F1 first place finish ahead of the crowned three-time champion Verstappen. A double McLaren podium was ensured by Norris, with the Mercedes' duo of Russell and Hamilton behind in fourth and fifth respectively. Then Sainz took sixth, while Alexander Albon stole two crucial points for Williams in seventh, with Alonso coming home in the final points spot of eighth.
READ MORE: Verstappen reveals sprint race 'shame' despite winning third consecutive title
Qatar Grand Prix Sprint Race 2023 results
The final sprint classification from the Losail International Circuit is as follows:
1. Oscar Piastri [McLaren]
2. Max Verstappen [Red Bull] +1.871s
3. Lando Norris [McLaren] +8.497s
4. George Russell [Mercedes] +11.036s
5. Lewis Hamilton [Mercedes] +17.314s
6. Carlos Sainz [Ferrari] +18.806s
7. Alex Albon [Williams] +19.864s
8. Fernando Alonso [Aston Martin] +21.180s
9.. Pierre Gasly [Alpine] +21.742s
10. Valtteri Bottas [Alfa Romeo] +22.208s
11. Yuki Tsunoda [AlphaTauri] +22.863s
12. Charles Leclerc [Ferrari] +24.860s*
13. Kevin Magnussen [Haas] +24.970s
14. Zhou Guanyu [Alfa Romeo] +26.868s
15. Lance Stroll [Aston Martin] +29.523s*
16. Nico Hulkenberg [Haas]: DNF
17. Esteban Ocon [Alpine]: DNF
18. Sergio Perez [Red Bull]: DNF
19.Logan Sargeant [Williams]: DNF
20. Liam Lawson [AlphaTauri] : DNF
*Five-second time penalty awarded to Stroll and Leclerc for exceeding track limits.
READ MORE: Verstappen wins THIRD consecutive world title after Perez disaster