Norris reflects on closing gap to Verstappen after IMPRESSIVE double McLaren podium in Suzuka
Norris reflects on closing gap to Verstappen after IMPRESSIVE double McLaren podium in Suzuka
Lando Norris has spoken about McLaren's progress at the Japanese Grand Prix following an incredible team performance that resulted in a double podium finish.
The Woking-based team started the year as one of the weakest on the grid, but they have shown significant improvement through continuous upgrades, becoming one of the strongest teams on the grid.
Suzuka has been the strongest weekend of the season so far. Oscar Piastri qualified in P2, followed by Lando Norris. In the race, the British driver overtook his team-mate on the first lap, and from there, both showed great race pace, staying clear of trouble and securing a remarkable double podium finish for the team.
After the race, Norris said: "Another amazing day for us. A P2 and a P3.
"Couldn't have asked for any more, the team did an amazing job. My start was very good, I almost had Max. Max is Max as well, so I didn't have a lot of chance [going] into turn two.
"I tried, but the pace was extremely strong today compared to everyone. We're not close to Max, but we're not miles away either.
"It was a very good day, I'm very happy. Also for Oscar, his first podium in Formula 1, congrats to him."
READ MORE: World CHAMPIONS crowned as Verstappen returns to form in crushing Suzuka victory
Great progress for McLaren in 2023
After the disaster in Singapore, Red Bull returned to the top in Suzuka, and Max Verstappen dominated the weekend from start to finish, as has been the norm this season.
McLaren was the team that came closest to the Dutchman, which would have seemed unthinkable just a few months ago.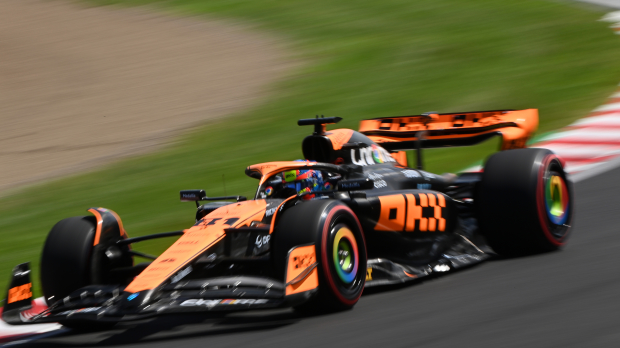 The British team has shown incredible progress, which Norris was keen to highlight after the race.
A strong finish to the season would put McLaren in a very good position for 2024, as they have demonstrated in Suzuka that they are faster than Mercedes and Ferrari, although Norris acknowledges that it won't be easy to stay ahead in the rounds to come.
Norris added: "We're pushing, we're getting there. The progress we've made is pretty outstanding.
"Like I said, I'm very proud of the team [and] the steps forward we're making every weekend.
"I'm sure there are going to be some tough times to come, but we're getting there, step by step. Our first double podium together with Oscar. A good moment for us."
READ MORE: World CHAMPIONS crowned as Verstappen returns to form in crushing Suzuka victory