Horner speaks out on alleged 'team decision' favouring Verstappen over Perez
Horner speaks out on alleged 'team decision' favouring Verstappen over Perez
Christian Horner has said that an 'extreme outlap' from Max Verstappen allowed him to jump ahead of team-mate Sergio Perez in Sunday's Dutch Grand Prix, rather than it being a tactical decision against the team's 'second' driver.
After a brave choice on Perez's strategy when it started raining at the very start of the Dutch Grand Prix, the Mexican had a 15-second lead over his team-mate, before Verstappen was able to cut it down to just over four seconds.
When Verstappen came into pit before Perez, it looked like Red Bull had deliberately allowed the Dutchman to swap positions with Perez in order to help him win his ninth consecutive race.
READ MORE: Verstappen equals record with victory in DRAMATIC rain-hit Dutch GP
However, Horner has denied doing this and has said that it was purely coincidental that Verstappen was able to finish that particular round of pit stops ahead of his team-mate.
Supreme Verstappen wins at Zandvoort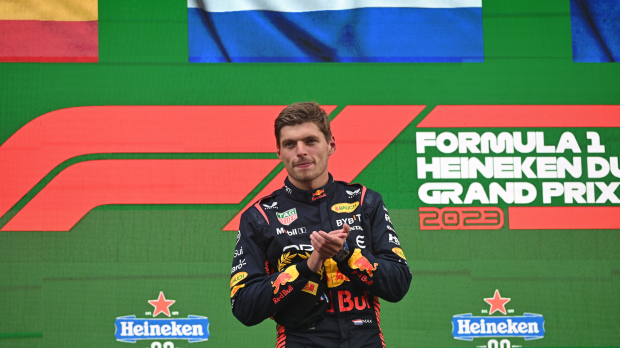 "It was tricky because when you're the first car, it's very hard to make that call," Horner told Sky Sports F1 after the race.
"Checo pulled the trigger early, made a great call, got in. The team reacted super-fast, we got him back out. We then got Max in immediately, others we were surprised to see stay out.
"Max then started coming through the field so quickly. Checo at the front had pulled a good gap as well and was focused on trying to get a pit-stop over the cars behind.
"There was a couple of reasons behind making that decision; one was that we had Alonso taking the slicks as well and I think it was Gasly behind him. The pace of the undercut, if we would have pitted Checo first and Max the second lap, we had the risk of coming out after that had shaken down and being first and fourth.
"His outlap was so extreme, it took us slightly by surprise that Max jumped Checo. Just so much happening in very very variable conditions."
READ MORE: F1 Driver Salaries: How much do Hamilton, Verstappen and co earn?