Lewis Hamilton faces a new challenge this year when he starts the season as a title challenger - as opposed to a defender for the first time since 2017 - and he will do so alongside a new team-mate in George Russell.
Since the Mercedes protégé stepped into Hamilton's shoes at the Abu Dhabi Grand Prix in 2020 due to the seven-time champion contracting coronavirus and almost winning the race, the F1 world has been waiting for the tantalising prospect of this exciting pairing.
Everyone, that is, except Hamilton.
The 36-year-old has had it relatively easy over the last five years, with the generally subservient Valtteri Bottas working as his wingman on the other side of the garage.
Now, Russell arrives after three frustrating but character-building seasons at the back of the grid with Williams, eager to demonstrate his skills at the wheel of a car that should be able to do him justice.
New design rules add another complication, which could upset the normal running order, but however the team's new car performs, there is certain to be a different intra-team atmosphere for Hamilton to handle.
Speaking after the announcement of Russell's move, one of Hamilton's most competitive team-mates, Nico Rosberg, said: "[Signing Russell] was a difficult decision for [team principal] Toto [Wolff], because the risk is quite high.
"If George is really on exactly the same pace as Lewis, it could become really intense in the team. There are a lot of unknowns there. Is George always going to back out, or is he going to get his elbows out?"
If, as is almost certain, he does the latter, how well will Hamilton cope? Of course, we will not know until the racing begins.
But what clues can be found in his toughest team-mate battles from the past? GPFans takes a look back that allows us to look ahead.
Hamilton vs Alonso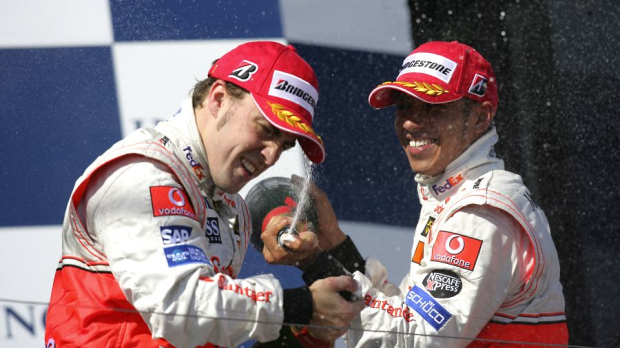 Hamilton's debut season at McLaren in 2007 pitched him against arguably his toughest team-mate, with reigning champion Fernando Alonso arriving from Renault to lead the team and help the rookie find his feet.
The young Briton was team boss Ron Dennis' golden boy and, in a retrospective interview with CBS in 2015, Hamilton said: "I remember sitting, just studying [thinking] I've got to make sure that somehow I match this guy.
"I remember just before the first race, Ron said in his office: 'You've got to expect, and don't be surprised if you are half a second behind Alonso in the first race.' You don't know what that did to me inside."
From that moment, Hamilton was determined to ignore the racing records and not be the supportive team-mate to Alonso. By the end of the year, he was ahead six-two in pole positions, equal on points and race wins and almost won the title.
More importantly, he had also established such a strong position in the team that Alonso returned to Renault after conceding the whole McLaren garage was so behind Hamilton he would get nowhere if he stayed.
There is no denying Hamilton's bond with Dennis helped, a fact worth remembering when considering the future dynamic at Mercedes but there were three key moments that established his dominant position.
In Monaco, Alonso and Hamilton were running one-two when the faster rookie was told to keep position. Hamilton was a picture of misery after the race, feeling he had been robbed of his first victory. And that fired him up.
At the very next race, in Canada, Hamilton was on pole ahead of Alonso and pushed the Spaniard wide when he tried to pass around the first corner. The result: Hamilton claimed his first F1 win, Alonso finished seventh.
That win saw Hamilton displace Alonso at the top of the championship table and when the pair headed to Hungary five races later he was still ahead but with just two points between them.
Alonso played alleged dirty games in qualifying, setting provisional pole then delaying his exit from the pits to stop Hamilton getting a chance to improve his time. And that is when the balance truly tipped towards Hamilton.
Alonso was penalised by the stewards and dropped to sixth on the grid, promoting Hamilton to pole in the process, and he took full advantage to lead from start to finish, while Alonso was fourth.
After that race, Hamilton released a statement saying: "For the record, Fernando and I are fiercely competitive and respectful of each other. We are both ambitious drivers who want to win. However, we are not drivers at war."
Despite that, Hamilton stopped speaking to Alonso after that and while the management tried to resolve the intra-team sparring, they dropped the ball on track and let Kimi Raikkonen and Ferrari sneak in to win the title.
Reflecting on the season earlier this year on the 'Beyond the Grid' podcast, Alonso conceded: "We had all the fights together and all the stress together to fight for the championship, and we were not well managed."
Read More (1/3)