Hamilton vs Button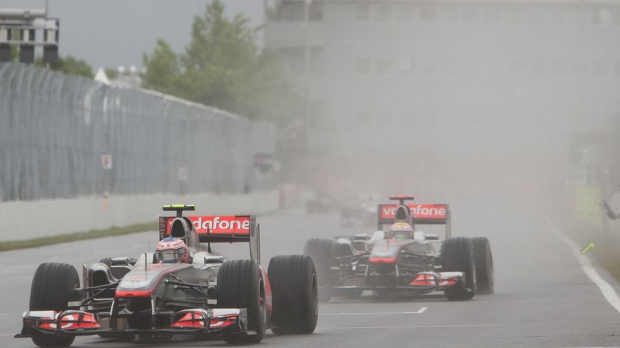 After two years of dominating Alonso's replacement, Heikki Kovalainen, Hamilton found himself up against another reigning champion in 2010 when Jenson Button moved to McLaren from Brawn GP.
The by-now established Hamilton handled the first season well, taking more points, wins and podiums but the next year was one of his toughest, with nobody around to help him.
His problem was in the off-track issues he was facing, breaking up with pop star girlfriend Nicole Scherzinger and trying to manage without his father Anthony after releasing him as manager at the start of 2010.
That led to many issues on track, including six clashes with Felipe Massa and numerous visits to the stewards' room. Hamilton was clearly frustrated and was often heard mouthing off about being victimised.
At the sixth race of the season, in Monaco, he even said: "It's an absolute fricking joke. I've been to see the stewards five times out of six this season. Maybe it's because I'm black. That's what Ali G says. I don't know."
Such a statement spoke volumes about his immaturity and mental state at the time, and later in the season, Massa said: "He was a little bit too aggressive this season. He's had a problem with many other drivers as well."
Google 'Hamilton accuses 2011' and, sure enough, a long list of stories will appear showing his unease. At the end of the season, his McLaren boss Martin Whitmarsh said the pressures reflected on his performance, good and bad.
"He's very analytical," explained Whitmarsh. "He's very serious about trying to do the best job he can. He's been like it since he was in karting and he beat up on himself. That's his way, his psychology. That's how he motivates himself."
Hamilton responded by saying: "It's rubbish. My issues have been much, much bigger than that - more personal. [Button] has got a great bubble around him and with that he's able to go out there and perform without any worries on his mind.
"He's in a much stronger position than me. That's not affecting the way I'm performing. I've just been a bit unfortunate and I've got my own problems. I lost that bubble. It is a priority for me to create that atmosphere around myself."
It taught Hamilton a valuable lesson about relationships and the following year he was back on form. He left for Mercedes, ready to focus on building a team that could take him to another level.
Hamilton vs Rosberg – Part 1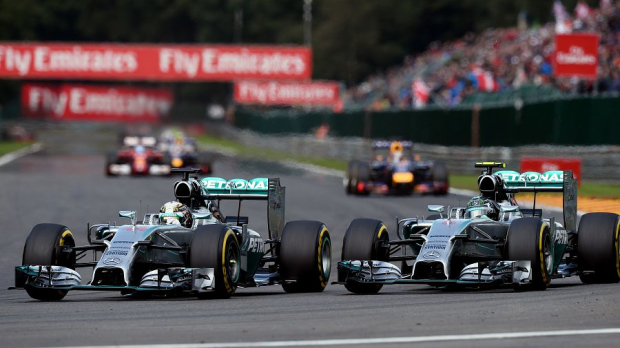 Hamilton joined his old karting team-mate Rosberg at Mercedes in 2013 as a replacement for Michael Schumacher and immediately took the upper hand, out-scoring the established team leader by 18 points.
Things changed the following year, however, as Rosberg got tough and used some fairly underhand actions to try to get inside Hamilton's head in the early part of the season.
In Bahrain, Rosberg broke engine protocols to gain a bigger boost, but Hamilton still won. After four Hamilton victories, Rosberg deliberately went up the escape road in qualifying at Monaco to stop Hamilton taking pole then went on to win.
Hamilton's comments on the team radio, revealed at the end of the season, showed he knew exactly what Rosberg was playing at. When told 'yellow, yellow turn five' he simply replied: "Ah, that was very good of him."
The incident ignited the flames and it exploded six races later in Belgium when the pair collided on the second lap, effectively ending Hamilton's race. Instead of buckling, however, Hamilton channelled that anger into a dramatic fightback.
Rosberg was 29 points ahead with seven races remaining and, at the time, Felipe Massa claimed Hamilton could crack under the pressure, suggesting Rosberg was "using a bit more of his brain."
In response, Hamilton said: "The edge I have is in my ability. That is the gift I have and I have to utilise it this year more than ever." Sure enough, he then went on to achieve one of his greatest triumphs over a team-mate.
Read More (2/3)