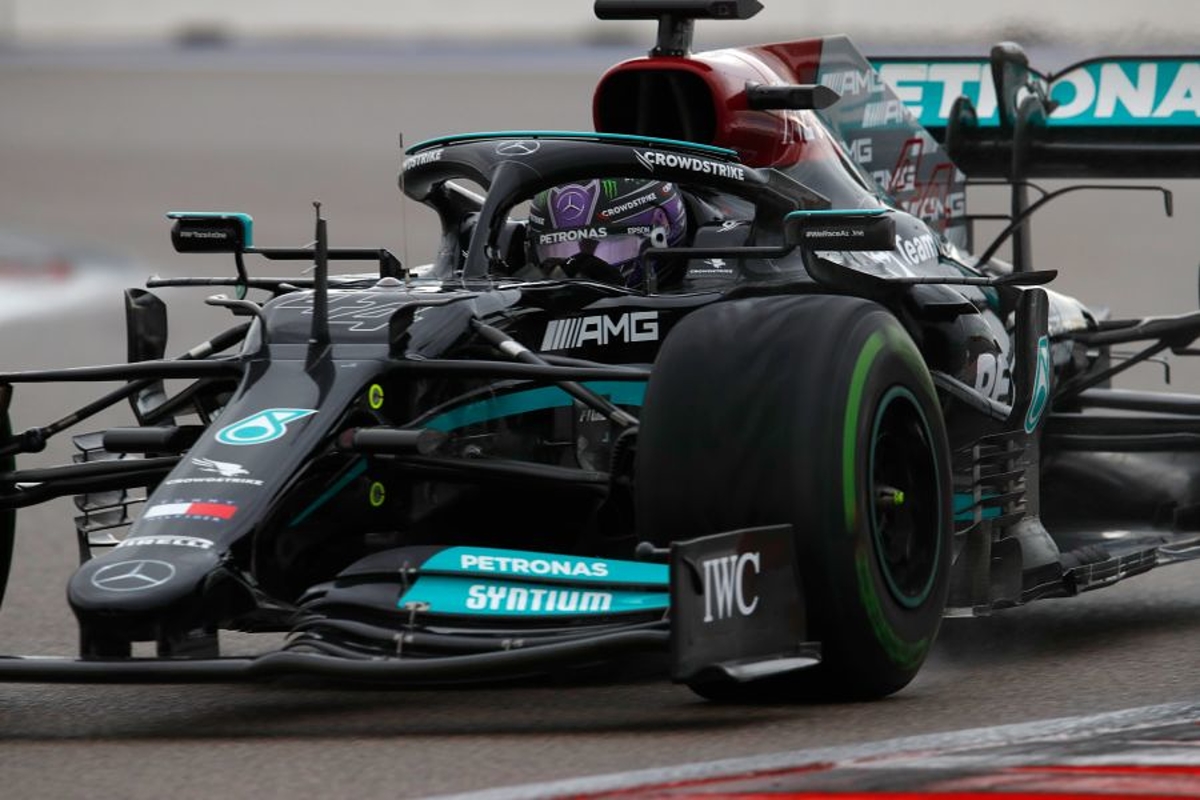 Hamilton claims historic 100th F1 win as Norris suffers bitter heartbreak
Hamilton claims historic 100th F1 win as Norris suffers bitter heartbreak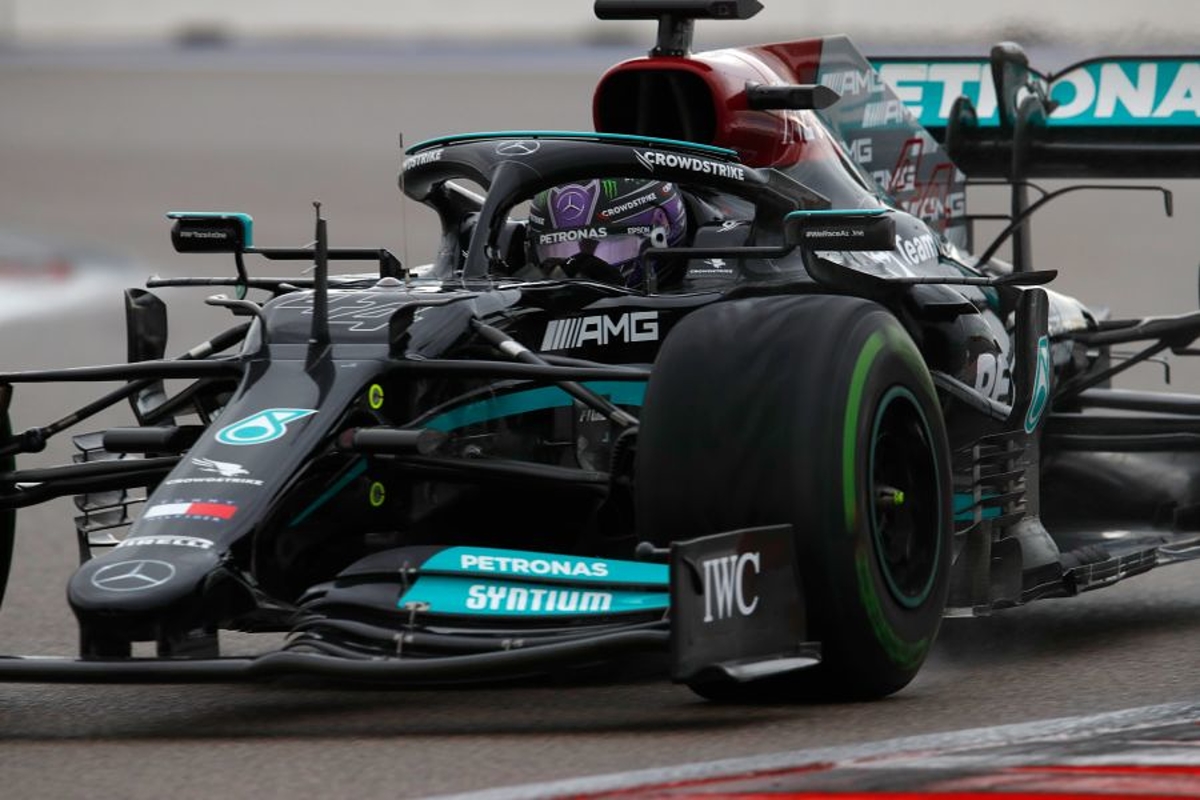 Lewis Hamilton made F1 history by scoring his 100th grand prix victory following a chaotic race in Russia that proved heartbreaking for Lando Norris.
Hamilton managed to maintain Mercedes' 100 per cent record at the Sochi Autodrom with the team's eighth successive victory.
For once, Mercedes made the right calls as with rain closing in over the closing laps, Hamilton pitted for intermediate tyres while then leader Norris tried to brave it out.
Ultimately, Norris had to concede defeat and trundled home seventh when he had his first F1 win within his sights.
Remarkably, from last on the grid after taking a power unit penalty, F1 title rival Max Verstappen finished second in his Red Bull, and now trails Hamilton by just two points going into the next race in Turkey.
Ferrari's Carlos Sainz joined the title protagonists on the podium at the conclusion of a breathtaking 53 laps.
From the beginning, given the fascinating starting grid, the race was captivating.
After claiming the first pole position of his F1 career, Norris immediately declared his unease at the slipstream effect at this track, and so it proved as Sainz surged his way past into the lead heading into turn two.
Behind the front-running duo, another slow getaway from Hamilton saw him passed by McLaren's Daniel Ricciardo, but with the slipstream, he was third at one point.
The seven-time champion, however, found himself boxed in and dropped to seventh out of turn two as Aston Martin's Lance Stroll, Ricciardo and Fernando Alonso in his Alpine all made their way past.
Hamilton at least managed to claim one place back and move up to sixth with a pass on Alonso, only to then find himself stuck behind Ricciardo.
At the back of the grid, as expected Verstappen scythed his way through and by lap six was in 15th and behind Bottas, whose Mercedes team had made a tactical move before the race by fitting a new engine, turbocharger and MGU-H.
If Mercedes had hoped Bottas would prove a roadblock, it never materialised as the Dutch driver delivered a fine move, albeit seemingly with little defence from the Finn.
That released Verstappen who, after starting on the hard tyre, was quickly running in the top 10, and was sixth after 16 laps as the early stops unfolded, running only 7.5s behind the medium-shod Hamilton in third.
At that stage, it was a McLaren one-two as Norris had made his way by Sainz on lap 13, with the Spaniard pitting after 14 laps to cover off Stroll who had made a powerful undercut on Williams' George Russell, who had started third.
As Ricciardo continued to hold up Hamilton, and with Verstappen setting fastest laps in clean air, the gap between the title rivals was down to 3.8s after 19 laps.
After 22 laps, Ricciardo pitted for hard tyres but suffered a slow stop due to an issue with the front-left tyre. The stop released Hamilton into clean air in second, albeit just over 13 seconds behind leader Norris.
From second and sixth, Hamilton and Verstappen pitted at the same time after 26 laps, and on opposing tyre strategies with the Briton taking on a set of hards and the Dutch driver the mediums, slotting into ninth and 12th positions.
With Ricciardo and Russell in between, Verstappen very quickly cleared the Williams driver but up ahead, Hamilton passed Stroll, Sainz and AlphaTauri's Pierre Gasly, on age-old hard tyres, to nestle into fifth.
That was a net second place behind Norris, however, as the leading trio of Red Bull's Sergio Perez, Alonso and Ferrari's Charles Leclerc had yet to pit.
With 20 laps remaining, the gap between fourth-placed Norris and Hamilton behind was 5.366s, with Verstappen 14 seconds adrift in eighth.
After 37 laps, Norris and Hamilton were running one and two, and with the battle on for the victory.
With all pit stops finally completed, Sainz slotted into third, followed by Ricciardo, Perez and Verstappen, only for the latter to soon drop to seventh as he was overtaken by Alonso on fresh rubber.
With nine laps remaining, and with Hamilton 1.320s adrift, drops of rain were reported to add an extra element to the enthralling scenario.
A few laps later the rain started to fall over a part of the circuit, yet while many pitted, the leaders stayed out to continue their scrap.
Hamilton was then told to box with five laps remaining, only to ignore for a lap before eventually making his way in after 49 laps.
Norris, though, gambled and on occasion was slipping and sliding, going off track on lap 51 just as Hamilton passed to take the lead.
Hamilton went on to take the chequered flag for the 100th time, finishing 53 seconds ahead of Verstappen, with third-placed Sainz followed home by Ricciardo, Bottas, Alonso, Norris, Alfa Romeo's Kimi Raikkonen, Perez and Russell.