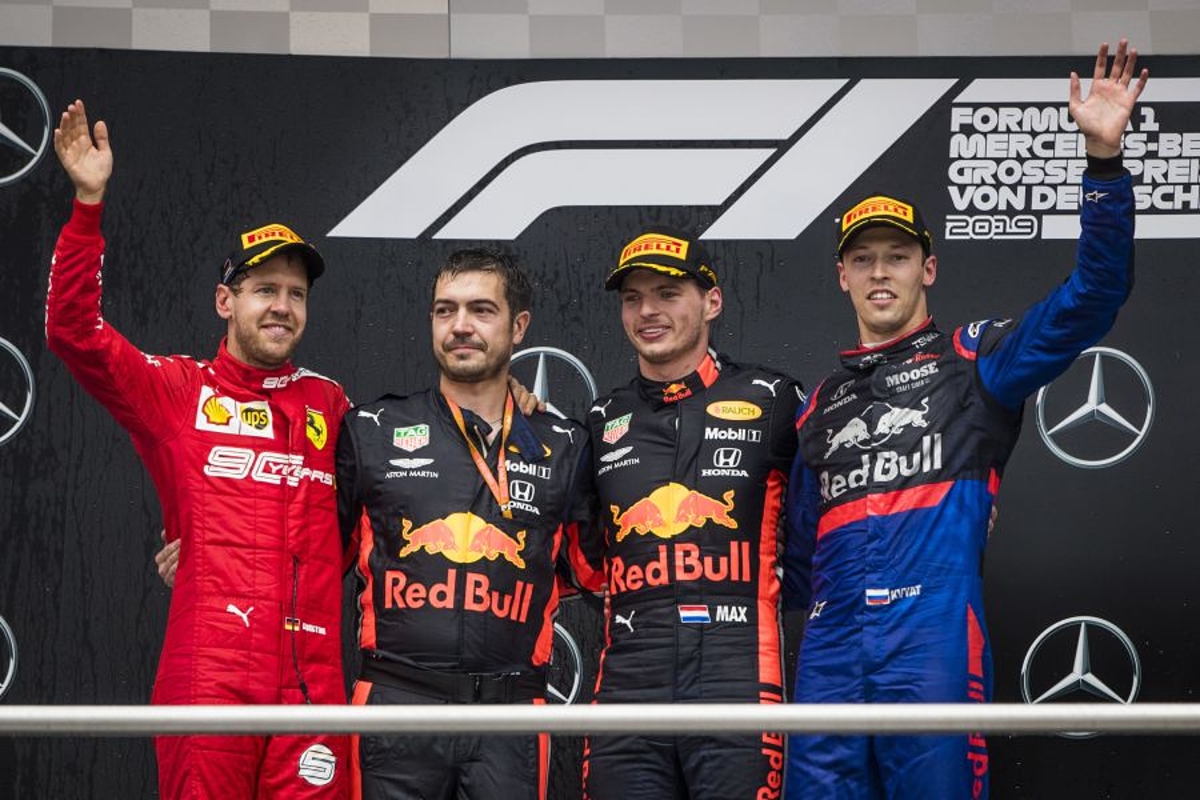 German Grand Prix: Driver Ratings
German Grand Prix: Driver Ratings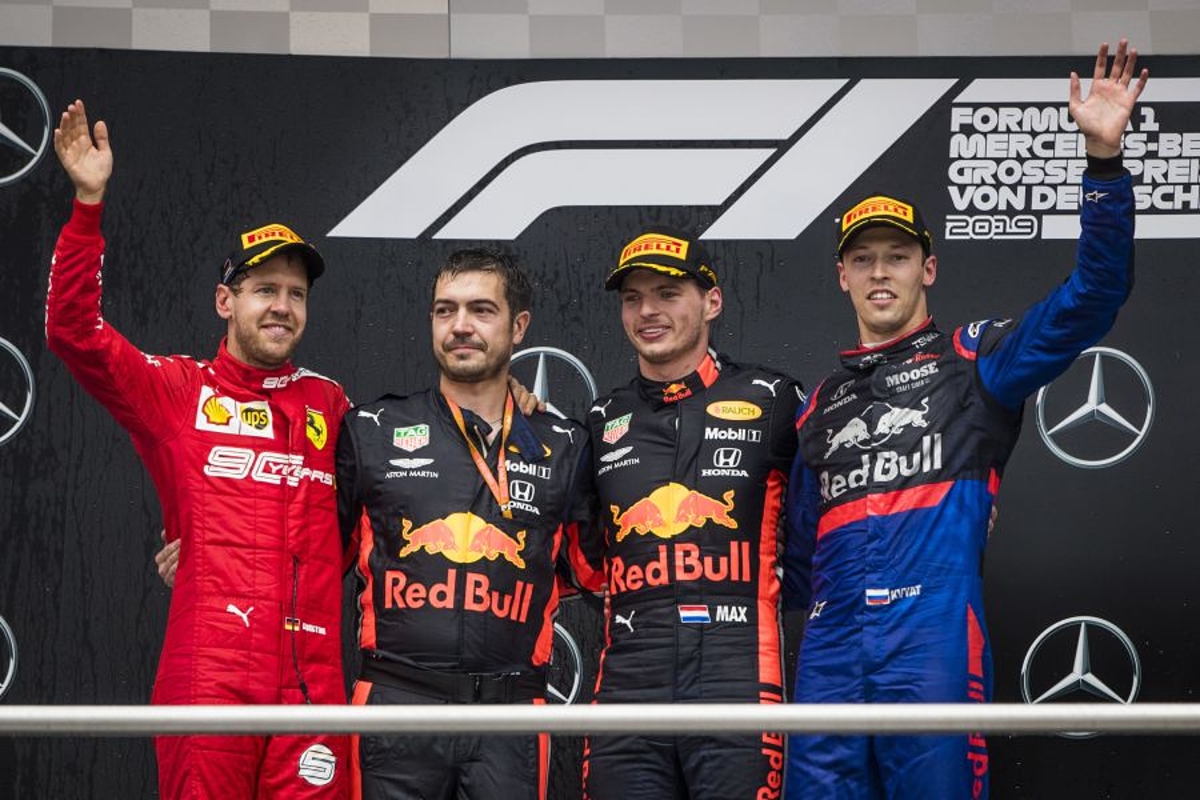 The 2019 German Grand Prix could well go down as one of the craziest in Formula 1 history, as Max Verstappen emerged from rain-soaked chaos to establish his credentials as the grid's apex wet-weather performer.
Incidents up and down the field led to multiple safety cars, with craziness befalling Ferrari and championship leader Lewis Hamilton across the weekend.
Matt Scott has run the rule over all 20 drivers in action. Let us know if you agree, or not, with the scores on Facebook and Twitter!
Sergio Perez (Qual: 8th - Race: DNF) 5/10
Made the most of Racing Point's hefty upgrade package to make Q3 for the second time this season, but was the first casualty of the race after just one lap.
Eliminated in Q2 by a few hundredths of a second, by his team-mate among others. Also denied the chance to show his fighting qualities by an early engine blowout, which will likely have penalty consequences further down the line.
Lando Norris (Qual: 16th - Race: DNF) 4/10
Norris' most disappointing weekend of his rookie campaign so far. Out in Q1 after a battery issue, which prompted a change which put him to the back of the grid. The teenager said he "shat" himself after spinning on the formation lap, and a mechanical fault put him out of his misery.
Through Friday and Saturday morning, Leclerc looked the man to beat, but a technical issue in Q3 left him mid-grid. The drag strip at the stadium section seemed to catch out Leclerc more often than anyone else; he had already caught a huge spin before a similar loss of control sent him into the barriers and out of the race when a podium, and potentially more had started to present itself.
Nico Hulkenberg (Qual: 9th - Race: DNF) 5/10
Gambled on sticking to wet tyres as most others took slicks mid-race and it paid off handsomely as the German was suddenly elevated to second place. Even after dropping to fourth, Hamilton's impending penalty still gave Hulkenberg a sniff of that first podium, but he skidded off and into the barriers to prolong the wait, for how long who knows…
Off the pace of Hamilton all weekend, which could be significant in the title race, as Bottas failed to take advantage of what we must assume will be a rare low score for the Brit. His struggles to make progress past Lance Stroll prompted instruction to push from Mercedes, and an error came along with that. Not great.
Pierre Gasly (Qual: 4th - Race: 14th) 3/10
Gasly shook off a crash in FP3 to take fourth on the grid, also delivering a deleted time that hinted he had real pace. However, he lost multiple places off the line and never recovered. Was twice overtaken by the
Toro Rosso
of
Alexander Albon
and then rear-ended the Thai driver late on to suffer a late DNF.
Drove solidly after being edged from Q3 by inches, but had four points taken away from him as Alfa Romeo were punished post-race for their set-up at the start.
Kimi Raikkonen (Qual: 5th - Race: 12th) 7/10
Giovinazzi's punishment also befell his team-mate, with Raikkonen coming away empty-handed from a weekend in which his experience counted for so much. Fifth place on the grid was a mighty effort, given Alfa have generally been behind a few midfield rivals this year.
George Russell (Qual: 18th - Race: 11th) 5/10
Made a crucial mistake late in the race, which meant he would not sneak into the points when Alfa Romeo were punished. Russell was also frustrated by Williams' refusal to put him on slicks at a point that others around him benefitted massively from. He's now the last driver without a point this season…
Robert Kubica (Qual: 19th - Race: 10th) 6/10
…because Kubica took his first point in eight years and eight months! Williams' and Kubica's reliability was to thank as he was in position to benefit from the Alfa sanction. Radio messages also reveal how Kubica used all of his experience to guide Williams' strategy through the race.
Lewis Hamilton (Qual: 1st - Race: 9th) 5/10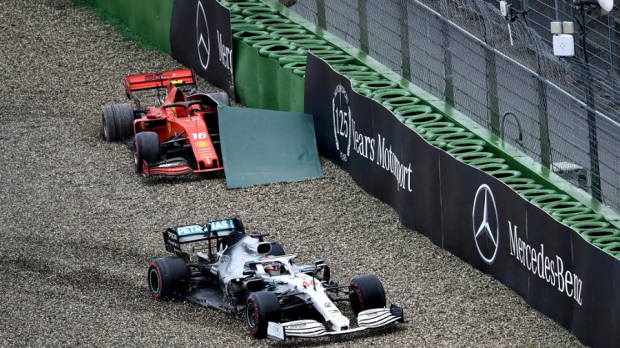 Hamilton battled illness through the weekend, but still had enough in the tank to take pole position after mechanical failure hampered the Ferraris by more than three tenths from Verstappen and Bottas. He made serene progress for the first half of the race, leading just about every lap until his spin at Turn 16 wiped off half his front wing and begun to see his hopes dissolve. Mercedes' decision to refuse Hamilton's request to retire paid off in the end, as he took two bonus points once alfa were punished.
Magnussen twice gambled during the race, once jumping to P2, and another time tumbling down the order, but he recovered to the points, and then took a nice boost thanks to Alfa's shonky set-up, although ANOTHER collision with his team-mate likely led to a telling off from Guenther Steiner.
Grosjean's request to use the Melbourne-spec set-up paid off nicely as he delivered a mighty qualifying performance. Finished ahead of Magnussen after their "love-tap" – Steiner's words, not ours – but still seems to be the man on the bubble between them.
Alexander Albon (Qual: 17th - Race: 6th) 9/10
Given the multitude of stories elsewhere, Albon's stunning performance undeservedly flew under the radar. The Thai driver was at the controls of a Formula 1 car in the wet for the very first time in his life at Hockenheim, but made brilliant progress throughout and was racing Lewis Hamilton for a podium spot late in the contest. He ended up finishing behind his team-mate, but only because Daniil Kvyat was so far down the order that Toro Rosso could afford to use him to gamble in a way they wouldn't with Albon. Getting the better of Gasly a few times will surely catch the eye at Red Bull.
Carlos Sainz (Qual: 7th - Race: 5th) 7/10
Sainz was in a good spot until he went off in the stadium as many others did. He was lucky to stop just short of the barriers, reversing back onto the track and tumbling down the order. However, the continued chaos allowed Sainz to pull off his latest surge through the field. He's now just seven points behind Gasly in the standings. Maybe it's time to elevate him from even the 'best of the rest' category.
Lance Stroll (Qual 15th - Race: 4th) 8/10
Stroll made it out of Q1 for the first time in 15 races, and his grand prix suddenly sprung into life when he and Racing Point opted to gamble on slick tyres before anyone else late in the race. It briefly put him in the lead of the race and, although he could not cling onto the top three, this could well be the result that kickstarts Stroll's Racing Point career.
Daniil Kvyat (Qual: 14th - Race: 3rd) 9/10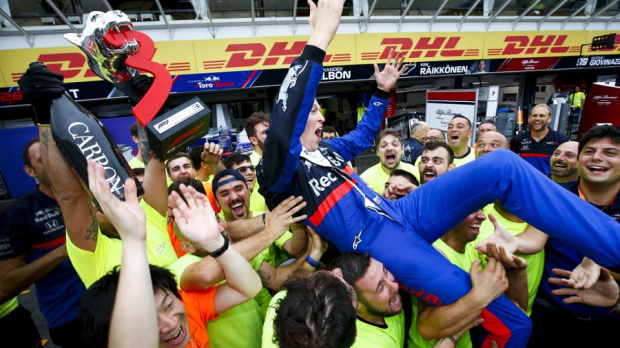 Took a similar gamble to Stroll, but had even more pace in the car and might have been on for second place without Bottas' crash bunching the field up and aiding Sebastian Vettel's charge through the field. He even had a few looks at the German to take second place back on the final lap. That he was happy to sit in behind, rather than potentially wipe them both out, displays the growing maturity in Kvyat, which could help him climb the grid further next year.
Sebastian Vettel (Qual: 20th - Race: 2nd) 9/10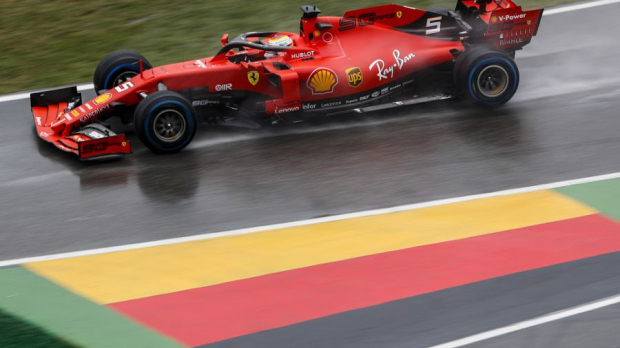 After having a shot at quali taken from his hands, it looked another German GP to forget for Vettel. However, he had made up a handful of places by Turn 1 and was in the points after a few laps. Once the slick tyres were on, Vettel came to life, delighting the Hockenheim crowd with rapid progression to the podium, serving some redemption after last year's DNF. A few more laps and who knows if Verstappen would have been under threat?
Max Verstappen (Qual: 2nd - Race: 1st) 10/10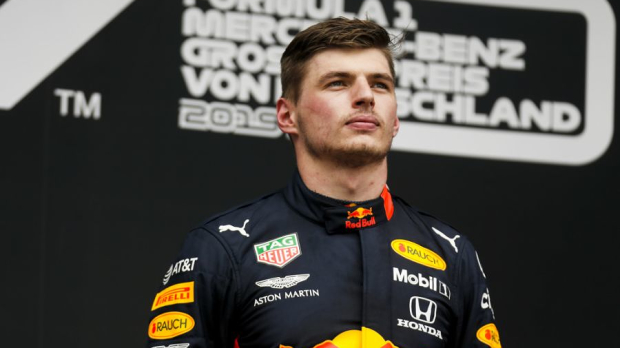 Yes, Verstappen made another sluggish start, and yes he had to catch a huge spin just after fitting medium tyres as the track dried mid-race. But for the Dutchman to emerge from such a chaotic encounter with victory secured by seven seconds shows us just how on top of his game Verstappen is right now. There was a slight struggle to clear Bottas at one point, but the pair's contrasting ends to the race perhaps shows us who we should be looking to if anyone is to truly challenge Hamilton over the remainder of the campaign.