Lewis Hamilton believes that Ferrari are currently ahead of Mercedes in terms of power unit performance, and has urged the Silver Arrows team to continue working hard to bridge the gap between the teams, as Ferrari displayed their impressive pace on the straights in Canada.
In the last GP in Montreal, Sebastian Vettel finished as the fastest driver, crossing the line first, only to be demoted to second place after receiving a five-second penalty from the stewards.
The finish would have seen Ferrari finally break Mercedes' run of straight victories in every single race so far in 2019.
The Circuit Gilles Villeneuve suited the Scuderia as it allowed them to flex their muscles on the long straights on the track, and Hamilton thinks their performance shows they have more power in the car than Mercedes.
"They were so quick on the straights," the championship leader said.
"They definitely have another power mode that we currently don't have.
"So, all of a sudden they turn up the power and he pulls away massively on the straight, even if I have DRS open.
"In the race, I know all of a sudden they pick up a lot of pace on the straights [as well] but that's the name of the game.
"They've clearly done a great job with their power unit. There used to be a point where Mercedes was ahead in that area by a good chunk.
"We've got work to do there. They are ahead of us at the moment there."
Vettel received his time penalty for returning to the track in an "unsafe" manner - according to the stewards - ahead of Hamilton after going off-course at Turn 4. The decision to fine the German caused huge controversy and polarised F1 figures and fans alike.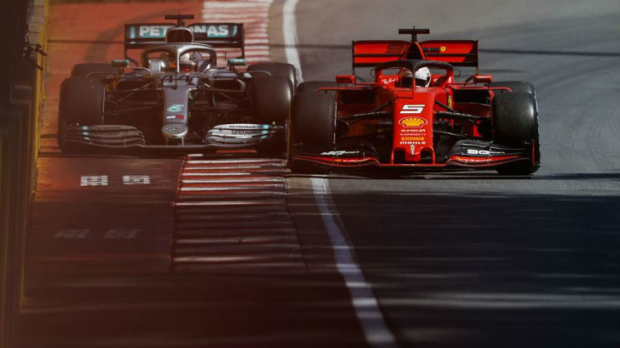 Hamilton was actually booed by the Canadian crowd due him winning due to the Vettel penalty, but he thinks he managed the situation well, and has urged Mercedes to up their game in terms of car performance so another situation like this doesn't happen.
"I like to think that I conducted myself in the right manner, and the guys worked so hard collectively and we came out with a good result," the Brit continued.
"We've got work to do. We've seen how quick the Ferraris were [in Canada], they were right there in the last race [Monaco] as well, so it will be interesting to see how it plays out.
"They're quicker than us on the straights, they have another level of engine mode that they can go to, particularly in qualifying and also in the race.
"So we've definitely got work to do, but at least we've got a good fight."