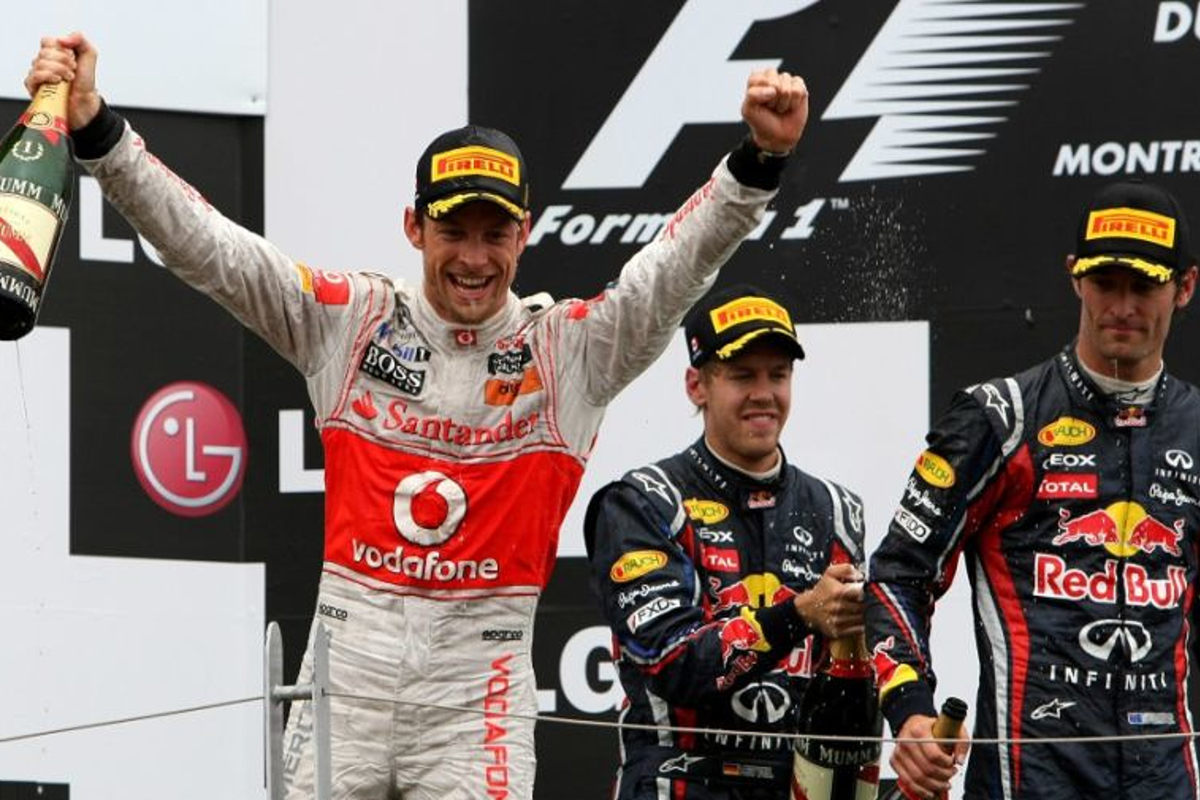 Button's Montreal marathon miracle - GPFans' favourite races
Button's Montreal marathon miracle - GPFans' favourite races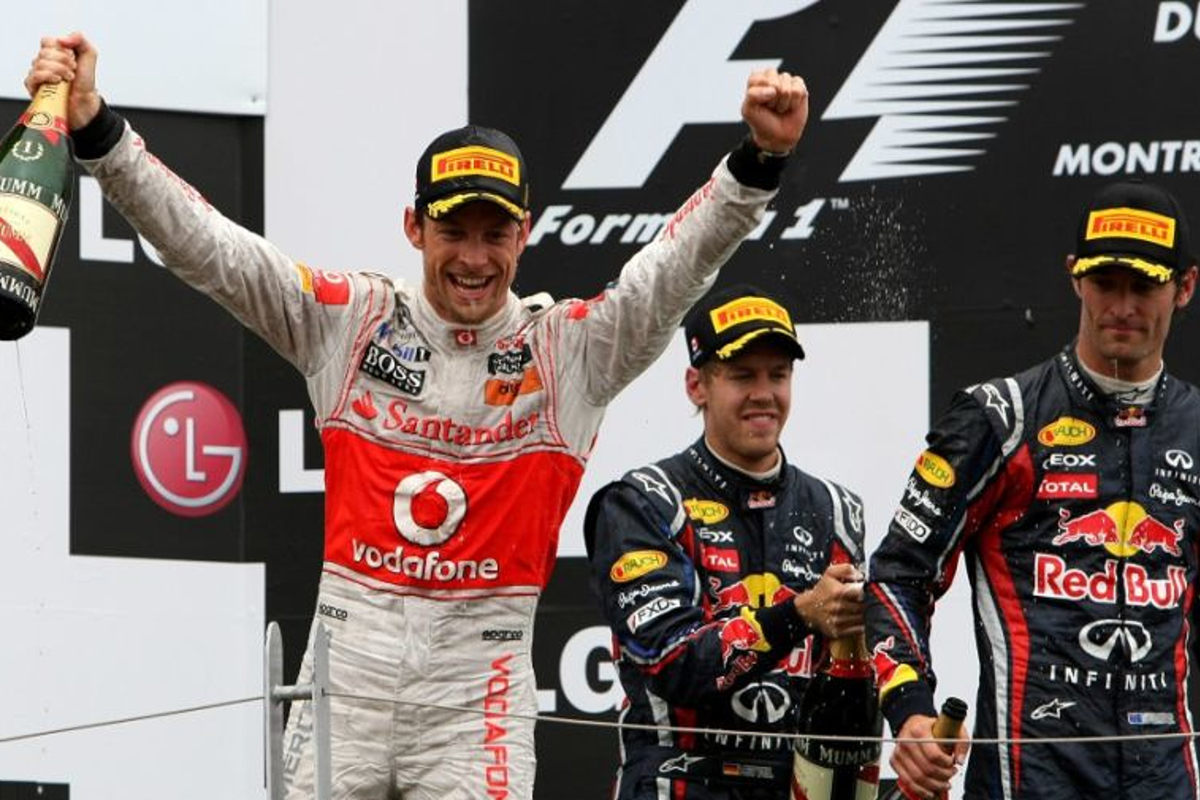 Earlier this year, as Formula 1 celebrated 1000 world championship races, GPFans' writers looked back through the previous 999 to find their favourites. Matt Scott looked back to the 2011 Canadian Grand Prix, a record-breaker won in stunning circumstances by Jenson Button. With F1 returning to Montreal this week, take another trip back up memory lane...
F1 commentators often ask "Have you ever seen anything like this?" or tell us that we may never witness its ilk again. The four-hour-and-four-minute 2011 Canadian GP is truly one of these races.
The end is the only place to start, Button skirting around Sebastian Vettel on the final lap on Montreal as the Red Bull driver got out of shape on a damp track. It's become one of F1's iconic moments, but it's the epic nature of what went before that truly makes it special.
Often lost to the sands of time in people's memories are the sheer number of incidents the McLaren man was involved in, dropping him to the back of the field before showing his nimbleness to surge through the field and pip Vettel at the last.
It remains such a flashbulb memory that it's no trouble to transport myself straight back to the flat in Newcastle where I watched the race on the Monday morning, that's right, recorded from the day before.
Having skilfully avoided spoilers with the kind of foresight that Button might have found useful early in the race, I was of course none the wiser that my day would be largely consumed by watching this thriller unfold.
My racing appetite whetted by a start in the rain soon turned to fist-clenching fury under a safety-car start as, much like David Coulthard on BBC's commentary, I shouted to an audience of none that the cars would clear more water if they were allowed to race.
Once we were underway, it didn't take long for madness to unfold – Button getting past Lewis Hamilton, hampered after a failed move on Michael Schumacher, only for Hamilton to try and repass his McLaren team-mate on the pit straight and ending up squeezed into the pit wall.
"What was he doing?!" the famous report from Button over team radio.
Another safety car, then, also serving as a blow to Fernando Alonso's attempts to pass Vettel.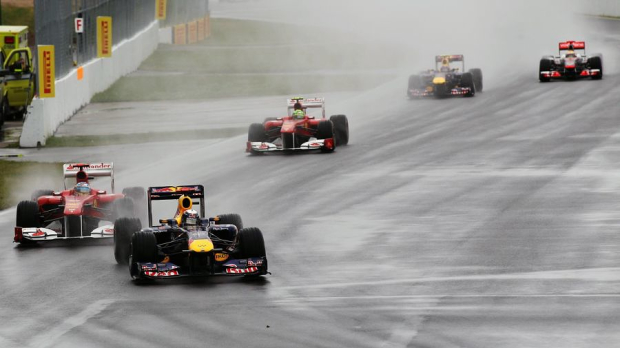 Button pitted for intermediates, had progress hit by a drive-through penalty, but things seemed to swing his way as the track began to dry.
And then rain. Proper rain! Rain to force another safety car period and then the suspension of the race.
'Stick the kettle on, this will soon pass.'
But one cuppa turned to two and then all of a sudden it was lunchtime, all while things remained stationary.
Yes, there was the capacity to fast forward, but there suddenly stirred in me a sense that others had had to go through this wait previously. It was a badge of honour I could not turn down.
After two hours of stern resistance against the remote control, and the outside world, it was time to race again.
The order read: Vettel, Kobayashi, Massa, Heidfeld, Petrov, Di Resta, Webber, Alonso, De la Rosa, Button. If you weren't an F1 watcher at this time – yes, that is as mad as it seems.
Once racing resumed, it was another bunfight to get the inters on. Button emerged alongside Alonso after his stop and the pair raced through a few corners before contact left the Brit with a puncture and Alonso famously beached on the kerb at Turn 3 of the Circuit de Gilles Villeneuve.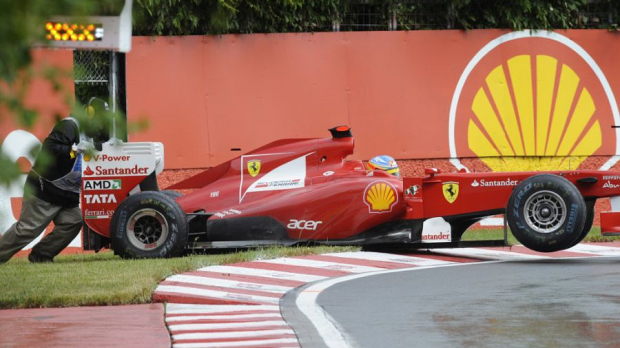 So more work for Bernd Maylander and Button was stone last, with Vettel still ahead and Schumacher beginning to look the man to hunt him down.
Suddenly all focus was on the veteran German and his Mercedes. The Rainmaster couldn't, could he? In a handful of laps the great man was up from sixth to second and it was soon time for slick tyres. It was on!
A Damon Hill fan in my youth, I had developed a hard-wired sporting hatred of Schumacher, but investment was total in seeing him take victory number 92 here.
Schumacher's momentum was stymied somewhat by Nick Heidfeld's front wing obliterating and forcing another safety car period – six if you're not keeping up – and the battle had turned to Schumacher keeping Webber at bay for second while Vettel eased to victory.
As Webber tried and failed to make a legal move on Schumacher stick, Button was suddenly on their tails – it turned out he had jumped to fourth around the dry-tyre pit-stops, something mysticism had blinded me to.
Five laps from the end, Webber's inability to keep his car on the track at the chicane let Button onto the podium and Schumacher was mince meat a few turns later.
Vettel was squirming as Button charged towards him, setting fastest lap on the penultimate tour to move the German to breaking point.
Eight corners from the end he snapped, dipping onto damp asphalt and skidding off the racing line. In Martin Brundle's words: "Jenson Button after an awful afternoon, with so many things going wrong for him leads this amazing Canadian Grand Prix!"
The sofa had long been abandoned in favour of the feet. All that time, that poleaxed Monday, had been completely worth it to witness in full the most memorable of all grands prix.