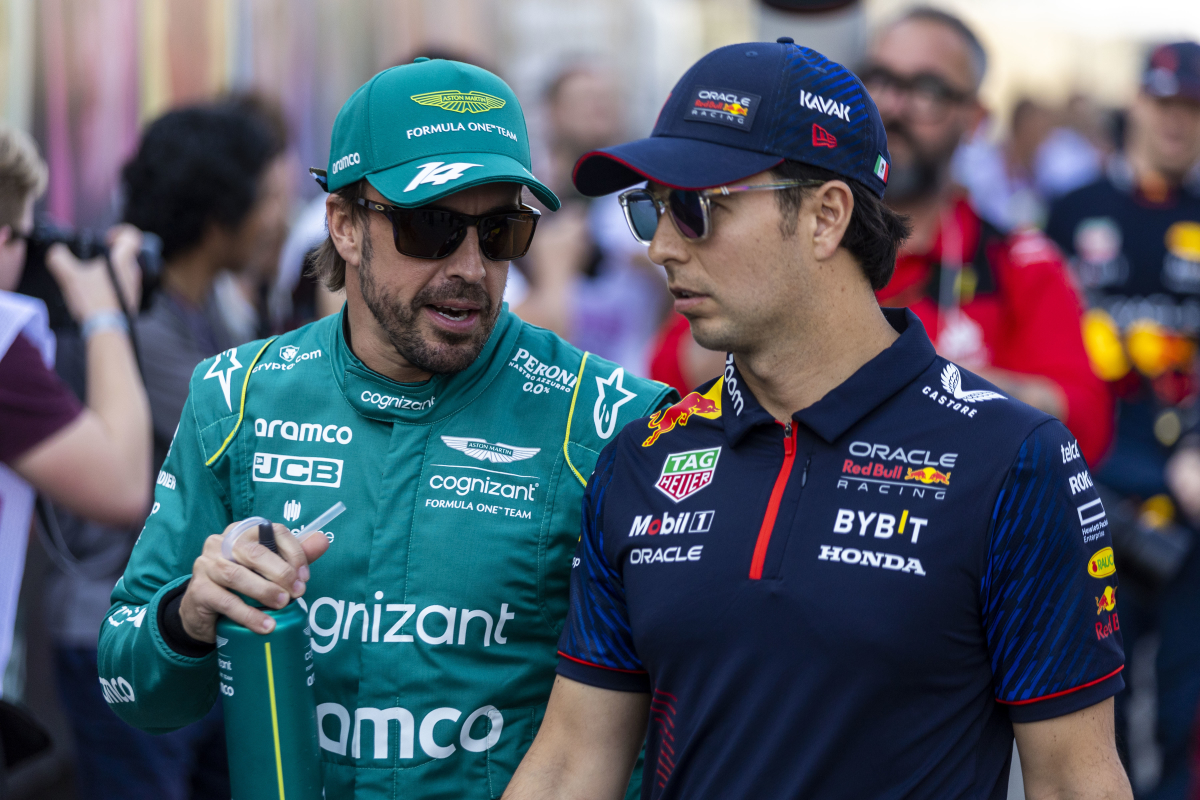 Qualifying Analysis: How Perez claimed Saudi pole and Ferrari turned it up
Qualifying Analysis: How Perez claimed Saudi pole and Ferrari turned it up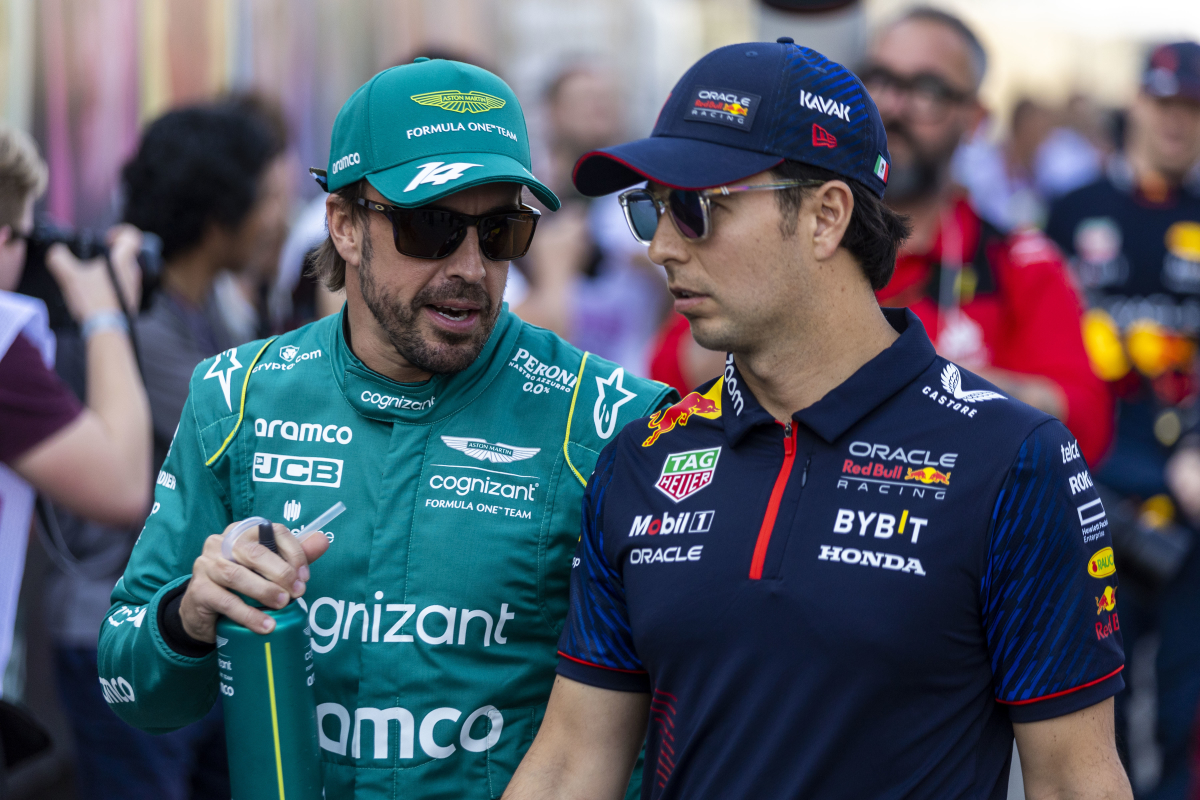 Qualifying is in the books at the 2023 Saudi Arabia Grand Prix, but what did Saturday night's action under the lights in Jeddah tell us?
It was time to get rid of all the sandbags, switch those engines intp top mode, be light as possible on fuel and drive with absolute precision driving on the fastest street circuit on the 2023 calendar.
The red Ferrari of Charles Leclec came alive after seeing the driveshaft issues on Max Verstappen car but Sergio Perez said 'not so fast!'. Meanwhile the wily old fox Alonso qualified in P3 and will now start on the front row thanks to Leclerc's grid penalty.
Let's dive into the data to see who was faster where, and how car setup made a difference to the qualifying order.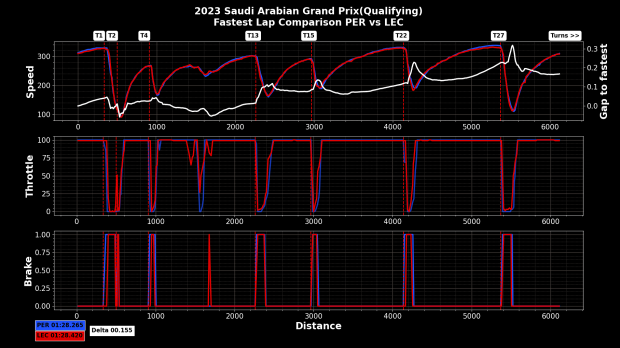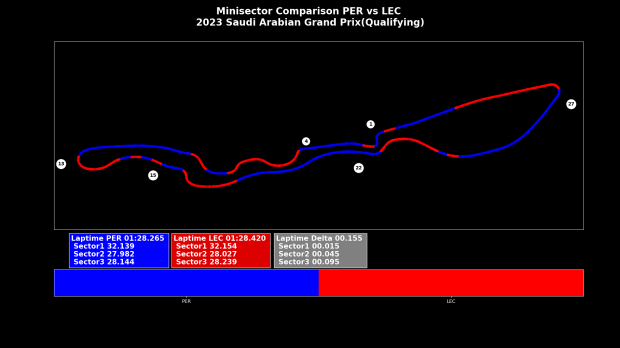 1) Leclerc didn't have the cleanest T1 with multiple taps on this throttle, maybe just carrying too much speed into the first corner.
2) Leclerc brakes later than Perez in T4 and carries more speed from T4 to T8 . But if you look at the throttle traces, Leclerc has multiple lifts off and a small tap on the brakes as compared to Perez, who is super-smooth on his throttle application and doesn't tap the brakes.
3) T15 , T22 and T27 have the same signature, with Leclerc able to brake later and get onto the throttle earlier while the Red Bull regains all the time with its efficiency through top speed and carrying more speed through he high-speed corners.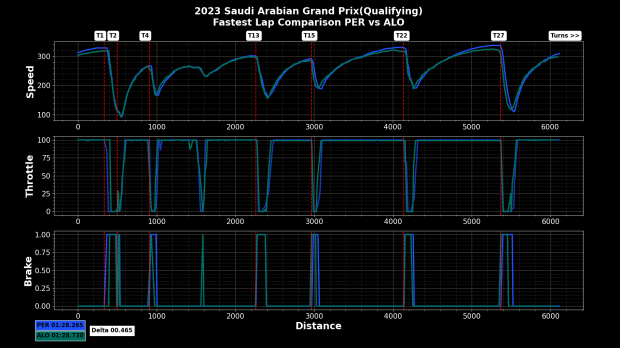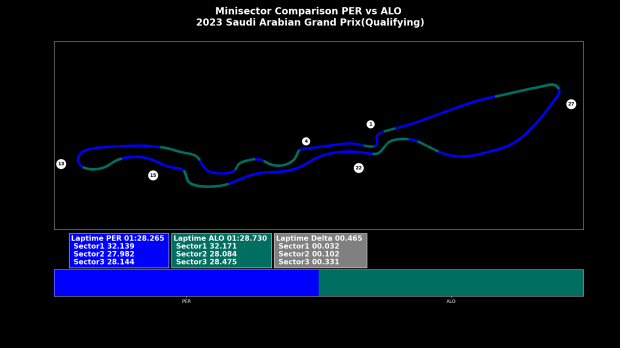 1) Alonso arrives at T1 with a speed disadvantage, brakes later than Perez but has a minor correction on the throttle on the exit, which makes him lose out on the run to T4.
2) Alonso brakes earlier and optimises his exit through T4 to T1. Perez is also strong through this part as he only has a small liftoff and doesn't touch the brakes in the entire section from T4 to T13.
3) Alonso makes small gains under braking and exits of T15, T22, and T27. However the efficient setup of the Red Bull RB19 allows it to dominate the high-speed and straights.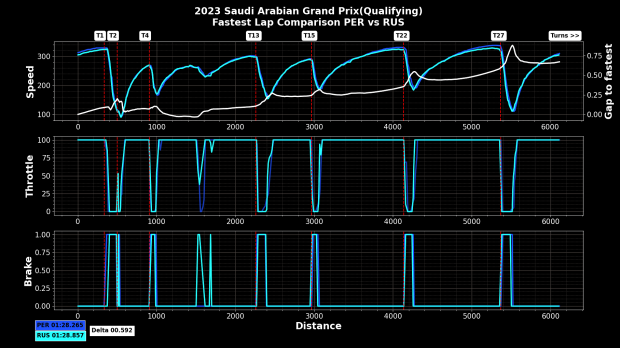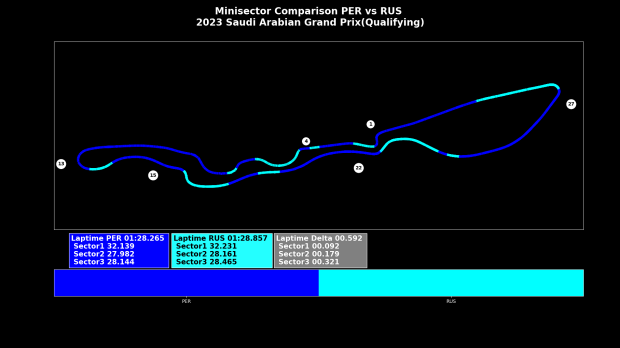 1) Coming to Turn 1, Perez has a top-speed advantage and brakes earlier than Russell, and Russell gets a better exit out of the corner.
2) Turn 22, Russell brakes earlier and sets up the car for a good exit - getting on the throttle earlier than Perez.
3) Mercedes still have a speed deficit compared to Red Bull. It seems they are losing time in the corners but then get a good exit to make up some time over Red Bull, until the efficiency of the Red Bull kicks in again.
Saudi Arabia Qualiying, Speed Trap Data
Here is the speed trap data from Saturday night in Saudi Arabia: