Verstappen picks out grid's top drivers and declares main threat
Verstappen picks out grid's top drivers and declares main threat
Max Verstappen will be the man to beat on the grid once again this season as the Dutchman aims to become just the fifth man to win three titles in a row.
Of the current drivers, only Lewis Hamilton has achieved that feat, with legends of the sport Michael Schumacher, Juan Manuel Fangio and the now-retired Sebastian Vettel the other three.
Verstappen is the bookies' early favourite to win once again, odds on with the majority to deliver once again in the recently-unveiled RB19.
The Red Bull driver is confident he can deliver and has identified the team he expects to run the Milton Keynes outfit close this year.
"It's hard to say why they had a fluctuating finish to 2022," he told Sky, per Tuttosport. "But if they can figure out how to improve and solve all the problems they had Mercedes will certainly be our main rival. They have shown in recent years that they have a very strong team. The Ferrari? It will be strong, but how strong? Difficult to say."
Verstappen picks out F1's top drivers
The 25-year-old was also not shy when it came to picking out the drivers he believes to be the most capable on the current F1 grid, some of whom could potentially threaten his desire to claim a third consecutive crown.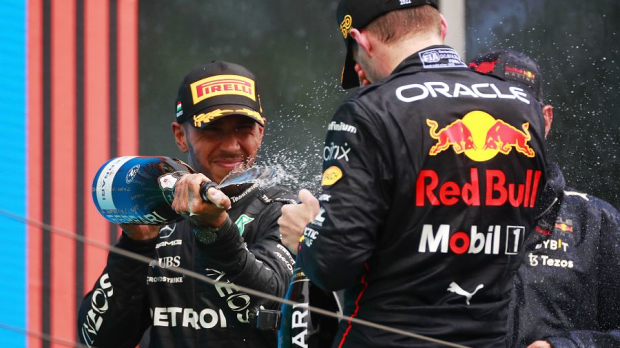 "Lewis Hamilton is one of the greatest drivers in the sport, and if he were to have the right car to do it, he could certainly fight for the title," said Verstappen. "The same goes for George Russell, Charles Leclerc and Lando Norris – if you give them a car capable of winning the championship, they can.
"But when you have the car to win, you also have a lot more pressure and you can't afford big mistakes. It's a different kind of pressure, but I'm sure these drivers have the talent to pull it off."
READ MORE: F1 car launches: Key dates with eight teams still to go