Verstappen admits UNDERESTIMATING Zandvoort despite pole
Verstappen admits UNDERESTIMATING Zandvoort despite pole
Max Verstappen secured his third consecutive pole position at Zandvoort on a very slippery wet track, which turned out to be more challenging than he expected.
The Dutch driver secured his eighth pole of the season and shone in a session marked by numerous accidents, multiple red flags, and consistent off-track excursions.
The Red Bull driver emphasized that despite the favorable outcome, his qualifying wasn't straightforward. The key was to stay out of trouble and deliver clean laps. Ultimately, Verstappen executed the perfect lap in Q3 to clinch the pole position in his home race, where there was added pressure.
"It was a very tricky qualifying. Starting with the intermediates, but also the track surface was quite slippery, the new tarmac," he said after the session.
"It was all about putting your laps in but also staying out of trouble, think we managed that quite well. Also, at the end when we could go onto the slick tyres again it was like one dry line in some places, and we had to risk it a bit but that last lap was very enjoyable."
READ MORE: Verstappen claims THRILLING pole position at Dutch Grand Prix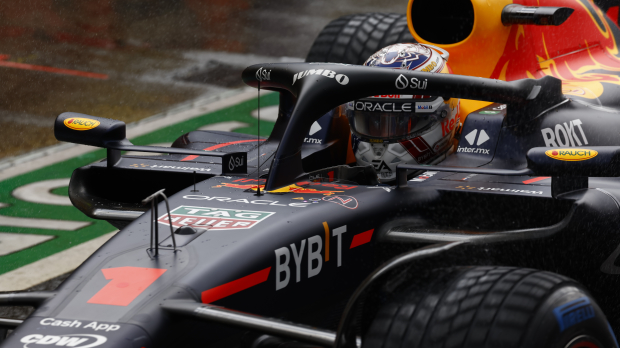 Very tricky conditions throughout qualifying
Zandvoort is inherently a narrow, twisty, and highly technical circuit, demanding drivers' utmost attention to avoid any mistakes due to the close barriers lining the Dutch track.
Furthermore, its proximity to the beach results in strong winds and sand blowing onto the track, adding an extra layer of complexity.
As if that weren't enough, the rain during qualifying acted as the definitive ingredient for a chaotic and immensely challenging session for the drivers. Verstappen mentioned that he arrived at the circuit underestimating the conditions.
"This was the first time we came here with this kind of conditions, so I think we underestimated a little bit with the wind as well and then the sun coming out, how quickly it dried. It's again all about experience and lessons you take forward. At the end of the day it didn't matter, we still did the right thing," he said.
READ MORE: 'S*** happens' - Hamilton in X-rated reaction after shock Dutch GP exit