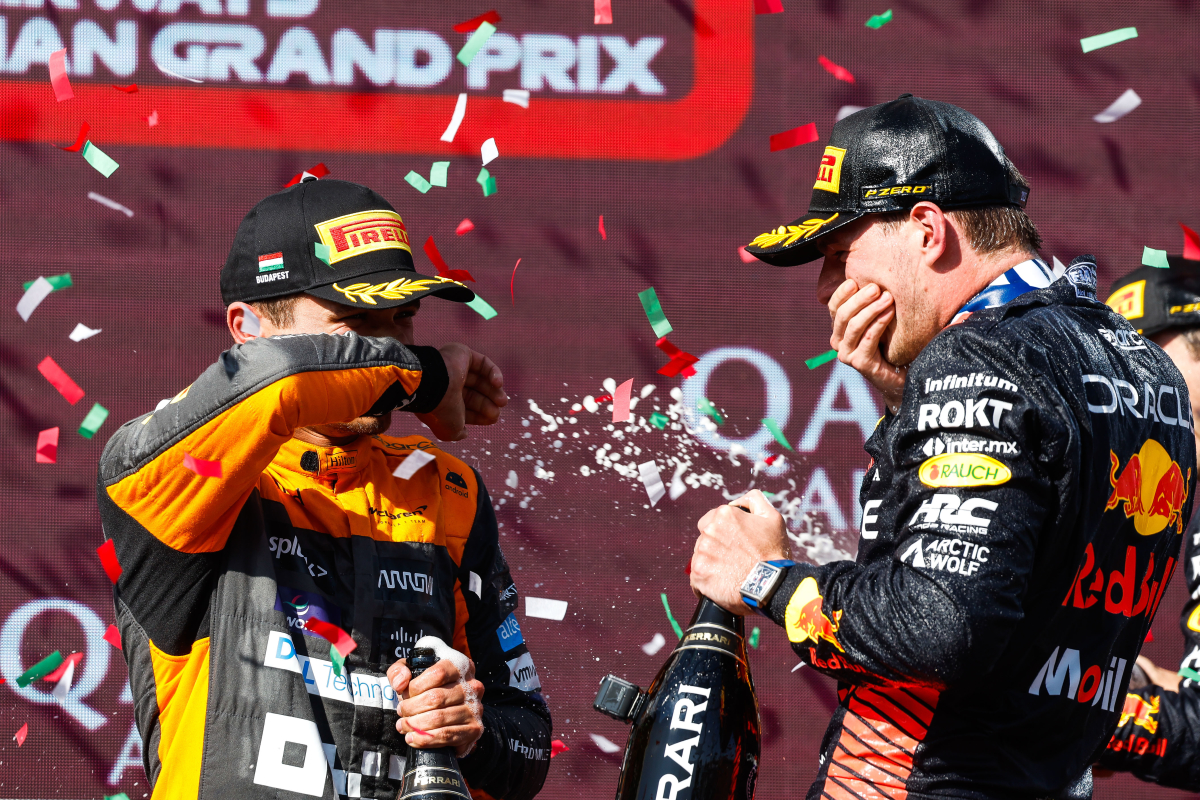 F1's most CONTROVERSIAL podium moments amid Norris and Verstappen's chaotic celebration
F1's most CONTROVERSIAL podium moments amid Norris and Verstappen's chaotic celebration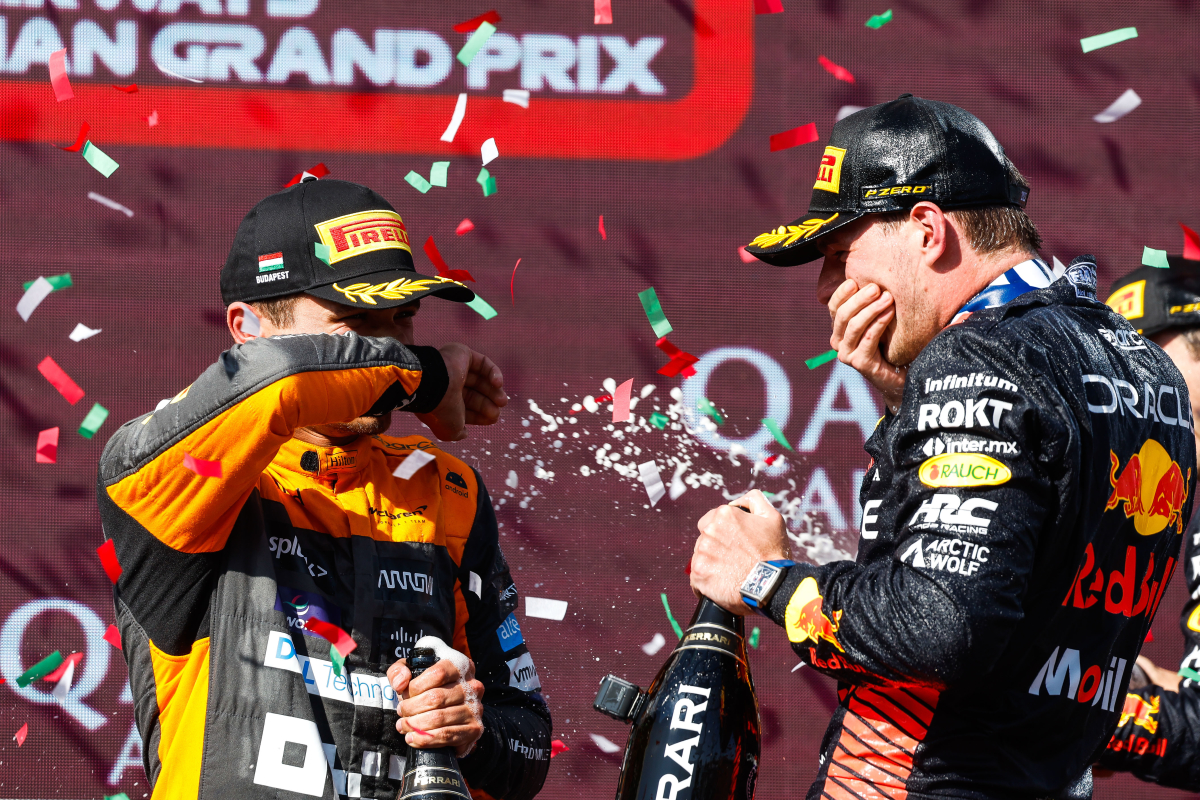 Last Sunday's podium celebrations will be remembered not for the anthems, the traditional Champagne shower – or even the rare appearance of Red Bull Racing's chief engineer Paul Monaghan – but will instead be forever known as the podium on which Lando Norris smashed the winner's trophy.
It wasn't deliberate of course, but Norris' trademark thumping of his 'Ferrari Trento' bottle on the podium floor to generate a plume of spray was enough to inadvertently send the trophy, which one minute earlier had been handed to Max Verstappen, hurtling to the ground.
Unfortunately for both Norris and Verstappen, the Hungary trophy wasn't made of gold or any another precious metal that would simply dent. It was made of porcelain, as confirmed by F1 journalist Sándor Mészáros on social media.
READ MORE: Alonso makes BLUNT Aston Martin demand as team fall behind
"The #HungarianGP trophies are made by Herendi Porcelanmanufaktura Zrt," he wrote. "All are handmade, production time is approximately six months and it costs ~ 40.000 euros."
The pair laughed about the trophy smashing into two and, let's face it, 40,000 euros between F1 friends is equivalent to loose change to the rest of us, but it did add an unexpected late twist to an afternoon that had not been the sport's most eventful.
But it's not F1's first controversial podium incident. There have been a few – here are some of the more memorable champagne-soaked moments.
Monza 1989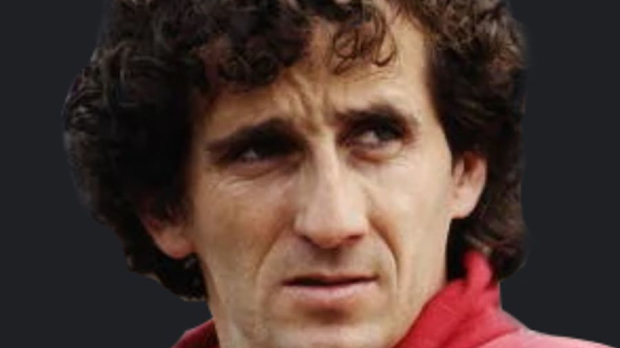 If Norris' act of sabotage was unintentional, the same can't be said of the demolition of the trophy handed to Alain Prost after he had won the 1989 Italian Grand Prix in his McLaren.
At this point, Prost had already announced his intention to leave the team and head to Ferrari for the 1990 season and his relationship with team boss Ron Dennis had deteriorated.
With the Italian fans already embracing the prospect of Prost being a new hero, he responded to their shouts of 'Copa Copa' by dropping the trophy into the cheering masses. The trophy never stood a chance. Dennis, already furious with Prost, stormed from the podium.
Prost was forced to apologise and eventually a replacement trophy sought but the damage was done – not least to the mood of Ron Dennis.
Adelaide 1993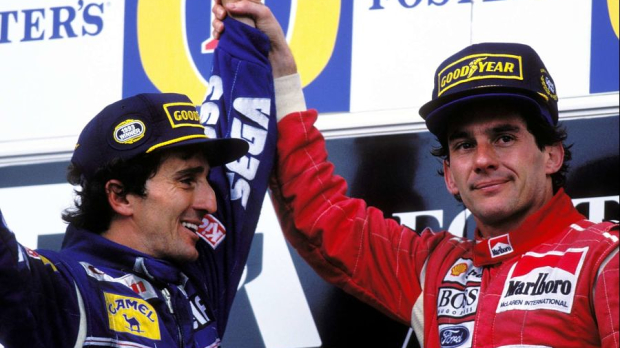 Prost was at it again four years later, albeit in very different circumstances, as he and his great rival Ayrton Senna chose to use the podium to end a feud that had ran for many years.
It was the final race of Prost's career and a season in which he had won his fourth world drivers' championship in the brilliant Williams-Renault FW15. Appropriately, the race ended in a Prost-Senna 1-2.
On this occasion – in Senna's final race for McLaren before taking Prost's seat at Williams – claimed first place.
But following the presentation of the trophies, Senna held Prost's arm aloft and then insisted he joined him on the top step of the podium. It appeared a spontaneous rather than planned act and the two embraced warmly.
It was a thaw that turned to respect and then friendship and lasted through to Senna's untimely death one year later.
Interlagos 2003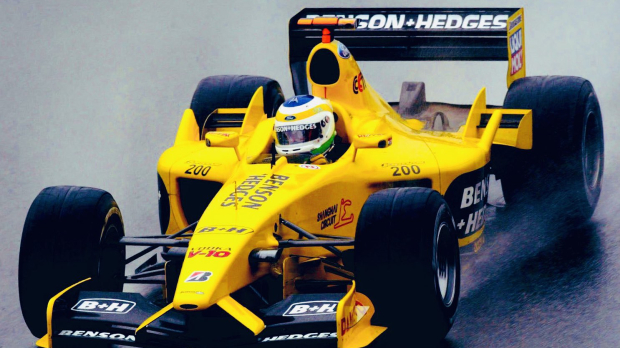 If Monza's 1989 incident was controversial and Adelaide's 1993 moment touching, what happened in Brazil in 2003 was plain bizarre.
A race that had been stop-start throughout due to lots and lots of rain was reaching its denouement when, at the end of lap 53, the safety car was deployed following a big crash for Mark Webber's Jaguar down the start-finish straight.
But before the safety car could pick up the race leaders – Giancarlo Fisichella in a Jordan and Kimi Raikkonen in a McLaren – third-placed Fernando Alonso also lost control of his Renault and crashed after hitting Webber's debris.
As a result, the track was deemed impassable and red flags were waved to signal the end of the race, which Jordan thought they had won. Celebrations ensued but when the drivers took to the podium it was Raikkonen who took the top spot after it was revealed the count-back to the start of lap 53 showed the Finn to be leading.
The podium was further complicated by the fact third-placed Alonso was hospitalised as a result of his accident and was unable to collect his trophy.
So, a driver on top of the podium who finished the race in second; an unhappy driver in second who thought he had won, and an empty step for third.
On appeal, Jordan had the decision overturned and at the next grand prix in San Marino, on the Friday morning a low-key presentation was held to correct the one that went so wrong in Interlagos
Sepang 2013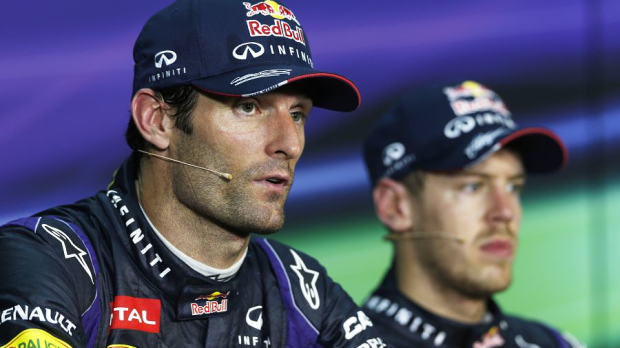 We end with arguably the frostiest podium of all time, and it's a hard-fought category. Think of the feel-good factor engendered by the Monza podium of 1989 and spin it 180 degrees. That was Malaysia 2013.
The combatants in question were Mark Webber and Sebastian Vettel who, in 2013, were Red Bull team-mates. The relationship between the two was already strained as the experienced Webber watched on as a youthful Vettel accumulated world championships in the same car, but it was Vettel defying team orders in Malaysia that finally caused the Australian to snap.
Despite taking pole position in Sepang, it was Webber who found himself leading the race as it entered its final 12 laps. With Vettel in second place and the Red Bull team keen for the pair not to tangle on the track, they issued their now infamous 'Multi 21' instruction, meaning they were both to turn their engine modes down and hold their positions.
Unfortunately for Webber, Vettel had no intention of listening to team orders and with softer tyres – and following some very tense wheel-to-wheel racing – was able to make the move on Webber and win the race.
As a result, the atmosphere in the 'cooldown' room and on the podium itself was tense in the extreme. The celebrations were muted, the champagne spraying half-hearted and when interviewed on the podium afterwards by Martin Brundle, Vettel and Webber gave very different versions of events.
It was a podium incident that is still discussed to this day and one for which Vettel initially apologised, only to later backtrack. For Christian Horner, who at this point had lost control of Vettel, it was somewhat of an embarrassment and was presumably why he didn't front up on the podium, preferring instead to send Adrian Newey.
READ MORE: Best F1 TV commentators and presenters: GPFans Broadcaster Power Rankings