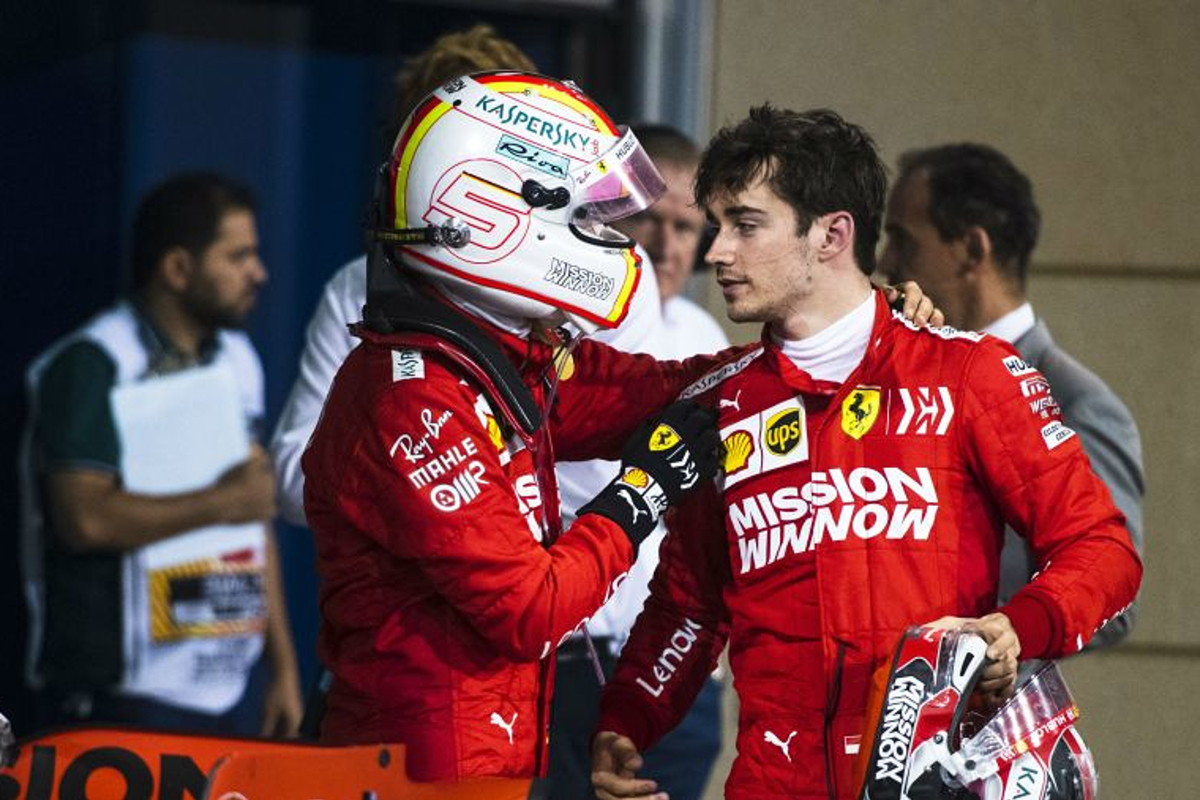 Why favouring Vettel over Leclerc is the right thing to do
Why favouring Vettel over Leclerc is the right thing to do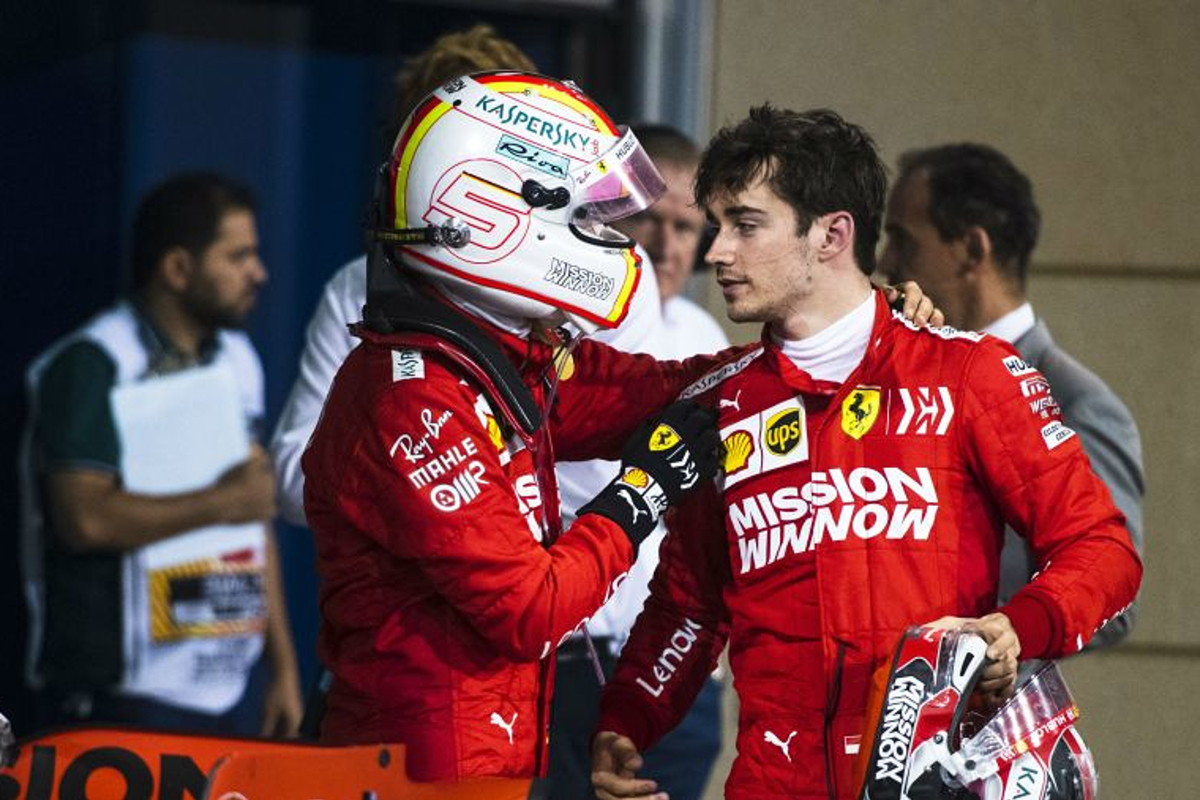 Ferrari's team orders have already come to the fore at this early stage of the 2019 season, with Charles Leclerc having been issued instructions from the pit-wall at all three races so far. While Mattia Binotto's decision to prioritise Sebastian Vettel has caught flak from some quarters, Rob Watts can see some "method to the madness".
When Ferrari made the decision to promote 21-year-old Leclerc to replace trusted veteran Kimi Raikkonen, the move was seen as a bold statement from a team that historically has relied on older and significantly more experienced drivers.
Remarkably, Leclerc is the youngest Ferrari driver since the 1960s, and their change in approach is based on a feeling at Maranello that they might just have a special talent on their hands, akin to the likes of Max Verstappen or five-time champion Lewis Hamilton.
Despite that, Ferrari's new team boss Mattia Binotto began 2019 by revealing that Vettel would get priority over Leclerc in the early races, saying: "Sebastian has little to prove, and he remains our guide. Charles still has to learn, but we know how talented he is."
His comments disappointed fans, with many hoping to see Leclerc let loose to challenge Vettel.
But past history tells us things rarely work like that at Ferrari. After all, it has essentially always been their position to have a defined number one driver in the team, whether the outcome of that has been positive or not.
Leclerc's response to Binotto was smart. He at first played down his boss's comments, describing them as "logical and understandable" given that he was so new to the team, before adding that his aim was to be "so fast that no team order is necessary."
The incidents so far
While Leclerc certainly has been fast so far in 2019, that hasn't stopped the orders from coming. He was called off from attacking a fading Vettel in Australia, a command he obeyed, before the call came to remain behind him once again in the early stages of the Bahrain Grand Prix.
Ferrari's improvement from Melbourne to Sakhir meant the pit-wall could have decided the fate of the race win – spins and mechanical failures aside, of course – but Leclerc took matters into his own hands, taking back the lead he had lost off the line to his team-mate.
The Monegasque said he had only done so as the move was "safe" thanks to his pace advantage over Vettel, who backed his team-mate's decision, but a repeat could change things if Ferrari do not manage the situation.
Radioberichten in de ronde voordat Leclerc langs teamgenoot Vettel ging in de race.
Leclerc: 'Ik ben sneller'
Team: 'Blijf er nog twee ronden achter'
Leclerc haalt Vettel dezelfde ronde nog in... 😜 #F1 pic.twitter.com/xfewVG7NKg

— Rob van Gameren (@VanGamerenF1) April 1, 2019
Vettel will be all too aware of how a team atmosphere can quickly change, as his relationship with former Red Bull team-mate Mark Webber reached the point of no return following a series of similar incidents on track in 2012-13.
For 21-year-old Leclerc, his Bahrain pass on Vettel was a significant statement. For a driver in only his second ever Ferrari appearance to ignore team instructions not to pass his four-time world champion team-mate was huge. He clearly does not harbour any ambitions of becoming the next Irvine, Barrichello or Massa.
In China, Ferrari once again felt team orders were necessary, but this time it may well have lost the team points and angered Leclerc just a little. A shot at victory was not on the cards this time, but the instruction to let Vettel through ultimately secured the German his place on the podium, while it likely cost Leclerc fourth place in the race to Red Bull's Max Verstappen.
It was clear afterwards that Ferrari boss Binotto felt uncomfortable with how the switch had played out, saying that Leclerc had "the right to be upset".
Why Ferrari might be in the right
We saw last season at Mercedes how team orders can affect the morale of the second driver when poorly implemented.
Valtteri Bottas could easily have been a title contender had it not been for some wretched luck at the beginning of the season, but once Hamilton had hit top form, it became clear that Bottas would be eventually be sacrificed.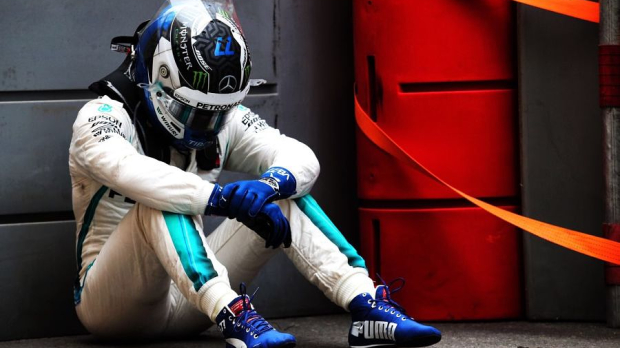 Bottas' confidence and form dipped horribly as a result, and the Finn seemed visibly drained at the season-closing Abu Dhabi Grand Prix, describing his second year at Mercedes as having "turned to shit".
Ferrari will want to avoid a situation like this at all costs, but that may prove to be a difficult task.
Vettel still is, for now, their star driver and the most likely of the pair to challenge Hamilton and Mercedes this season. He has two, possibly three years left at the very top, as he's made it clear he has no desire to continue racing through to his late thirties.
Leclerc, on the other hand, has the potential to be a Ferrari star for the next decade, but if that's to be the case, the team must be careful not to damage that relationship this early on.
In reality, this is potentially a make or break season for Vettel who, five seasons into his Ferrari career, has already seen two potential title-winning opportunities slip away. There could, however, be some method to the madness behind Ferrari's early-season decision to back him so strongly.
At times during the past couple of years, Vettel has seemed flustered and uncomfortable within the team, making uncharacteristic errors and even questioning the strategy calls he was receiving. Binotto knows, and hinted as much during pre-season, that to get the best out of Ferrari (and most significantly Vettel), the atmosphere within the team must improve and all staff must feel empowered to perform at the maximum of their abilities.
Binotto's decision to back Vettel on track and support him publicly (just as he did following the spin in Bahrain) may be his way of building the German's confidence levels back up and to soften the threat posed by his new team-mate.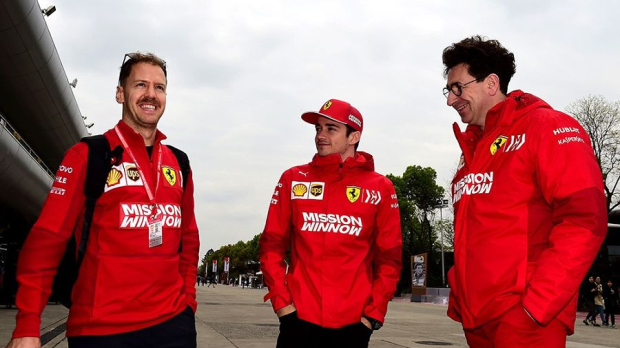 It's a stark contrast to the manner of his predecessor Maurizio Arrivabene, with a culture of blame and fear having seemingly developed under his leadership.
With Leclerc on the scene and quickly finding his feet, the clock has begun ticking a little faster on Vettel's time as Ferrari's number one and he probably knows it. Ferrari have a short window of time in which to extract the best from him before Leclerc becomes such a potent threat that team orders will become too difficult to implement.
Being realistic, Vettel has likely peaked as a driver whereas Leclerc, you'd assume, will only get better in time as he matures and gains more experience. As we've seen already, he does not lack confidence and will not let a shot at victory pass him by, much like Vettel did during his Red Bull days. Multi 21, anyone?
A few years ago, former Ferrari chairman Luca di Montezemolo explained that his team's reluctance to partner their then star driver Fernando Alonso with another big name was basically to avoid internal conflict, or as he memorably described it, "having two roosters in the same hen house".
No driver will ever be bigger than Ferrari, and both drivers know the importance of driving for F1's most famous team. The question that remains to be answered, is whether that team really is big enough for the both of them.