Sainz admits FRUSTRATION at unfortunate Austrian GP as podium slips away
Sainz admits FRUSTRATION at unfortunate Austrian GP as podium slips away
Carlos Sainz was left frustrated with his Ferrari team as he missed out on the podium at the Austrian Grand Prix.
In the early laps of the race, the Spaniard thought he was considerably faster than his team-mate Charles Leclerc but he could not get past the Monegasque.
Sainz asked to be let through to pursue eventual race winner Max Verstappen but the Scuderia refused.
Later in the race, Sainz had to serve a time penalty in the pits for exceeding track limits on too many occasions which brought Perez into the equation.
The Mexican used the Red Bull speed to his strength to surge past and claim the last spot on the rostrum.
READ MORE: Verstappen completes PERFECT Austrian GP weekend with sensational win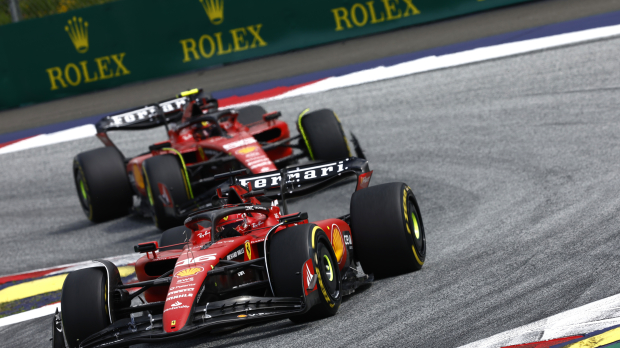 Sainz: I'm driving very well
Speaking to Sky Sports, Sainz said: "Obviously I felt like I did the team game staying behind (Charles) and being penalised the way I was with the pitstop, losing a lot of time and losing the three positions and six seconds with the VSC ending, when we maybe could've done something different frustrated me.
"Lost a lot of time, and then trying to recover, which I did pretty quickly, the gap and the time, got the track limits and from there my race was quite compromised.
"I don't really want to say I am owed (for Leclerc's podium), I just did the best job I can. I'm in a very good moment with the car personally, I'm driving very well.
"I'm very fast every race weekend, putting together some good laps in quali, but also especially in the race pace, we're being very quick. Doing some very good overtaking out there today, some good defending and that's why I am frustrated that the result wasn't better today."
READ MORE: Jean Todt: Ferrari great and partner of Michelle Yeoh