F1 FIA war intensifies as Domenicali sensationally backs drivers
F1 FIA war intensifies as Domenicali sensationally backs drivers
The civil war between F1 and the FIA has taken another turn as the sport's CEO Stefano Domenicali has backed the drivers over the clampdown on political messaging.
The FIA has tweaked the International Sporting Code in order to make it obligatory that drivers seek written consent before making any political stand during a race weekend.
This will bring an end to the pre-race WeRaceAsOne moment, which saw drivers regularly kneeling or wearing clothing that signified an array of societal or environmental issues.
In recent years, Lewis Hamilton and the now-retired Sebastian Vettel led the way on such matters.
But since the FIA clampdown, a number of drivers have come out against the regime run by president Mohammed Ben Sulayem, condemning the restriction of speech.
READ MORE: Albon 'confused and concerned' by FIA clampdown
Speaking to The Guardian, Domenicali has firmly taken the side of F1's drivers, insisting: "F1 will never put a gag on anyone.
"Everyone wants to talk, so to have the platform to say what they want in the right way the better it is.
"We have a huge opportunity because of the position of our sport which is more and more global, multicultural and multi-valued.
"We are talking about 20 drivers, 10 teams and many sponsors, they have different ideas, different views.
"I cannot say one is right, one is wrong but it is right, if needed, to give them a platform to discuss their opinions in an open way.
"We will not change that approach as a sport. That should be the line of our sport, to give everyone the chance to speak in the right way, not with aggressive tones or to offend but with respect."
F1 seeks FIA clarity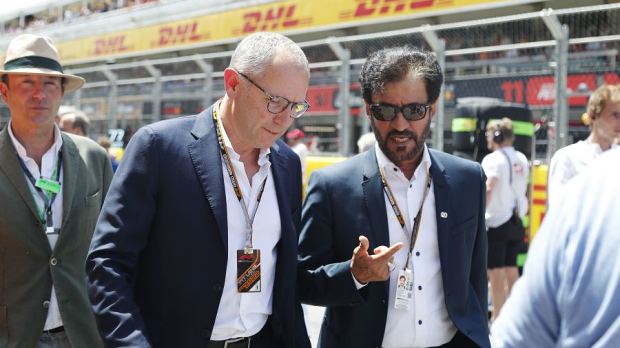 "We keep monitoring the situation," added Domenicali. "We keep the drivers informed, we meet with the Grand Prix Drivers' Associations to discuss it.
"How we can allow the drivers to be open as human beings in our sport. Athletes can be very emotional and passionate about some things and they need to discuss that constructively with people they trust.
"I had a discussion with the drivers about this last year, about how F1 could be a platform, to have a spotlight on certain things we believe are right to talk about.
"F1 should help the drivers if they want to discuss certain subjects. It is important to have a very constructive dialogue.
"If this is not happening it can create either confusion or problems where there need not be problems."
Adamant that clarification must be made ahead of the season, Domenicali added: "I believe the FIA will clarify what has been stated, in terms of respecting certain places where you cannot do it.
"I am sure the FIA will share the same view as F1 but they are part of an Olympic federation so there are protocols to which they have to abide."
READ MORE: A genius move? Alfa Romeo create Ferrari Red Bull hybrid