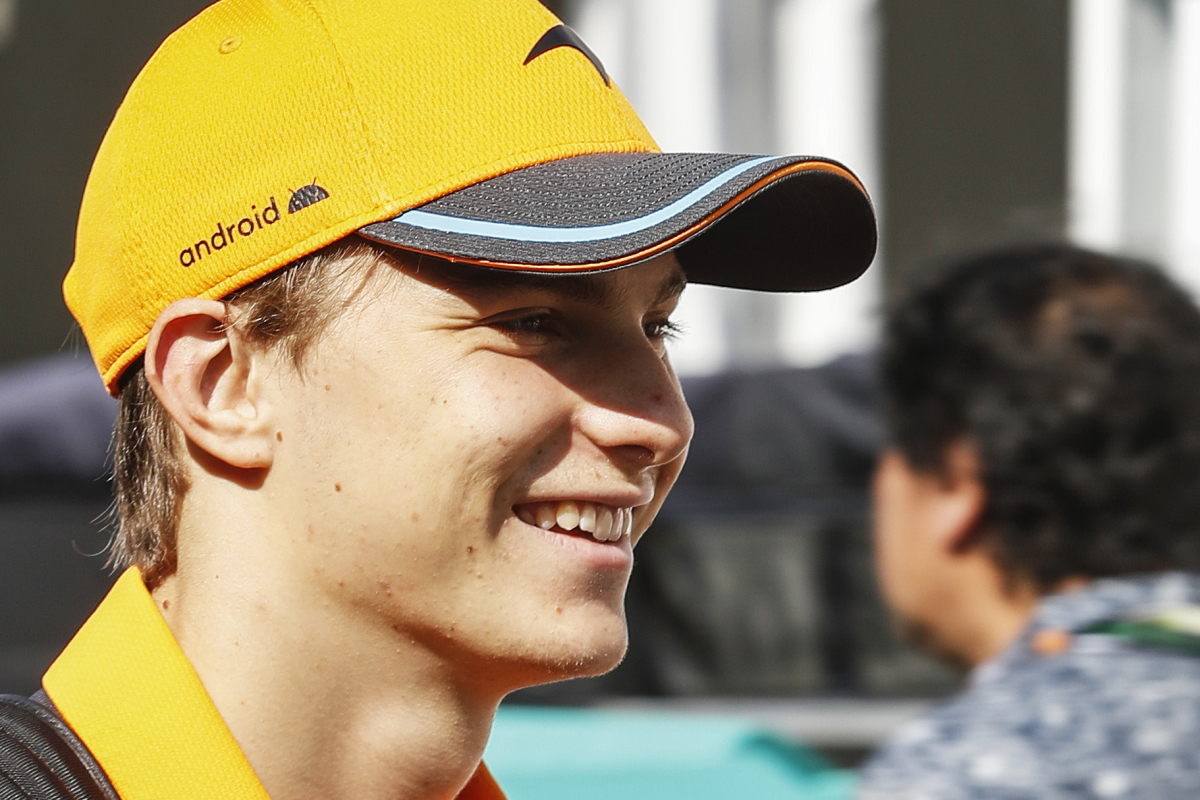 F1 aero expert reveals exactly why Piastri is the 'real deal' after Qatar performance
F1 aero expert reveals exactly why Piastri is the 'real deal' after Qatar performance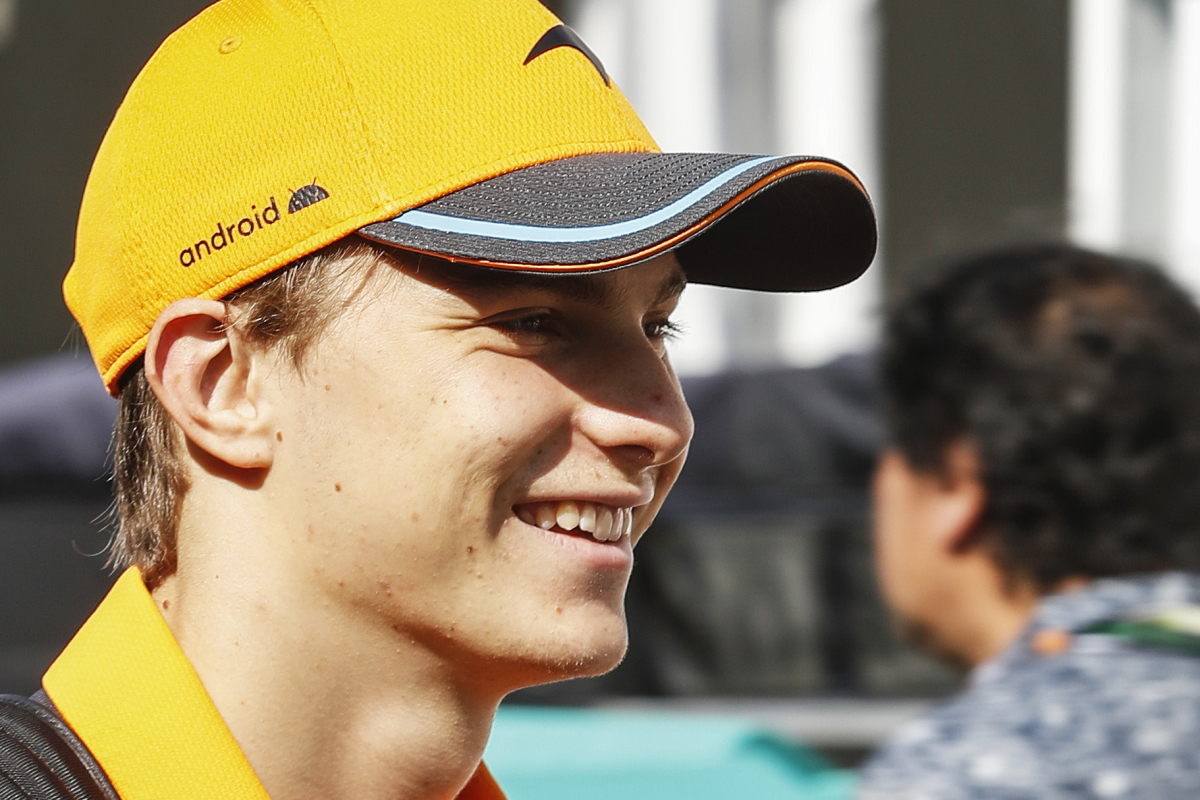 Upon the conclusion of the 2023 Qatar Grand Prix, two remarkable achievements captured the spotlight.
Firstly, Max Verstappen clinched his third consecutive drivers' world championship title, while Oscar Piastri emerged victorious in the sprint race for McLaren.
This marked McLaren's first triumph since their one-two finish at Monza in 2021. Of particular note was Piastri's exceptional performance, as he had never previously secured pole position in an F1 qualifying session.
READ MORE: The unlikely feature that EVERY F1 car on the grid has
His awe-inspiring lap time of 1:24.454s during the shootout's final moments left him with a margin of just one tenth ahead of his team-mate, Lando Norris, who was expected to be the leading McLaren.
In this article, we analyse the Qatar Grand Prix to show why Piastri is the real deal emerging among the young generation of talented F1 drivers.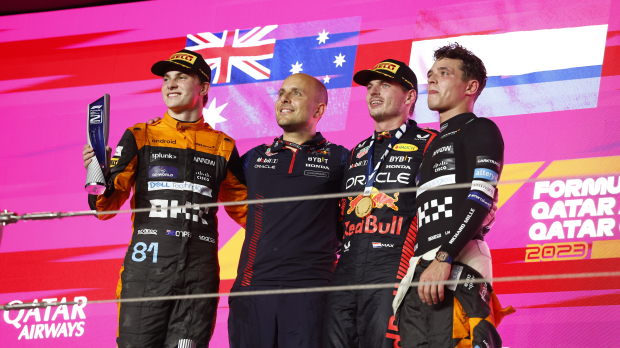 Shaping up the Sprint Weekend
During the crucial qualifying session on Friday, Norris showcased his potential to secure a front-row start for Sunday's race with an impressive lap time.
However, his aspirations were dashed when his lap was invalidated due to track limit violations at Turns 12-13. To compound matters, Norris faced further setbacks when he failed to register a lap time during his initial Q3 run.
As a result of these unfortunate errors, a minor misjudgment relegated him to the 10th starting position for Sunday's race. Similarly, Piastri, the rookie driver, found himself penalised for a similar track limit violation, dropping him from a potential second-row start to a sixth-place grid position.
Norris continued to grapple with a series of blunders during Saturday's sprint shootout. A lap that had the potential to secure pole position for the sprint race was nullified due to a wide exit at the final turn, ultimately positioning him in second place on the sprint grid.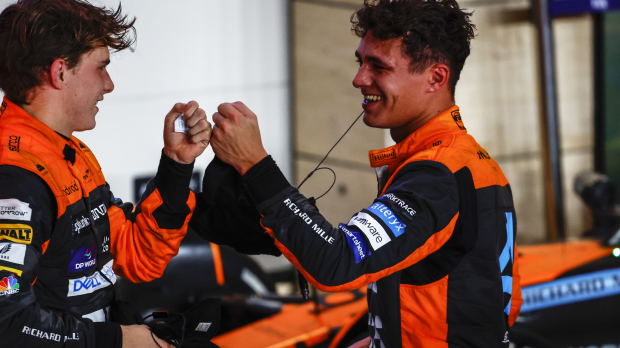 In stark contrast, Piastri demonstrated remarkable resilience and adaptability, learning from his earlier mistakes. He produced a lap that secured him the coveted pole position for the sprint race, with a notable gap of nearly a tenth separating him from Norris in second place.
This exemplified Piastri's unwavering composure and precision under the intense pressure of the moment.
Upon scrutinizing the qualifying laps of both Norris and Piastri, a clear pattern emerges. While Norris exhibits an impressive performance in the first sector of the circuit, he encounters substantial setbacks in the subsequent two sectors.
A noteworthy factor in Piastri's favour is his ability to maintain a higher percentage of throttle application during his laps. Piastri's approach is characterised by earlier braking as he navigates the corners, ensuring a more optimal line and minimising understeer.
In contrast, Norris tends to brake later into the corners, which, regrettably, compromises his corner exit speed compared to Piastri.
This distinctive driving style employed by Piastri proved instrumental in his exceptional performance in sector three, which features an array of medium and high-speed corners.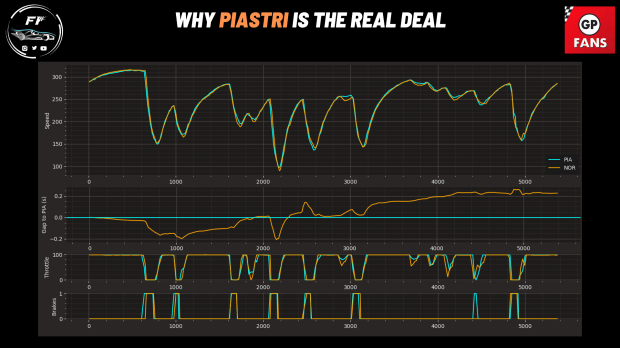 Piastri can go the distance
Fast-forwarding to Sunday's race, Piastri commenced from sixth on the grid position, while Norris found himself starting from 10th. Piastri's fortunes took an unexpected turn as he swiftly advanced four positions during the opening corner, seizing the opportunity when two Mercedes cars collided, leading to Lewis Hamilton's premature race retirement.
Both Norris and Piastri opted to pit under safety car conditions, equipping their cars with medium tyres. This decision was largely in line with the strategic landscape, as drivers adhered to the mandatory three pitstops mandated by the FIA and Pirelli.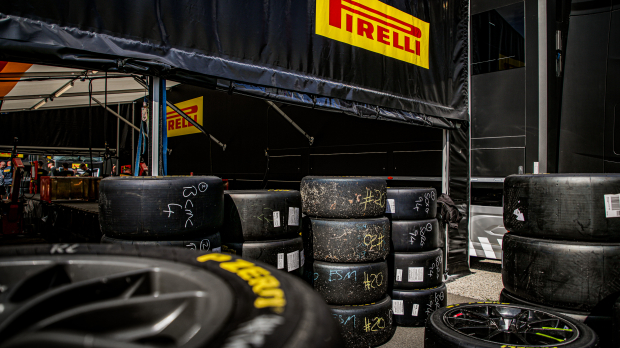 Throughout the race, Norris and Piastri made their pit stops within a tight window of one or two laps within each other, ensuring they remained closely matched in lap times, consistently within a one-second differential.
Analysing the race data, the subsequent graph delves into the laps where pitstops occurred, effectively neutralising the lap time gap between Norris and Piastri. This visual aid enhances our understanding of the evolving trend in their lap time differences.
After their second pit stops, Norris demonstrated a consistent advantage of approximately 0.3s over Piastri, primarily on the Medium compound tyre, fostering his belief that he held an overall performance edge.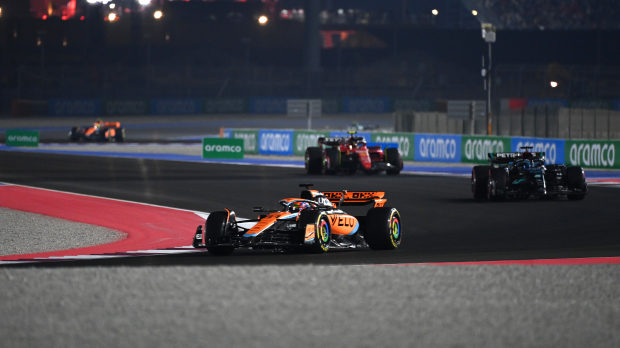 Sensing an impending battle, McLaren instructed Norris to maintain his position on the track. This directive stirred frustration within Norris, who perhaps saw this race as an opportunity for personal redemption.
However, the unexpected twist occurred after the third pitstop when Piastri opted for hard tyres, responding with exceptional prowess. He matched Norris' lap times with remarkable precision, retaining his position through merit until the race's conclusion.
This display of outstanding temperament, a cool-headed approach under pressure, and an impeccable record free from mistakes or track limit infringements might very well signify Piastri's noteworthy arrival in the realm of Formula 1.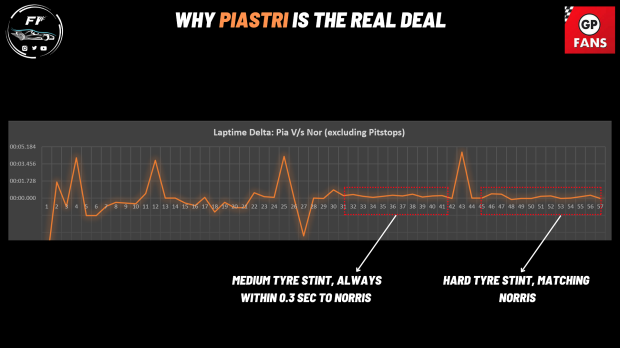 Shubham Sangodkar is a former F1 Aerodynamicist with a Master's in Racing Car Design specialising in F1 Aerodynamics and F1 Data Analysis. He also posts aerodynamics content on his YouTube channel, which can be found here.
READ MORE: F1 aero expert explains Ricciardo improvement as MULTIPLE teams eye him up