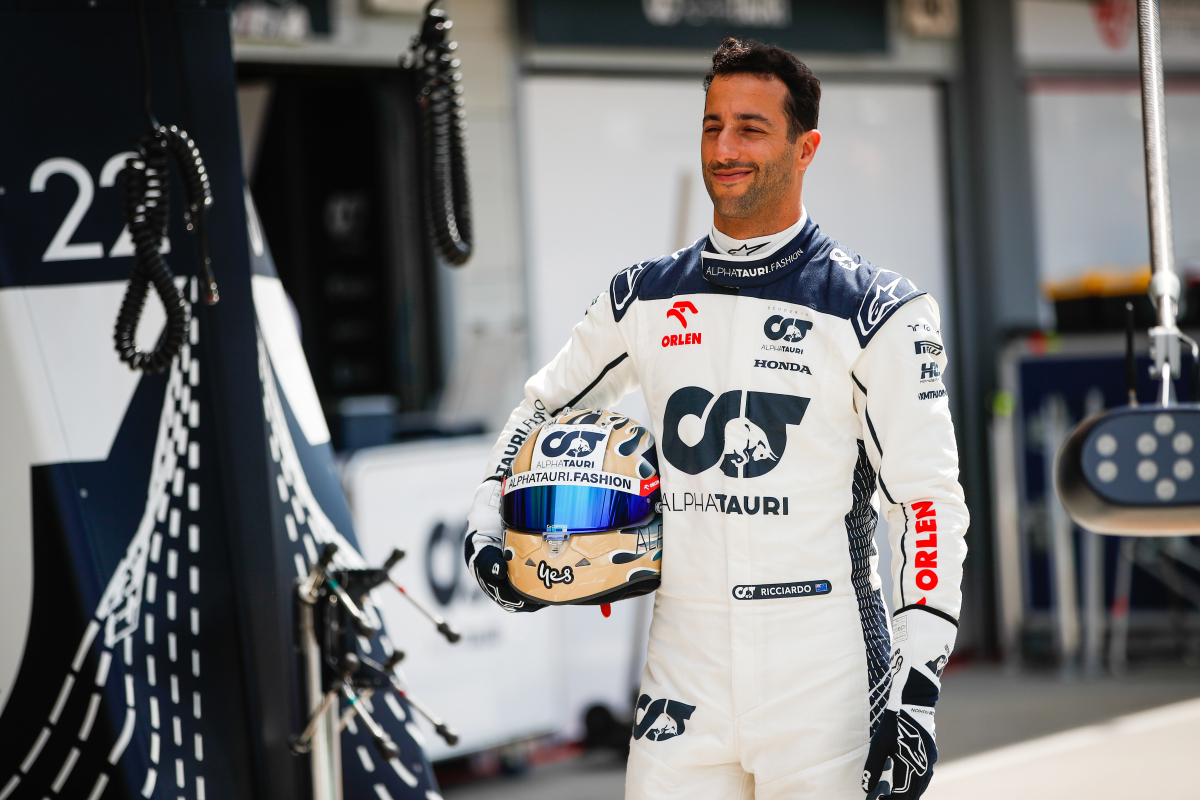 F1 aero expert explains Ricciardo improvement as MULTIPLE teams eye him up
F1 aero expert explains Ricciardo improvement as MULTIPLE teams eye him up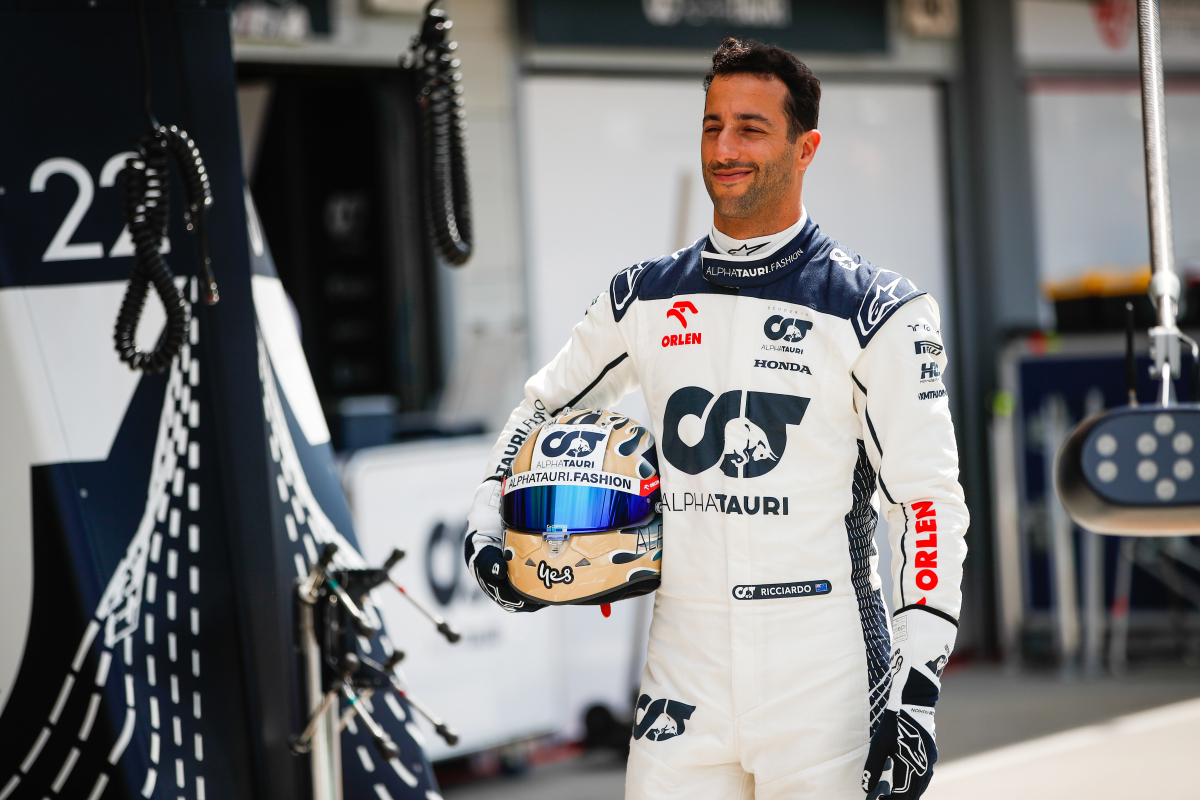 After an impressive showing at the Pirelli tyre test in Silverstone, Red Bull decided to put Daniel Riccardo into the AlphaTauri seat to give him a shot at what some people would label as redemption.
He did not disappoint. In Hungary, he out-qualified Yuki Tsunoda and finished ahead of him in the race. And come Belgium, Riccardo out-qualified and outraced his team-mate in the sprint events.
The signs are there that the old Ricciardo that we know of is getting back in shape to make the most of his opportunity.
READ MORE: Perez SAVAGED by F1 chief with brutal Verstappen claim
In this article we take a closer look at his relative performance for both F1 races he has been a part of this season.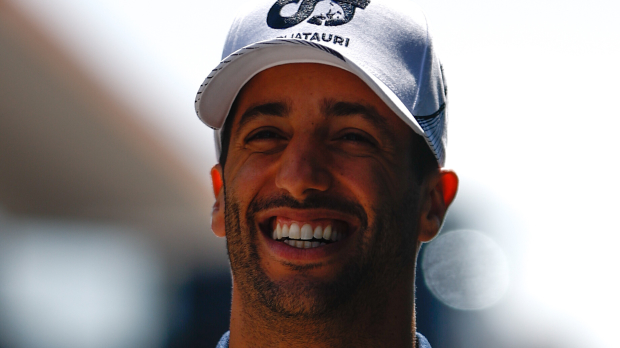 Hungary
The cameras were all on Riccardo as he walked with his trademark smile onto the grid in his AlphaTauri race suit.
However, there were big expectations. People expected the eight time grand prix winner to immediately out-qualify Tsunoda, which according to team principal Franz Tost, was a difficult task in his first race back.
Hungary Qualification
The battle in Hungary for qualifying was quite even with Riccardo being able to ace the last corner which made the difference between the two drivers, as can be observed from the deltas.
Specifically, we can see that Tsunoda was more competitive in the high speed corners than Riccardo, which might be due to his experience in the AlphaTauri car. Ricciardo was impressive in the medium-low speed corners as he was able to quickly understand the car and drive in its sweet spot.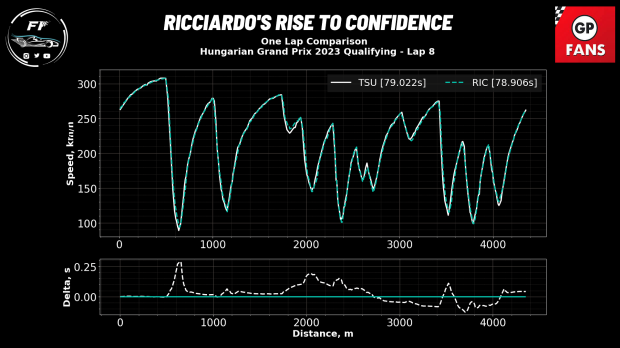 Hungary Race
Riccardo expected it to be a tough race as nothing can prepare your body physically for what a grand prix does to it. What was impressive however, was the consistency of Ricciardo's lap-time.
On the medium compound, Riccardo got consecutively faster in the first stint and then maintained an almost constant lap-time on his last stint on the medium tyres. This was impressive from a driver who had not been behind the wheel of an F1 car for nearly six months.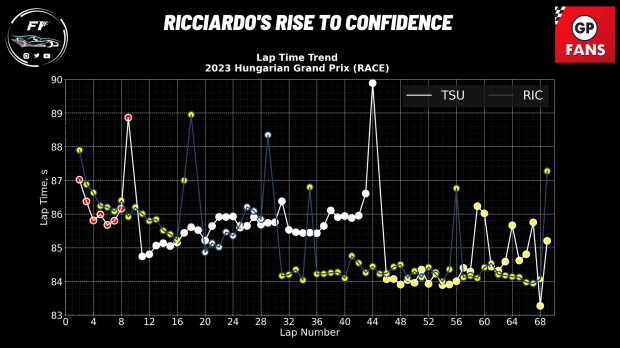 Belgium
The Belgium race weekend was full of surprises as the track conditions were ever evolving. The teams and drivers had to be on their feet to make the best out of the conditions.
Ricciardo had a disappointing qualifying and he was not able to bank in a lap at the right time, however he made amends the next day for the Sprint events
Sprint Shootout
The sprint shootout ran in semi-wet conditions. Another challenging situation for Ricciardo in a car that he had limited experience in. But the Australian was able to out-qualify Tsunoda in SQ1 and progress to SQ2.
From the plot below we can see that Ricciardo particularly aced the exit from T14 which gave him the traction advantage all the way until the last corner. This shows the Honey Badger's growing confidence in the car as he is able to drive on par with his team-mate even in semi-wet conditions.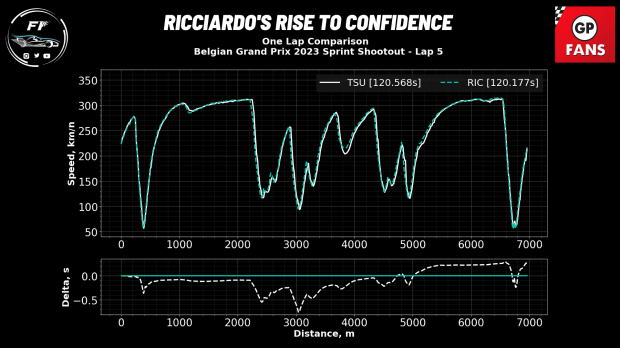 Sprint Race
The sprint race was again run in semi-wet conditions. Starting P11, Ricciardo now had drivers chasing him with arguably better machinery and with more experience in their car in these conditions.
However, he showed his skill by not losing a single position to any of the drivers and eventually finished P10.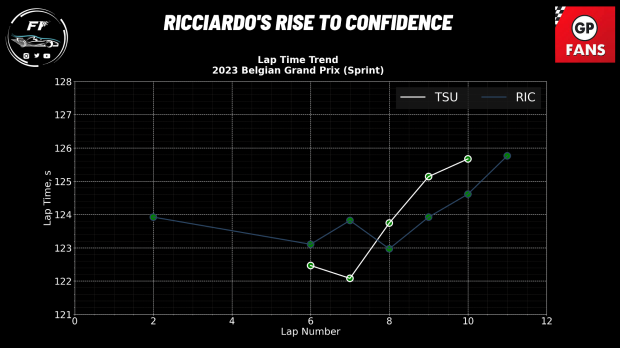 Conclusion
Looking at the data and the way Ricciardo is carrying himself, he looks like the old Daniel, enjoying his driving and genuinely looking forward to the competition. He looks hungry as ever and I would only expect him to shine further as the season progresses.
If not a Red Bull seat, I'm sure eyes would be wide open at Audi and Ferrari if he starts performing again
Shubham Sangodkar is a former F1 Aerodynamicist with a Master's in Racing Car Design specialising in F1 Aerodynamics and F1 Data Analysis. He also posts aerodynamics content on his YouTube channel, which can be found here.
READ MORE: Marko goads Mercedes as Red Bull chief THANKS F1 rivals for key staff members