Leclerc PLEADS with Ferrari fans to stop Verstappen boos
Leclerc PLEADS with Ferrari fans to stop Verstappen boos
Charles Leclerc stopped the jubilant Ferrari fans from booing Max Verstappen, after Carlos Sainz beat the Dutchman to pole position at the Italian Grand Prix.
Sainz delivered a brilliant lap to beat the world championship leader by just over one hundredth of a second, and put his Ferrari on pole for Sunday's race.
Team-mate Leclerc was less than a tenth further back in third, making it an all-round brilliant day for Ferrari in front of their home fans at Monza.
READ MORE: Verstappen beaten to pole position as F1 crowd sent wild in Monza qualifying
Verstappen, who will still be favourite to take a Formula 1 record tenth consecutive win tomorrow, was booed by the Ferrari fans as he spoke in his post-qualifying interview.
However, Leclerc tried to stop this, clearly gesturing to the Tifosi to show some respect to the two-time world champion.
Can Ferrari claim a famous win at Monza?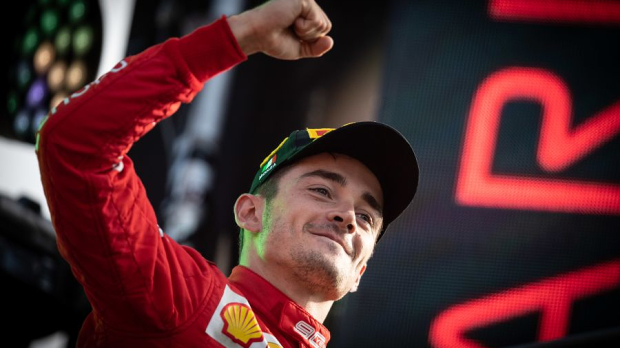 The Italian GP has always been Ferrari's territory. The Tifosi come out in full force, and there is real pressure on the team to perform at Monza, no matter how the season has gone up until then.
This result will have put huge smiles on the faces of the expecting Ferrari fans, but the job is only half done and one of Leclerc or Sainz will need to win to Sunday to complete the job.
Despite winning in Monza 19 times, a Ferrari driver has only taken victory in two of the last 17 F1 races at the circuit, with Leclerc being the latest to do it in 2019.
That inspired drive was amidst a season that was largely dominated by Mercedes, and the Tifosi will be hoping for more magic in Sunday's race from either Leclerc or Sainz to overcome the dominant Red Bull.
READ MORE: Why does Monza often throw up SURPRISE results and will we see one in 2023?