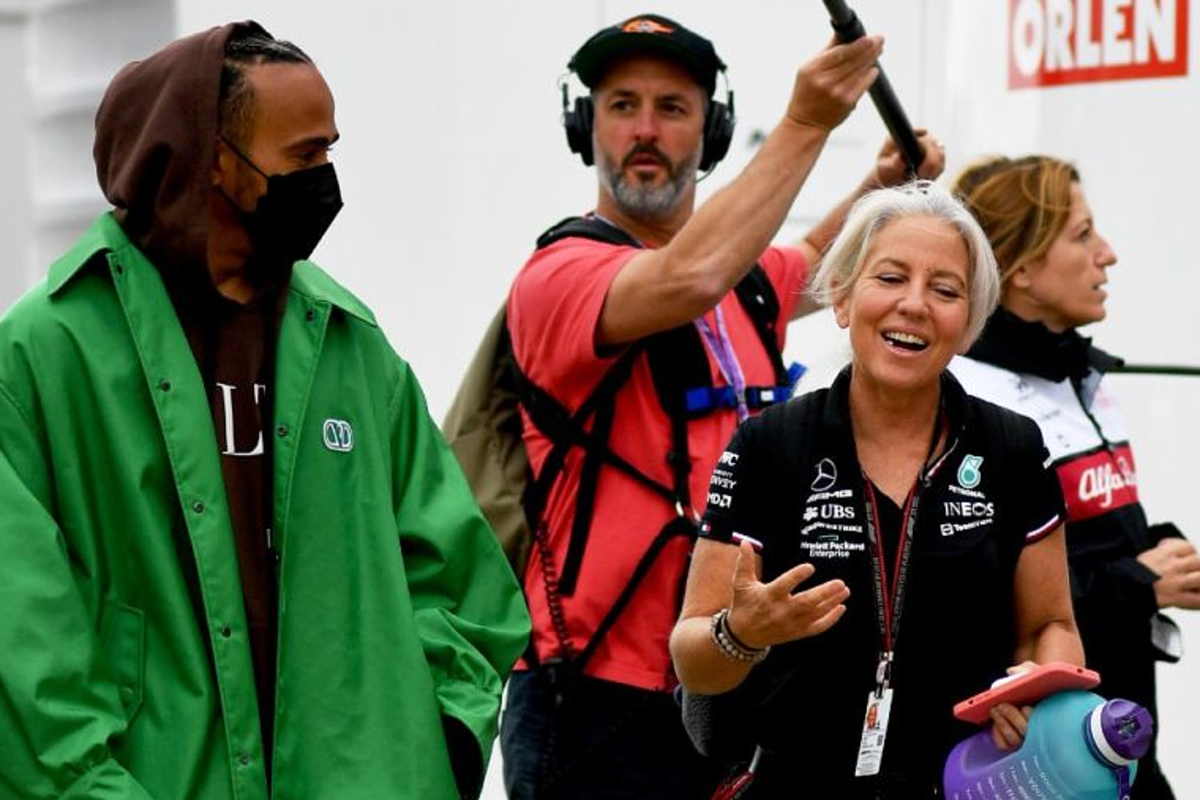 Angela Cullen: Physio, friend and rock for F1 great Lewis Hamilton
Angela Cullen: Physio, friend and rock for F1 great Lewis Hamilton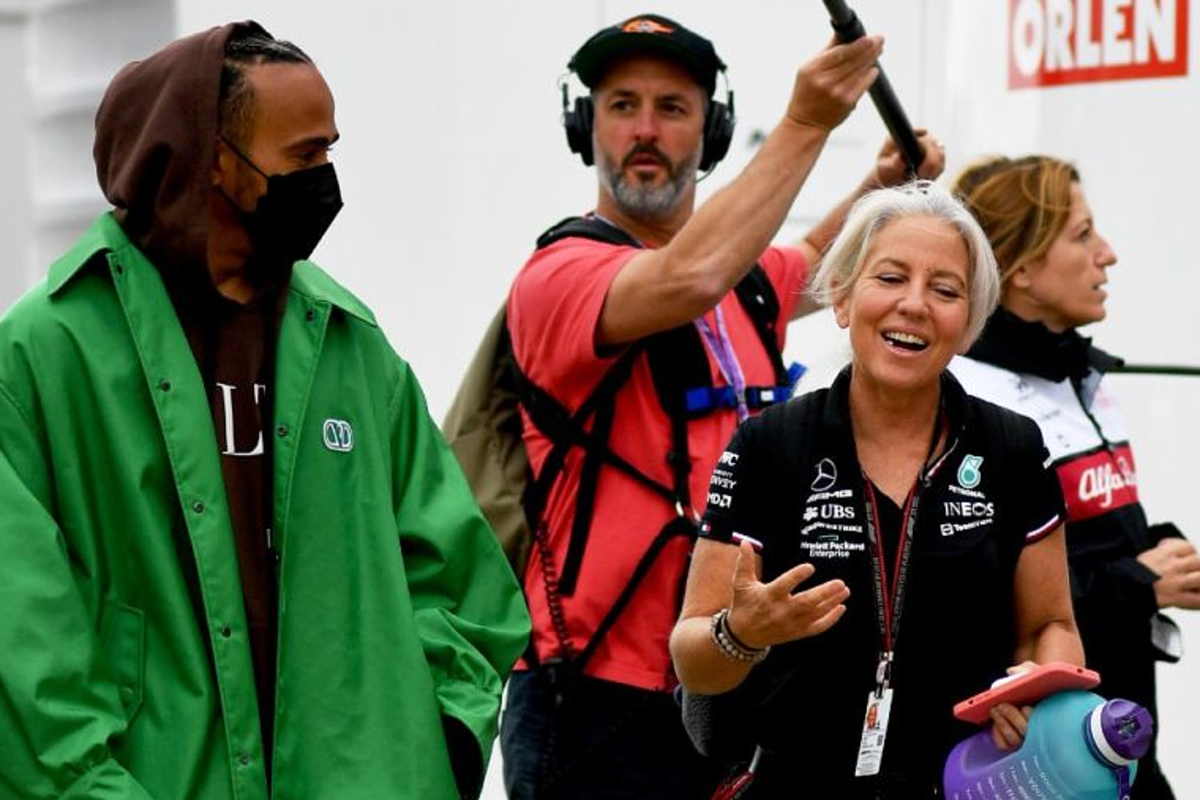 Look at any photo of Lewis Hamilton and you will probably see Angela Cullen in the picture too. Their special bond and partnership has been a feature of the F1 paddock for seven years, but now it is coming to an end.
For all those people turning on their TV, seeing Lewis at the track and then asking "where is Angela Cullen?", sadly we already know the answer.
Lewis and Angela announced on the morning of Friday practice at the 2023 Saudi Arabia Grand Prix that Cullen is now moving on to a new role - exact details still to be confirmed.
Angela said on Instagram: "@lewishamilton you GOAT !! It's been such an honour and pleasure to stand along side you I'm so proud of you and everything you have achieved.
"Thank you for supporting me, believing in me and showing me the limitless potential we all have within us."
Hamilton meanwhile said: "For the last seven years @cullen_angela has been by my side, pushing me to be the best version of myself. I am a stronger athlete and a better person because of her.
"So today I hope you'll join me in wishing her the very best as she takes her next steps to pursue her dreams. Thank you for everything Ang, I can't wait to see what the future has in store for you 🚀✨"
The seven-time Formula 1 world champion and his physiotherapist have been inseparable on grand prix weekends for several years, almost always together when Hamilton is not in the car.
Cullen has worked as Hamilton's physio and assistant, but the two are firm friends and she is considered the 38-year-old's confidante.
In fact, the two are so close they share matching tattoos!
Cullen is 11 years older than Hamilton at the age of 48, having been born on August 5, 1974 and raised in a suburb of Auckland, New Zealand before moving to the United Kingdom.
She now lives in the Alps region of France, but spends half the year travelling to races all around the globe with Hamilton and Mercedes.
Angela Cullen and a career in F1
Cullen has worked as Hamilton's physiotherapist and assistant since the start of the 2016 F1 season.
Like many performance coaches working in the sport, she is part of the Hintsa Performance Company, which was founded by fitness guru, the late Dr Aki Hintsa.
Angela joined Hintsa in 2015 and was appointed to Hamilton's team the following year.
She also developed a close relationship with Hamilton's former manager Marc Hynes, who stepped down as chief executive of the driver's 'Project 44' management company in 2021 to pursue other business opportunities.
During Hamilton's most recent title-winning season in 2020, the trio were often inseparable, but since Hynes' exit Cullen is seen as Hamilton's closest ally in the sport.
If you are expecting us to guess at Angela's net worth or salary in this article by the way, don't. Wherever possible, we endeavour to deal with credible fact and not speculation based on complete guesswork.
What did Angela Cullen do before F1?
A New Zealand native, Cullen studied health science and physiotherapy at Auckland University of Technology and played hockey at international level for her country between the ages of 15 and 21.
She also played netball, football, cricket, volleyball and basketball and was a keen swimmer growing up.
After qualifying from university, she moved to London where she worked at the English Institute of Sport.
Her work there involved dealing with the British Olympic team, with the 4x100m relay team taking gold at the Athens Games in 2004.
She refers to 100m and 200m sprinters as the "F1 of athletics", stating that her "role was like the engineer or mechanic working closely with the athlete; fine-tuning their body to optimise their performance in terms of speed, power, mobility and control".
She has also worked with High Performance Sport NZ and the New Zealand Academy of Sport.
In 2015, Cullen took up a position at Hintsa, after previously hearing about Dr Aki Hintsa's work with Ethiopian runners, Olympic athletes and F1 drivers.
At Hintsa, she became the first woman to work as an F1 performance coach.
Husband and family
Cullen, her husband and their two children live in the Rhône-Alps region of France.
She has a son and a daughter with husband Silas Cullen, who is a cycling coach.
Hobbies and interests
When travelling to races, Cullen often runs in her downtime. She calls this her 'meditation' but it also allows her to explore the cities and countries she visits.
She also loves cycling and spent 2006 touring South America, starting at the southernmost tip of the world in Ushuaia and finishing at the top of Colombia.
Cullen plans to continue her cycling tour one day, aiming to go all the way to Alaska and eventually cycle across the rest of the continents.
When the 2020 Australian Grand Prix was cancelled due to the coronavirus pandemic, both Hamilton and Cullen stayed in Australia to go rock climbing together.
What Lewis Hamilton has said about her
Hamilton describes Cullen as 'one of the greatest things' to happen to him, hailing her work ethic as well as her positivity.
"People won't understand it, naturally, because they see it from a distance, but she has been one of the greatest things that's happened to me in my life," he said in 2020.
"I've been fortunate to work with a lot of people and she's the single hardest-working woman that I get to be around.
"She's focused, selfless, and she makes my weekends peaceful. Every day I wake up, whatever time it is, she's just positive - never a single day has she been negative, so that's very, very important."
Hinsta director of coaching and sports science Pete McKnight has praised the partnership, saying Cullen is so much more than a physio.
"It has worked out perfectly," McKnight told MSN.
"People don't always 'get' the performance environment, but she does. She understands that it's performance first.
"It's her level of experience, too. She has worked with top-level British track runners, and she just knows how to put the athlete first.
"Sometimes you get physios who are more interested in the therapy than they are in the athlete. Angela is a good physio and she understands her trade very well, but she puts Lewis first.
"There's also just something quirky about it: a woman in her mid-forties, with a family at home, two young kids, and then there's this mid-thirties racing driver.
"It might seem a really weird match, but it just works."
Angela Cullen on Instagram: The social media star
Pretty much everybody with any involvement in F1 qualifies as a social media influencer these days, and Angela Cullen definitely fits the bill.
She regularly shares pictures and messages about her life on tour with Lewis Hamilton and Mercedes (and her latest tattoos) on her Instagram page.
As of March 2023 she had a whopping 549k followers - adding a massive 47k in the three days following the announcement she will no longer work with Hamilton.