Sebastian Vettel believes that F1 is now ready to welcome an openly gay driver.
Vettel has positioned himself as an 'ally' of the LGBTQ+ movement and visually showed his support in Hungary and Saudi Arabia where laws discriminate and criminalise the community.
Featuring on the cover of the July/August issue of Attitude, the best-selling LGBTQ+ campaigning lifestyle magazine, Vettel reflected: "Perhaps it wouldn't have been the case in the past, but now I think a gay Formula One driver would be welcomed – and rightly so.
"I feel that a gay driver would help to speed up the elimination of prejudice and help push our sport in a better direction.
"So I think and hope our sport would be ready for one."
Vettel is the first Formula One driver to feature on the cover of a magazine for gay men and the wider LGBTQ community.
Mike Beuttler, a driver in the early 1970s, is the only known gay male to have raced in F1 but there has never been an openly homosexual competitor.
Asked why a driver may feel the need to 'stay closeted', the Aston Martin driver added: "I guess it might be similar to the situation in a sport like football: the old image of a player or driver as a 'hero' who should match a certain set of criteria.
"But the judging criteria are just wrong.
"How are those stereotypes in any way related to performance? Who got to decide?
"It takes enormous courage to show your real self rather than hiding behind a façade based on what people expect."
Article continues below image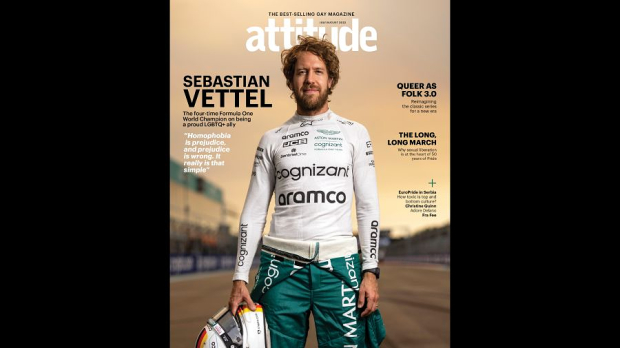 F1 can do more
In recent years, F1 and the wider motorsport community have pushed to increase diversity and make paddocks a more accepting environment.
Although acknowledging improvements made, Vettel conceded there is still more to be done.
"It's getting better, you do now see a few engineers and mechanics who feel able to be more open," explained Vettel.
"But there's still more we can do to improve diversity and inclusivity in motorsport, not only in terms of sexuality but also by supporting and encouraging women, people of colour, those with disabilities and so on.
"Formula One has started a movement called 'We race as one', which is good, but we all have to make a concerted effort to ensure that it actually achieves positive change; so we act on it rather than just talk about it."
Inline image: Glenn Dunbar for Attitude magazine The Attitude July/August issue is out now'