Jenson Button believes Williams could return to the front "in a few years" but warned the results won't appear overnight.
Although above Haas in the current season's standings, Williams has finished bottom of the table in each of the past three years and has scored just one point in this period.
For the team with nine constructors' and seven drivers' titles to its name, this is a situation that needs to be rectified, and Button is confident Jost Capito is the correct man for the job.
"They are a little bit more competitive in qualifying than in the race at the moment but it will come and I think the important thing is that they can see a future and that is what is always key within a team," said Button, who made his F1 debut with the team in 2000 and with whom he currently serves a senior advisor.
"If you can see a bit of light, you do work that extra bit and it's lovely to see the progress. The atmosphere in the team is good, I think Jost Capito is doing a good job of leading the team.
"But it takes time. It's not going to happen overnight. They're not going to be winning races next year but in a few years time, they could be at the front again which is what we all love to see.
"It's such a special team to so many of us."
F1 must remember its history
Whilst talks of new cleaner engines are ongoing and excitement is building for the all-new aerodynamic regulations of 2022, the Goodwood Festival of Speed has allowed fans and drivers alike to reminisce about years gone by.
Button himself sampled Keke Rosberg's 1982 championship-winning Williams FW08 and reflected on the importance of looking back every once in a while.
He added: "It's very special. First of all, it's amazing to be back here. I'm so glad today that the weather is beautiful, that we can have a full house of people and all the fans are here to watch these beautiful works of art driving up the hill here.
"Two wheels, four wheels, some of them six, but it's a really special event Goodwood and I think we love it more than ever this year.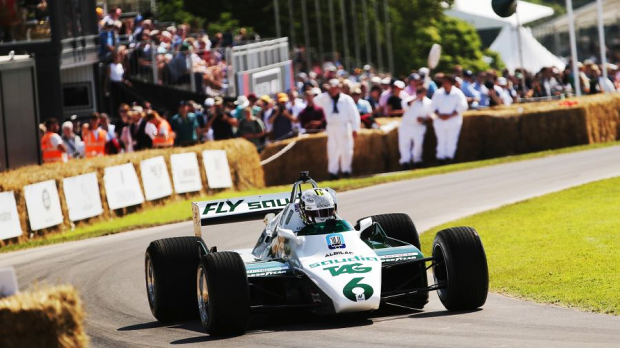 "I definitely have a lot of different things on but I'm loving it. I'm working with Sky Sports F1 for a lot of the grands prix. I'm also working with Williams as a senior advisor which is great because I get to play in such beautiful cars like this.
"This is Keke Rosberg's championship-winning car from 1982, the FW08, and apart from not having a front on it - my legs are dangling out the front of the car which is a little scary - apart from that, it is just stunning.
"The gearbox just works beautifully and it really is a pleasure to drive as so many of these are.
"We just forget. We keep moving on with time looking forward and it's nice to take a step back and really reminisce."