Lewis Hamilton equalling Michael Schumacher's legendary victory record and Kimi Raikkonen setting a new mark for most F1 starts were the most obvious milestones to emerge from the Eifel Grand Prix, but there was so much more from the race at the Nürburgring.
In case you missed it, we compared how Schumacher and Hamilton's statistics match up to one another after the latter scored his 91st career win to pull alongside the German.
But it was a weekend full of other historic statistics, with multi-year droughts ending and a 37-year-old record being matched. Let us get into it!
Hamilton and Raikkonen write F1 history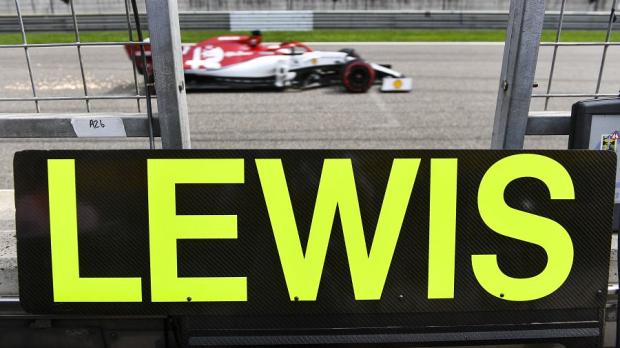 Of course, the day was dominated by Hamilton who took the chequered flag at a circuit where Schumacher had won five times previously. The obvious comparison is that Schumacher completed his 91 wins in 246 starts, Hamilton 261.
While Raikkonen's race was not as noteworthy, highlighted by a first-corner collision that sent George Russell's Williams flying, the Finn did break Rubens Barrichello's record for most grand prix starts in F1 history as he competed in his 323rd race.
For the two oldest drivers currently on the grid, it was quite some weekend, and with more to come.
Hamilton will certainly add to his win tally this season to become the outright record holder, while Raikkonen should add at least six more starts to his name this year.
Renault and Ricciardo break podium droughts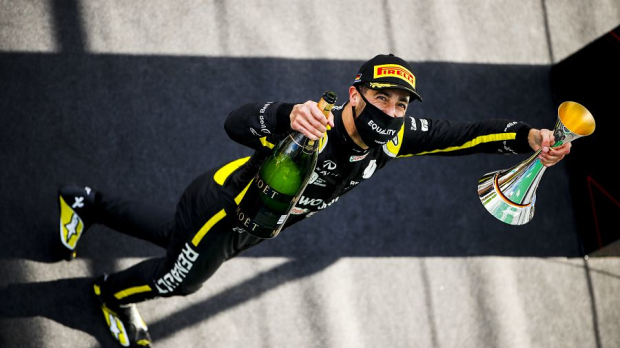 While Renault had taken 100 podiums as a constructor prior to Sunday, it had been over nine years since its last that came at the 2011 Malaysian Grand Prix in which Nick Heidfeld finished third behind race-winner Sebastian Vettel and Jenson Button.
As a constructor, there was a four-year hiatus from F1 between 2012 and 2015, but from its return in 2016, 110 podium-less races followed prior to Ricciardo's triumph, and with CEO Luca de Meo present.
For Ricciardo, his last podium was at the 2018 Monaco Grand Prix where he took his seventh career win and second of that season.
Since then, he had competed in 46 races without finishing in the top three before standing on the podium for the 30th time in his career. Can he add to that tally while at Renault before he moves on to McLaren in 2021?
The seventh different team to podium in 2020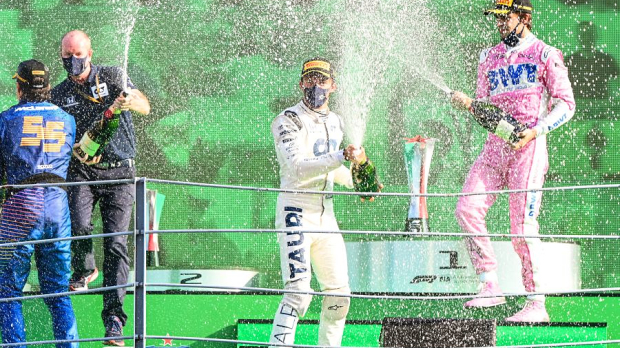 While it might not feel that way because of Mercedes' dominance, Renault was the seventh different team to finish on the podium this season after Mercedes, Red Bull, Racing Point, McLaren, Ferrari and AlphaTauri.
Not since 2012, seen by many as the best season in recent F1 history, have this many different teams scored a podium in a single season.
Back then, the teams with podiums were Ferrari, Red Bull, McLaren, Lotus, Sauber, Mercedes and Williams, an overlap of four teams (or five if you count Lotus as Renault).
While the title fight might not be as exciting this season as it was in 2012 between Sebastian Vettel and Fernando Alonso, 2020 has proven to be a year of unexpected results.
Mercedes continues to match historic records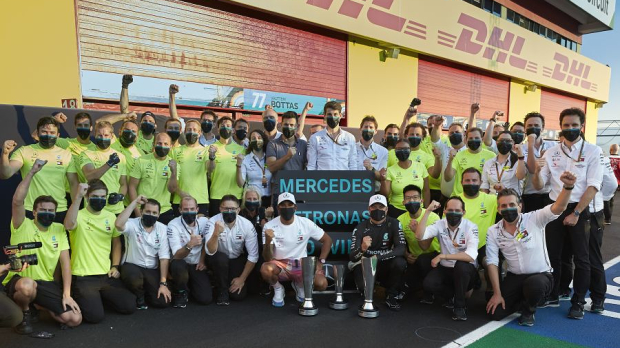 On the day when Mercedes took its first Nürburgring victory courtesy of Juan-Manuel Fangio in 1954, and after leading every lap of a race for the eighth time this season, it was Mercedes as an engine manufacturer that equalled a historic record set by Ford.
For the 228th consecutive time, at least one Mercedes-powered car finished inside the points. To give an idea as to how long that streak is, the last time no Mercedes-powered car finished with points was at the 2008 Japanese Grand Prix.
Hamilton finished 12th from pole position after a collision with Felipe Massa while then McLaren team-mate Heikki Kovalainen retired with mechanical issues. Ford Cosworth achieved its record with the legendary Cosworth DFV engine between 1967 and 1983.
Nico Hülkenberg's impact substitutions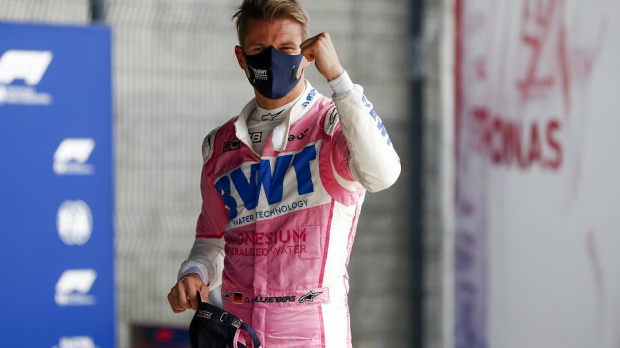 Without a second of practice, Nico Hülkenberg was substituted in for the second time this season by Racing Point, this time replacing the unwell Lance Stroll.
Immediately thrown into qualifying, unlike his previous outings at Silverstone where he at least had free practice to get his bearings, the German started the Eifel Grand Prix in last place.
Despite enjoying some good fortune along the way as a number of cars ahead of him retired, Hülkenberg still impressively finished eighth to earn the driver-of-the-day honour.
Across his two races for the team this year, Hülkenberg has scored 10 points. This means he has outscored compatriot Sebastian Vettel by three points over the last two months despite the Ferrari driver competing in all seven grands prix over that period.
Before you go...
Albon slated for "unprofessional" move by Kvyat