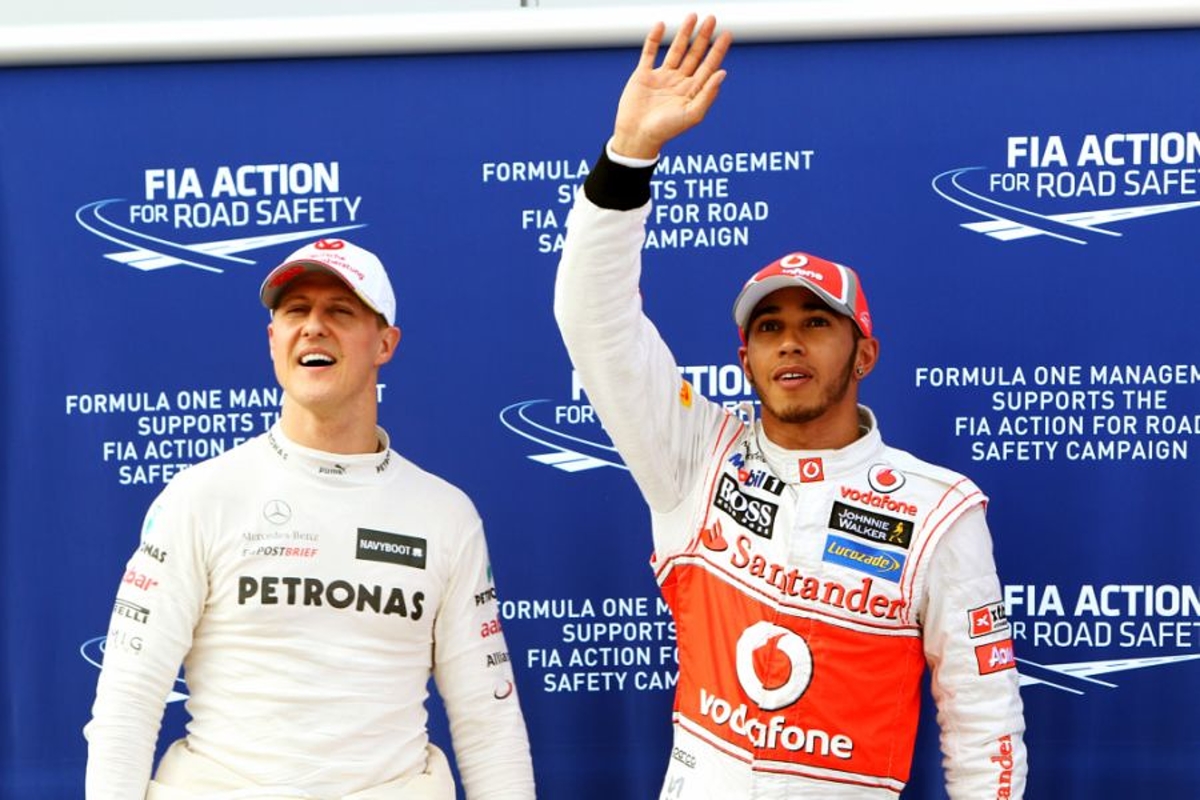 Hamilton vs Schumacher - The stats records of F1's two most successful drivers
Hamilton vs Schumacher - The stats records of F1's two most successful drivers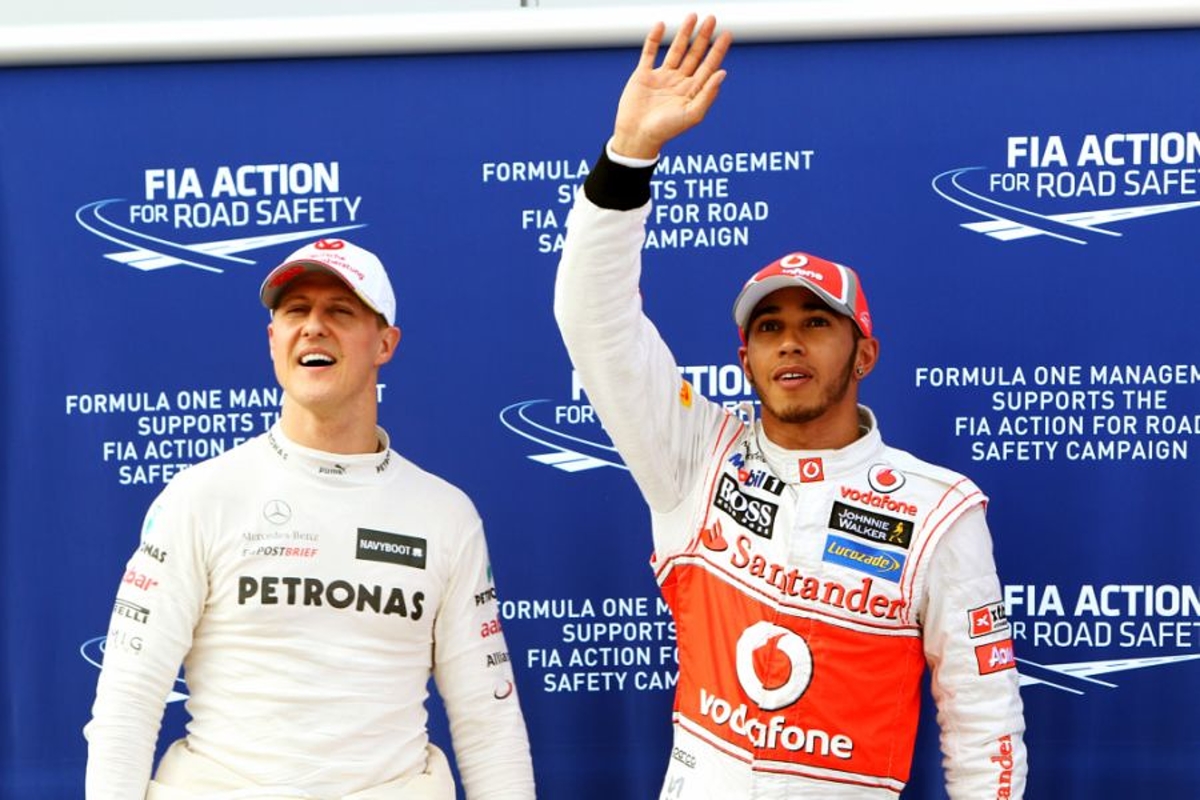 It was a record many believed would never be broken.
When Michael Schumacher retired from Formula 1, initially at the end of 2006, and again in 2012, with 91 victories to his name, it seemed as if it would be a mark that would stand the test of time.
But just eight years later, and following an astonishing run of success, Hamilton has now equalled that milestone following his victory in the Eifel Grand Prix.
Schumacher still holds many other records over Hamilton, however. So we break down the most impressive from both.
Chipping away at Schumacher's records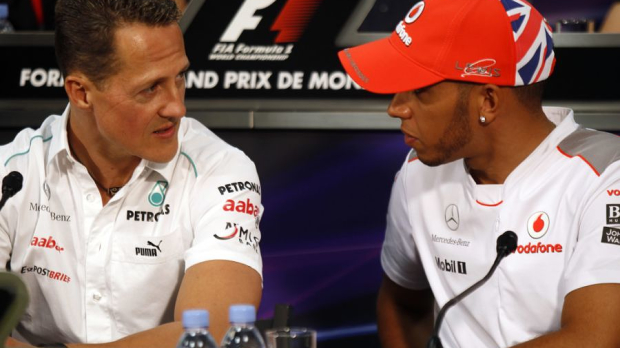 At the Spanish Grand Prix this season, Hamilton not only won his 88th race but also climbed the podium for the 156th time, breaking Schumacher's record of 155.
The inaugural Tuscan Grand Prix saw the man from Stevenage snatch another record from Schumacher as he finished in the points for the 222nd time in his career, surpassing Michael's 221.
Beginning his F1 career in 2007, Hamilton is the only driver in history to have taken to the top step of the podium in each year he has competed, a streak of 14 seasons and counting.
In terms of the number of seasons in which he has won, the Briton remains one short of Schumacher's 15.
While nothing is set in stone, in particular as Lewis has yet to sign a new contract for next year, it is most likely Hamilton will equal this record in 2021 and then break it the following season.
Another tally that could be equalled by the end of 2021 is Schumacher's record for most race starts with a single constructor.
While Hamilton is still 28 shy of Schumacher's record number of 179, there are exactly 28 races between now and the end of 2021 – if F1 goes back to its full calendar next year, which is still to be decided.
If not, Hamilton will have to wait until 2022 and remain with Mercedes to take over that particular milestone.
What records does Schumacher still hold?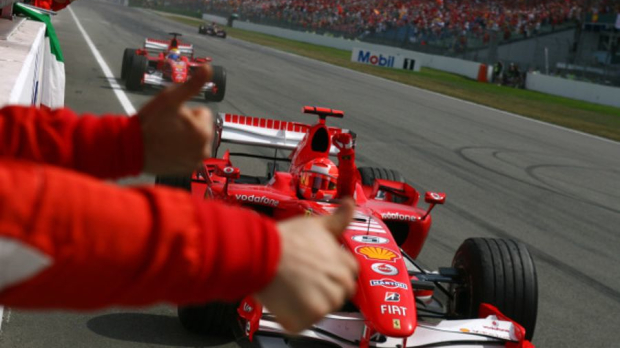 While it is inevitable Hamilton will secure win 92 this year to take up that honour, there is still a record in Schumacher's hands that remains the ultimate - that of his seven world titles.
With a gap of 69 points with seven races remaining, it is almost certain Hamilton will equal that mark this season. As to whether he breaks it, given the stability with the regulations for next year - and again, providing he signs that new deal - title number eight will be on the cards.
The German does still hold the record for most wins in a season, however, with 13 victories in 2004 in his famous F2004. The biggest haul for Hamilton has been 11 in three different seasons.
Schumacher also stood on the podium for an astonishing 19 consecutive races between the 2001 United States Grand Prix and the 2002 Japanese Grand Prix, a seemingly untouchable record.
Unbelievably, Schumacher stood on the podium for all 17 races in 2002 on his way to his fifth world championship. Hamilton's longest podium streak was 16 between the 2014 Italian Grand Prix and the 2015 British Grand Prix
The record for most fastest laps is also one that will likely remain with Schumacher. With 77, the German has managed 26 more than Hamilton, who has 51.
With modern regulations awarding a bonus point for the fastest lap, it will be more difficult for Hamilton to accrue those quick laps as his rivals are making more conscious efforts to clinch it.
With 10, Schumacher also splits the record with Kimi Raikkonen for the most fastest laps in a season.
Finally, Schumacher has also led the most laps in F1 history at 5,111, a total 181 more than Hamilton's 4,930, and he has the most pole-win-fastest lap hat-tricks at 22 compared to Hamilton's 17.
It's Hammer Time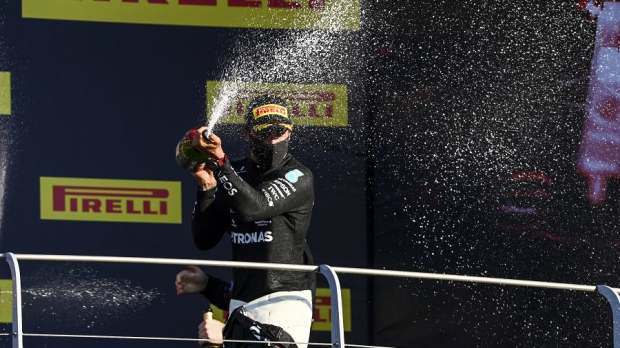 Lewis Hamilton's most untouchable record by the time he retires will be the one for most pole positions. At 96 and counting, Hamilton is already 28 clear off his nearest competition in Schumacher. He will be the first, and for the coming decades, the only driver to have over 100 pole positions by the time he retires.
The same could be said about the win total and podium finishes. With regulations staying fundamentally unchanged for 2021, Mercedes should set off on another dominant campaign before the major overhaul in 2022.
Hamilton, who has shown devastating consistency and a lack of errors throughout his career, unsurprisingly holds first and second place for most consecutive points finishes. The record at 44 is still ongoing, with the Briton last failing to finish outside the points at the 2018 Austrian Grand Prix when he and team-mate Valtteri Bottas suffered mechanical failures.
Yet to miss a race in his career, Hamilton also has 260 consecutive race starts from the 2007 Australian Grand Prix onwards, a record that is also ongoing.
When Hamilton eventually calls it a day and the dust finally settles, he will undoubtedly have the most impressive statistical career in F1 history.
His current dominance is unlike any past dynasty. We could well be witnessing the greatest F1 driver in history.
Before you go...
Safety car cost "strong chance" of Eifel GP podium - Perez
Ricciardo podium "a milestone in the journey" of Renault - Abiteboul