Racing Point technical director Andrew Green has addressed concerns from other teams within the Formula One paddock that their RP20 car is simply a copy of the 2019, title winning Mercedes W10 car - Green admitting that, while there are similarities, the team have done nothing untoward.
Inside of the paddock, the Racing Point RP20 has been dubbed as 'The Pink Mercedes'. Several images have surfaced of the RP20 and the W10 side-by-side, and the similarities are obvious, but there is a reason for this. Racing Point have designed the RP20 based on photographs, those widely available, of the the W10.
"It shares some resemblance in some areas," says Green. "Lots of cars look like other cars. I don't think ours is particularly any different to anybody else's in that respect. What we have seen is a change from where we were last year, and that is a conscious decision.
"From about the middle of last year, when we saw where the RP19 was developing to and where it was going, it wasn't making the gains that we were hoping for and it was clear that, if we carried on the route that we were going, we were going to end up, at best, where we finished the championship last year. To us, that just wasn't going to be acceptable.
"We've got one more year left in these regulations. I think it was time to try something new, to take a risk, and I think we've taken a very, very big risk with what we've done with the car. It makes sense to do what we've done, which is to take the underlying architecture from MGP [Mercedes Grand Prix] for many years now – we've been using their gearbox for quite a while.
"We're a year behind with their gearbox, we always have been, and trying to develop the 'Red Bull philosophy', the 'high-rake' philosophy, which lots of people have emulated up and down the pitlane, it became increasingly difficult with the gearbox that we have from MGP.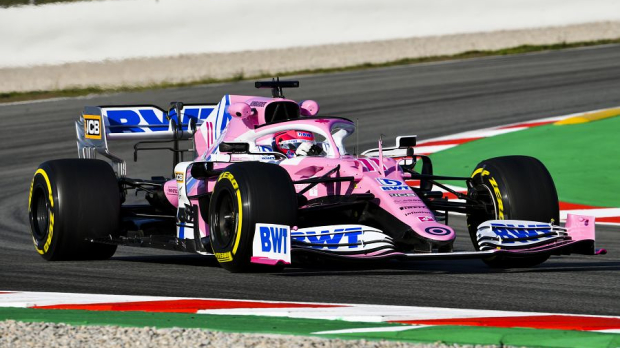 "They are a different philosophy. A 'low-rake' philosophy. It's difficult to shoehorn and develop around a different philosophy on the underlying architecture that we have.
"It was a question that we posed ourselves, what should we do? Should we move across and try to develop a car to a different philosophy? It seemed obvious that, running a 2019 gearbox, the same gearbox that they ran last year, a Mercedes power unit and we've also got a few out-board suspension components that we had from MGP from last year – we decided to take a risk.
"That risk was effectively to tear up what we had done in the past few years and start again. Start again from scratch from what we could see of what MGP had been doing."
Teams are not permitted to benefit from the transfer of designs from one team to another on surface areas of the car, but there is nothing to prevent teams from using photographs to base their designs from.
"[We've got] The same view as everyone else has got," said Green "There's nothing special in the information that we've got. All we've got is what we see, and that's what we've started from, that's what we've developed from and it's a completely clean sheet of paper with that respect.
"It's a big risk. I don't know if it's going to pay off. We'll have to see, but I don't think that what we've done is particularly new in terms of taking a teams concept and doing it ourselves. That's been prolific in Formula One since the very first day.
"Teams have done it and teams will continue to do it. Think back from double diffusers, to blown diffusers, to coanda exhausts. People take concepts and they turn them into their own. We've done exactly the same."
The decision to take the gamble was based on the diminishing returns of continuing down their current philosophy and, as a small team that will likely place a large amount of focus on the new 2021 regulations, Green said that the gamble was a group decision, but that the buck ultimately stops with him.
"We're a small team. We're only 400-plus people. We're not 1000-plus people. We've got to cut our cloth to suit and I think that, to us, as a small team, we would definitely want to be more in the fast followers category than the pioneering, cutting edge category, which is where the big teams that have got the resources to do that."