French GP (Qual: 3rd - Race: 3rd) 7/10
Maximised a race weekend for, probably, the first time as a Ferrari driver, with Mercedes so far ahead. Leclerc showed smart development in fixing recent issues through qualifying and kept his nose in it throughout, which almost paid dividends when Bottas dropped pace suddenly at the end of the race.
Austrian GP (Qual: 1st - Race: 2nd) 9/10
Leclerc couldn't have done a whole lot more to take his maiden race win at the Red Bull Ring, and was the man to beat through practice and qualifying, where no one was able to do so. Raced brilliantly with Verstappen to cling onto the lead as the Dutchman charged at him, but was guilty of leaving the door open a tad too much at Tun 3 on lap 69, perhaps thinking that stewards would punish Verstappen were he to jump into the gap. Of course, they did not - thankfully.
British GP (Qual: 3rd - Race: 3rd) 8/10
Leclerc made good on his promise to fight harder in Silverstone than he had done in Spielberg. Came off second best in the epic duel with Verstappen, but made sure Max knows there's another like him on the grid now. Ultimately secured a fourth straight podium finish with a picture-perfect around the outside of Gasly for good measure.
German GP (Qual: 10th - Race: DNF) 4/10
Through Friday and Saturday morning, Leclerc looked the man to beat, but a technical issue in Q3 left him mid-grid. The drag strip at the stadium section seemed to catch out Leclerc more often than anyone else; he had already caught a huge spin before a similar loss of control sent him into the barriers and out of the race when a podium, and potentially more had started to present itself.
Hungarian GP (Qual: 4th - Race: 4th) 6/10
Leclerc made a hot start, jumping into the top three as Bottas struggled through the first few corners. Leclerc drove a solid race from there on what was viewed as the optimum strategy but Ferrari were able to gamble with team-mate Sebastian Vettel, which paid off for the German as he snuck third place a few laps from the end.
Belgian GP (Qual: 1st - Race: 1st) 10/10
Surely this was the first of many Leclerc wins and it will not have been lost on Ferrari connoisseurs that a maiden race win in Belgium had echoes of Michael Schumacher, and Leclerc's performance had all the hallmarks of a more seasoned performer, as is becoming the 21-year-old's custom. Leclerc is Formula 1's third-youngest race-winner and the world championship's first from Monaco. Impartial as we are, a Leclerc win just felt right this weekend, all things considered…
Italian GP (Qual: 1st - Race: 1st) 10/10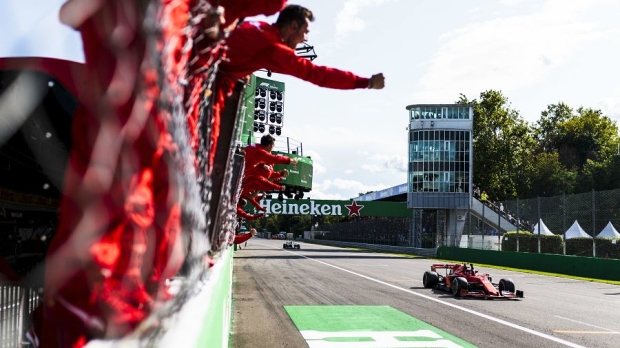 Composed. Accurate. Stern. Leclerc's ability has never really been in doubt, but this was as well-rounded a weekend performance as we've seen from somewhere other than the #44 car in some time. Leclerc has moved ahead of Vettel in the standings for the first time and might have even taken third from Verstappen had he not scored points. Ferrari may not be as comfortable on some of the tracks to come, but we now know that it is Leclerc they will look to in order to maximise results. His racing with Hamilton was hard, but ultimately fair, and his ability to maintain pace in the face of Bottas' charge likely pushed the Finn into a desperation-laced mistake of his own.
Read More (2/3)