The 2019 Formula 1 campaign is perhaps not one that will live long in the memory of Sebastian Vettel and his fans, but a year of struggle and disappointment leaves the German's career at a serious crossroads.
Amid Ferrari's struggles to extract the maximum from the SF90, Vettel's performances also struggled and the emergence of Charles Leclerc alongside him gave the German several headaches across the season.
GPFans scored ratings for every driver in all 21 races this year, and looking back at Vettel's year shows just how his fortunes varied wildly from race to race.
Here's how we scored and reviewed Vettel in every grand prix in 2019.
GPFans Driver Index: 9th
Average score: 6.0
High: 9 (Canada, Germany, Russia)
Low: 1 (Italy)
Australian GP (Qual: 3rd-Race: 4th) 5/10
Vettel was further off Hamilton's pole time than last year, despite the advances reportedly made by Ferrari in the intervening 12 months. Come race day, something clearly wasn't right with the German and by rights, he would have finished fifth, had the Scuderia pit wall not called Leclerc off from a late charge which saw him get into DRS range.
Bahrain GP (Qual: 2nd-Race: 4th) 4/10
Vettel's championship challenge began in earnest last year in Bahrain and the Ferrari pace was clear for all to see this year - only it wasn't the German's car leading the way. Sunday was a race to forget for Vettel, firstly losing out to Hamilton in wheel-to-wheel combat and then spinning in frustration. That's the fourth time in ten races that's happened now. Coupled with a spectacular front wing failure, it felt like an afternoon to forget for Vettel.
Chinese GP (Qual: 3rd – Race: 3rd) 6/10
Showed plenty of nous and experience to repel the attack from Verstappen by leaving the Dutchman to run out of road around the outside. His time-costing lock-ups after being freed into clean air by Ferrari's team orders completely undermined the decision, however, and made a dubious call become contentious.
Azerbaijan GP (Qual: 3rd – Race: 3rd) 6/10
Leclerc displayed the pace the SF90 had around Baku all weekend, but Vettel just couldn't match it. Might have been on pole, but Ferrari were tricked in Q3 and he set his final flyer without a crucial tow, which allowed the Silver Arrows to lock out the front row. A dismal opening stint saw Vettel drop off Mercedes at pace, ending any hopes of a Ferrari fightback.
Spanish GP (Qual: 3rd - Race: 4th) 5/10
Vettel himself admitted after the race that he only had one shot at making anything happen, it had to be off the line or not at all. The German can be forgiven for locking up a touch while going three-wide into Turn 1, although the move also held up Leclerc at the launch and for a few laps afterwards. He can't be blamed for Ferrari's dithering on the pit-wall.
Monaco GP (Qual: 4th - Race: 2nd) 7/10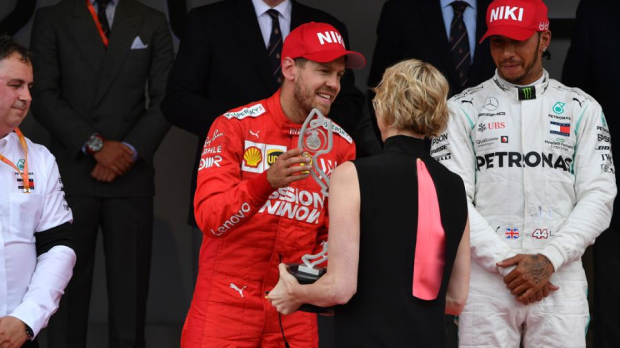 Miles off the pace in qualifying, Vettel can't have been expecting to leave Monaco with a second-place finish – maybe he wasn't expecting a podium at all. However, he kept his nose clean and briefly looked in position to take victory as Verstappen's pressure on Hamilton had the Mercedes driver thinking about a potential pit-stop. Still, Canada must be better for team and driver.
Canadian GP (Qual: 1st - Race: 2nd) 9/10
Would have been full marks for Vettel without his squirrelly moment into the second chicane which ultimately proved his downfall. His win-robbing penalty caught the headlines, but once again Vettel saw his hopes just slip away with a slight mistake and Ferrari could ill-afford such a slip-up on a weekend they finally showed the SF90s strengths in full.
Read More (1/3)