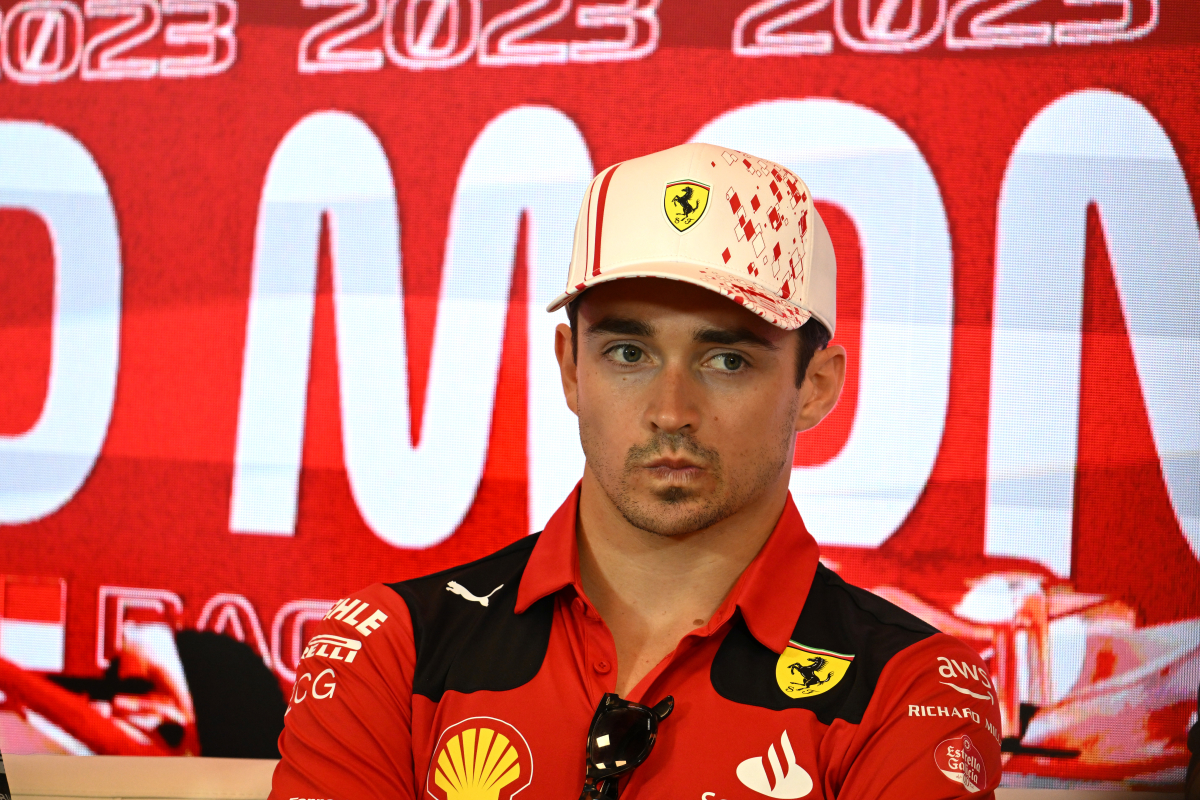 F1 ANALYSIS: Why Leclerc is such a threat around Monaco
F1 ANALYSIS: Why Leclerc is such a threat around Monaco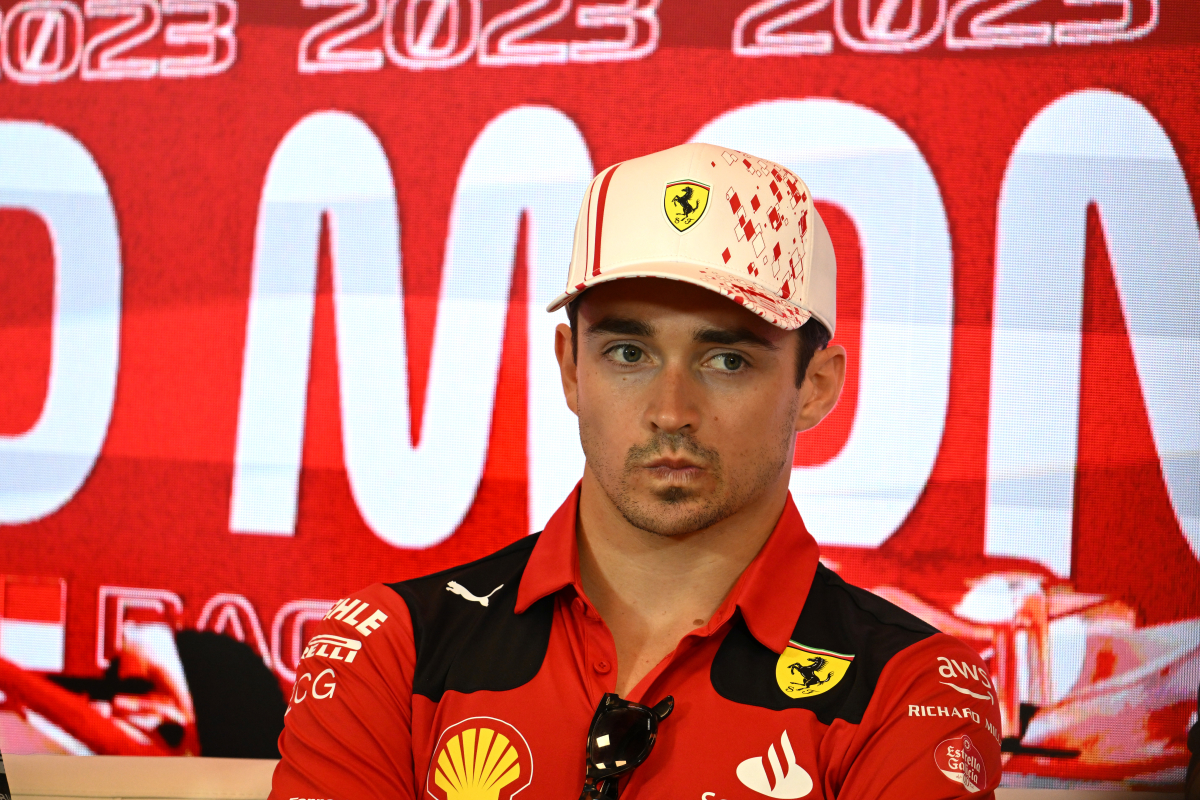 Watching Charles Leclerc across Monaco is the reminiscence of watching Ayrton Senna around the same streets that he ruled.
This year Charles is on a hat-trick to grab the pole position at Monaco GP. But what is it that makes Charles so good around the venue? Is it precision driving or bravery into the street corners, Let's look at the data systematically to find out.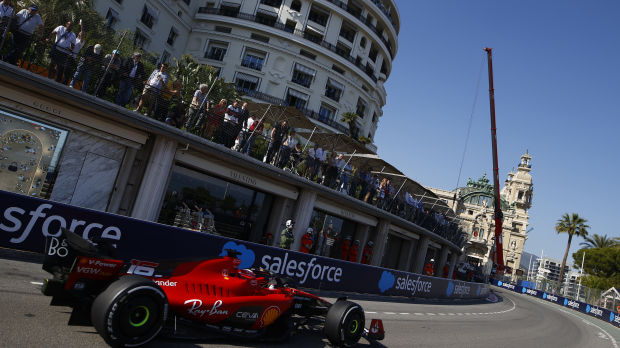 Birds Eye Perspective
Let us first figure out which parts of the track Leclerc was faster than Max Verstappen last year. Looking at the telemetry data of Q3 we can see that Turn 4-5-6-7-8 is the big differentiator.
Added to that are marginal gains across all the famous turns casino (T4), entry to swimming pool (T14) and exit of rascasse (T16). Monaco, unlike other tracks, has a lot of combined steering and braking in corners to go fast around it, which if you get wrong, you can easily lock up your inside tyre, hence all the frequent lock-ups that we see on the track.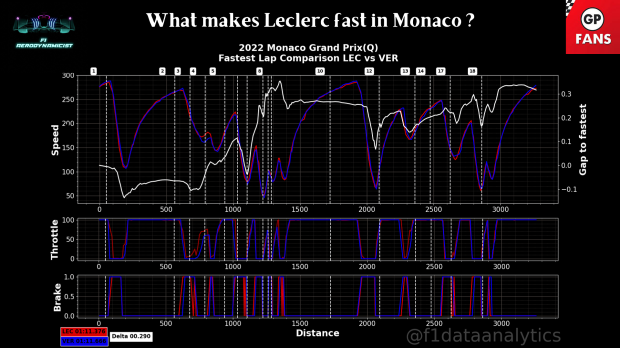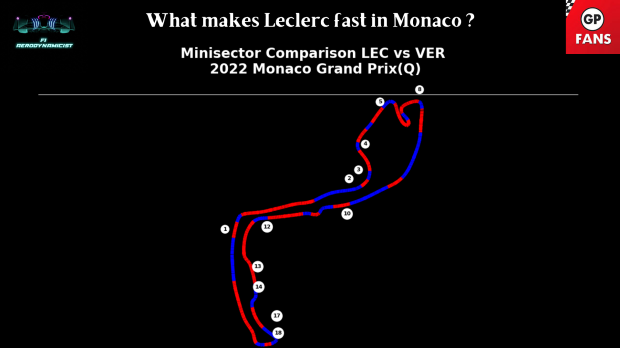 Corner Analysis - Casino - Hairpin (T3-4-5-6)
Leclerc is able to carry approximately 10-15 km/hr more speed through Turn 3 into the entry to Turn 4. This corner is more tricky than it looks because you need the smallest tap on the brakes to pitch the car so that you have the front end to turn into T3 with high speed and carry that speed all the way into T4.
And this is exactly what Leclerc does better, his tap on the brakes is shorter initially and is able to carry much more speed going into Turn 4. Because of this speed delta, he brakes slightly earlier going into Turn 4 and then maximises his exit to Turn 5.
Going into turn 6 (Hairpin) Leclerc is able to stay on throttle longer and decelerate harder while Verstappen brakes earlier and carries more speed through the hairpin.
READ MORE: F1 ANALYSIS: What we can expect from the Mercedes W14B upgrades and how they work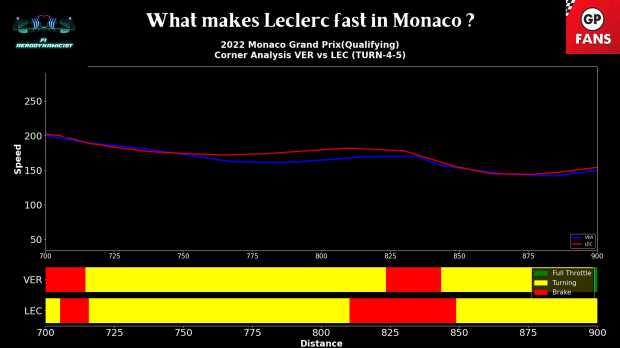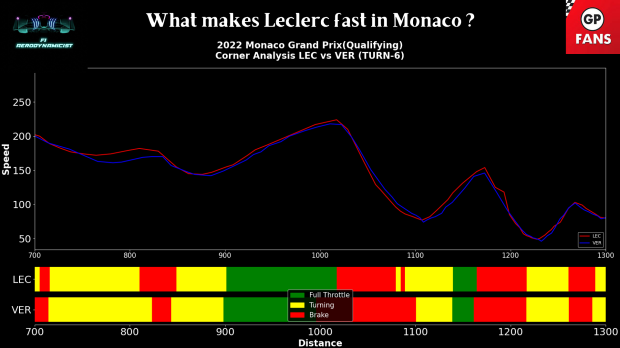 Corner Analysis - Swimming Pool (T12-13-14)
Leclerc's strategy is focused more around maximizing the exit across the swimming pool turns. He played this to his advantage considering traction was one of the advantages Ferrari had over the rest of the grid last year. By carrying less speed into the entry he positions his car beautifully for the exit wherein he can carry the traction advantage Ferrari had across T13-14.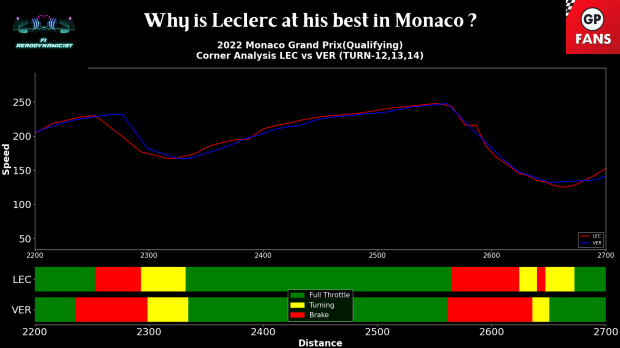 So what is it that makes Leclerc such a fast driver around Monaco? Well, its a combination of precise and brave driving combined with an understanding of which parts of the track he could maximize the strengths of the car.
And maybe just maybe, having been brought up in the streets of Monaco he might know a secret or two.
Shubham Sangodkar is a former F1 Aerodynamicist with a Master's in Racing Car Design specialising in F1 Aerodynamics and F1 Data Analysis. He also posts aerodynamics content on his YouTube channel, which can be found here.
READ MORE: F1 ANALYSIS: Why Mercedes have made radical changes to the W14