New Verstappen partnership has 'endless possibilities'
New Verstappen partnership has 'endless possibilities'
Max Verstappen believes his new partnership with EA Sports has 'endless possibilities'.
The Dutchman is well known for his love of gaming, and his newfound passion for sim racing. So, there is no better fit for a sponsor than EA Sports who are the creators of the official F1 game.
Two-time champion Verstappen explained: "There are endless possibilities.
"I have some ideas in my mind about other stuff that we can do together, but this is early days."
READ MORE: Massa: Leclerc 'knows how to win' and is title contender
Verstappen will be combining with EA Sports for various content-creating opportunities throughout the year, and he will be wearing their logo on the chin of his helmet in every race this season.
The length of the contract between the Red Bull driver and EA Sports is undisclosed, but it will certainly be spanning across the 2023 Formula 1 season.
The 25-year-old has also been vocal about his obsession with another EA Sports game, FIFA.
When asked about the game, Verstappen indicated that there will be "a lot" of FIFA points included in the deal. These points can be used on an online feature of the game which has millions of players every day, including the Red Bull driver.
A virtual version of Verstappen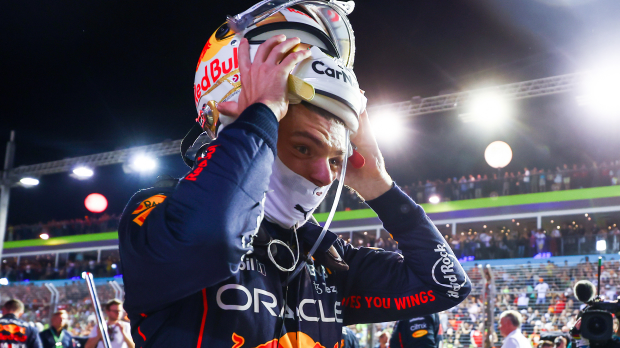 We all know that Verstappen is quick on the track, and you would not be surprised to hear that he is just as quick in-game.
During the 2023 Le Mans 24 Hours Virtual, he qualified second, just 0.02secs off pole.
So, there is no surprise that a gaming company snapped up the Dutchman as a partner. He said: "I am very involved in e-racing myself and EA has the F1 game."
However, while the Dutchman's speed carries over to the virtual world, so does his anger. Verstappen unleashed his fury after being disconnected from the race by calling the event "a clown show" during his live stream of the race.
He was on course to win the race, a familiar sight for Formula 1 fans, which made the 'glitch' even more infuriating.
He said: "What's the point? You prepare for five months to try and win this championship, you're leading the championship, you're trying to win this race, which you prepare for two months. And they handle it like this."
READ MORE: Verstappen delivers 'first impressions' verdict on RB19