Sainz brings back fan FAVOURITE celebration after stunning win
Sainz brings back fan FAVOURITE celebration after stunning win
Carlos Sainz brought back his classic smooth operator celebration after managing to claim a brilliant win at the Singapore Grand Prix.
The Spaniard drove faultlessly throughout, staving off the challenge from Lando Norris, George Russell and Lewis Hamilton to become the first non-Red Bull driver to win a race this season.
The victory now moves Sainz closer to fourth-placed Fernando Alonso in the drivers standings, 19 points ahead of his team-mate, as well as helping Ferrari to close the gap to second place in the constructors' standings.
After the race, Sainz didn't fail to disappoint his fans, bringing his smooth operator celebration back over the team radio, with his engineer Ricky Adami joining in.
"Vamos! Come on Ricky," he said after the race.
"You know what, this is my first smooth operation in Ferrari! Smooth operatorrr!"
READ MORE: Sainz secures DRAMATIC victory in Singapore despite late Mercedes charge
Fabulous Sainz uses all of his skills to take victory
The celebration became a fixture of his time at McLaren, with Sainz often singing it after strong performances, including at the 2019 Brazilian GP when he finished P3.
He described that particular performance as "the smoothest operation of my life", but it's probably a fairly safe assumption that the one carried out on Sunday may well top that one in his personal hierarchy.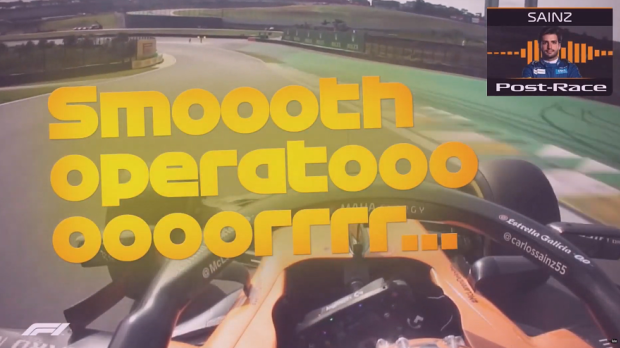 Sainz had to show off all of his racecraft to bring home the victory for his team in very hot and sticky conditions at the Marina Bay circuit, showing intuition and ingenuity in the final few laps to give Norris, in second, DRS to help defend from the rapid two Mercedes cars behind him.
The 29-year-old certainly has been the smooth operator over the last two race weekends, taking two pole positions, one third-place finish and – crucially for Ferrari – one race victory.
READ MORE: F1 Race Engineers: The stars of team radio with Hamilton, Verstappen and co