Ferrari get perfect start at Singapore Grand Prix as Russell COMPLAINS about Hamilton on opening lap
Ferrari get perfect start at Singapore Grand Prix as Russell COMPLAINS about Hamilton on opening lap
Carlos Sainz kept his cool to lead the Singapore Grand Prix after getting away quickly on lap one.
Ferrari team-mate Charles Leclerc also managed to get past Mercedes' George Russell at the start.
Lewis Hamilton shot up to fourth, although he had to give third place back to Russell after going off the track in order to overtake him.
READ MORE: EXCLUSIVE: Albon EXCITED by new Williams F1 project as star driver enjoys extra responsibility
This caused Russell to take to the radio to question whether seven-time world champion should give him the place back.
Hamilton was also instructed to give back fourth position to Lando Norris or risk being given a penalty, having got past him at the start too, leading to double frustration for the Brit.
But for Ferrari it was the perfect start, as their cars were sat in first and second after the opening stages.
Mercedes frustration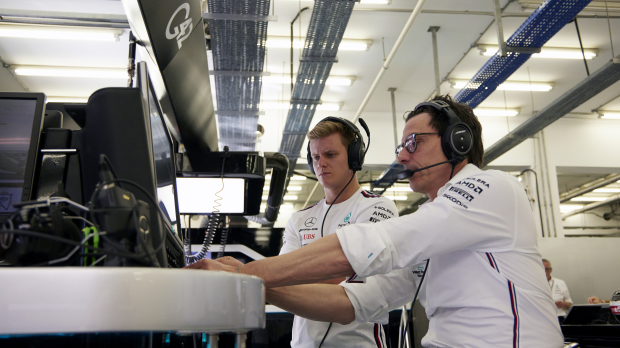 Having started second behind Sainz, Russell would have been hoping to put the Spaniard under pressure going into turn one, but it wasn't to be and he will now have to get past both Ferraris if he wants to win in Singapore.
Hamilton will also be frustrated to still be in fifth having got a good start off the line to put him ahead of Norris, and side-by-side with his team-mate.
Mercedes' strategists will be working double time on the pit wall to try and find a way to get past the Leclerc and Sainz ahead, with a possible undercut no doubt being a tempting option.
Further down the field, Yuki Tsunoda is out of the race after his AlphaTauri suffered a puncture following contact with Sergio Perez. Thankfully, he managed to go straight down the escape road, meaning there was no need for a safety car.
Max Verstappen, starting 11th after a poor qualifying, managed to gain two positions on lap one, and will be hoping to continue to cut through the field and put himself in the running for an unlikely podium.
READ MORE: EXCLUSIVE: Verstappen setup quirk which allows Red Bull to make car even fasters