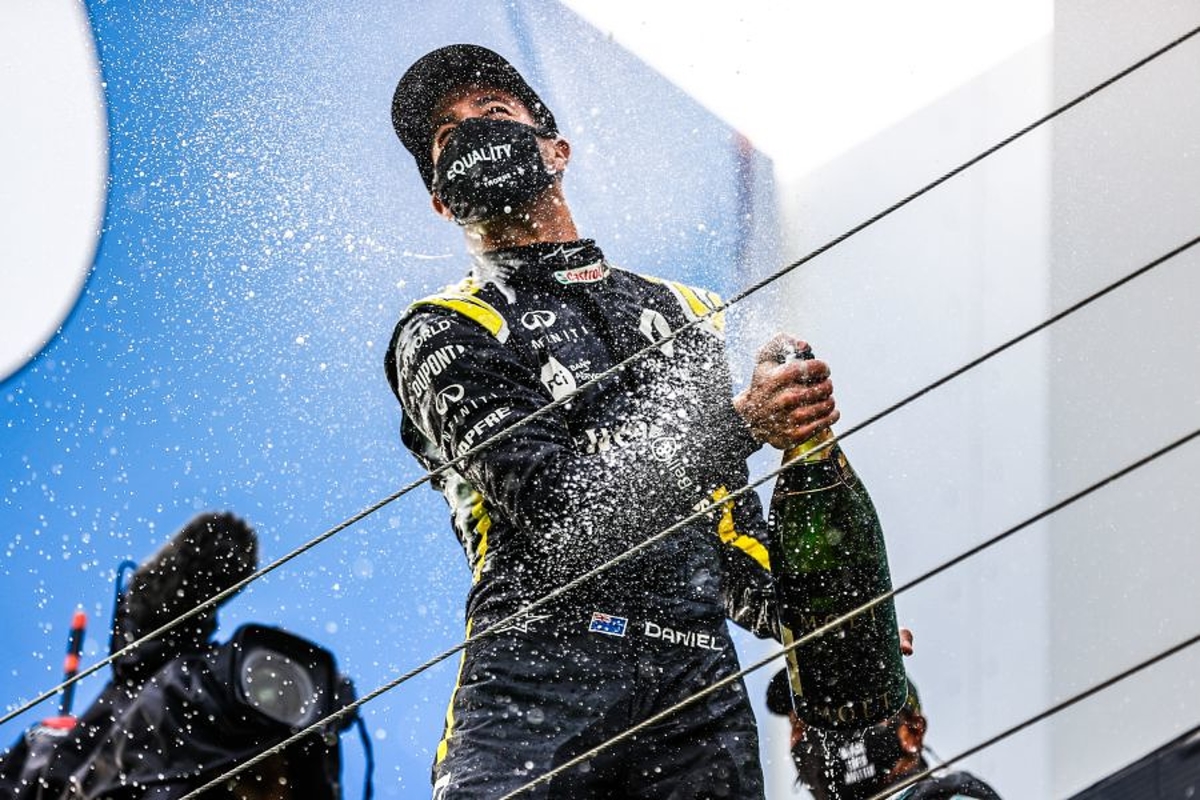 Masterstroke or mistake - did Ricciardo jump too soon?
Masterstroke or mistake - did Ricciardo jump too soon?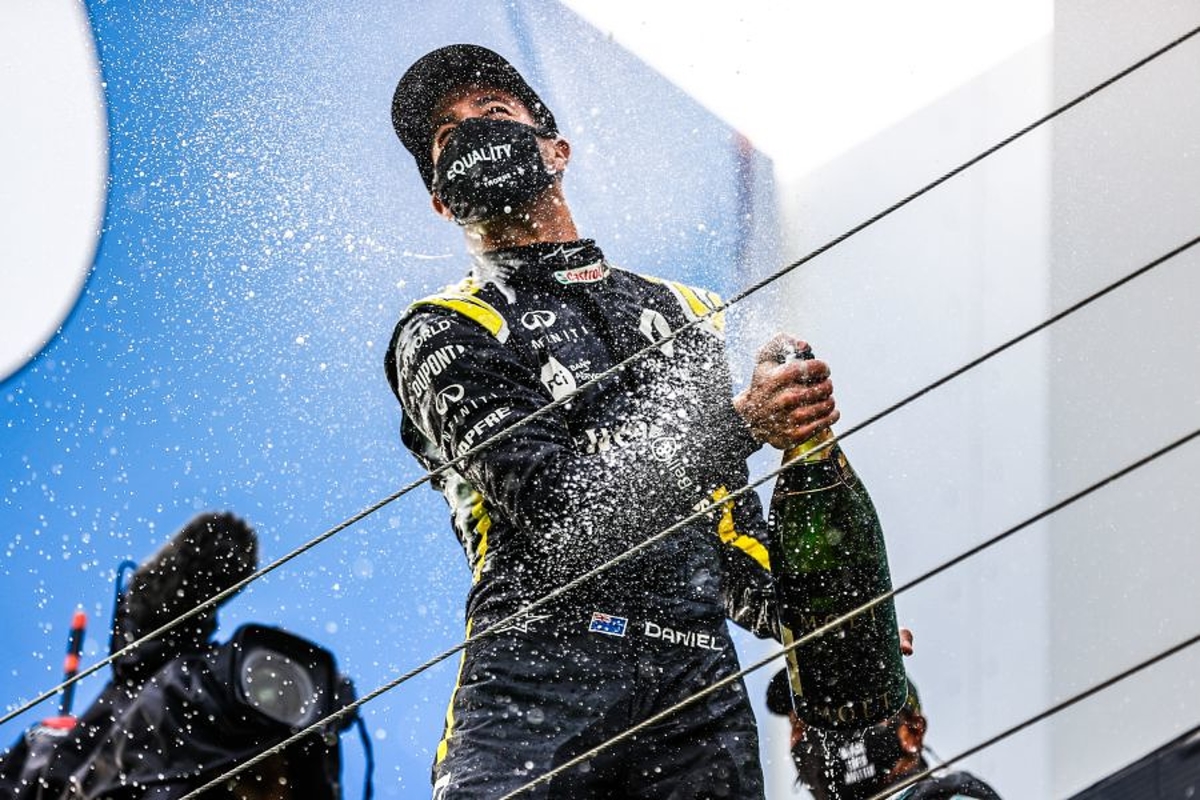 Daniel Ricciardo made the bold decision to switch from Renault to McLaren for next year before a wheel had turned this season but with the gradual improvement at his current team, did the Australian jump ship too early?
Ricciardo has already described his decision as bittersweet and it is possible this is how the champagne tasted as he looked down from Sunday's Eifel Grand Prix podium at his mechanics after finishing third, knowing he will switch allegiances in six races' time.
The Australian, who had waited 47 races and more than 28 months to again claim a top-three finish since his victory in the 2018 Monaco Grand Prix, benefitted from the retirement of Valtteri Bottas and a late safety car period to fend off the attentions of Sergio Perez in the latter stages at the Nürburgring.
Renault currently sits fifth in the constructors' standings, behind Racing Point and McLaren in the midfield battle for third, and with just six points separating the trio of teams.
The French manufacturer has shown consistent pace across recent grands prix, with Ricciardo only outscored by Mercedes drivers Lewis Hamilton and Valtteri Bottas across the last five races.
The question now is whether Ricciardo is leaving at the wrong time, or was his call earlier this year a stroke of genius?
Making good on a promise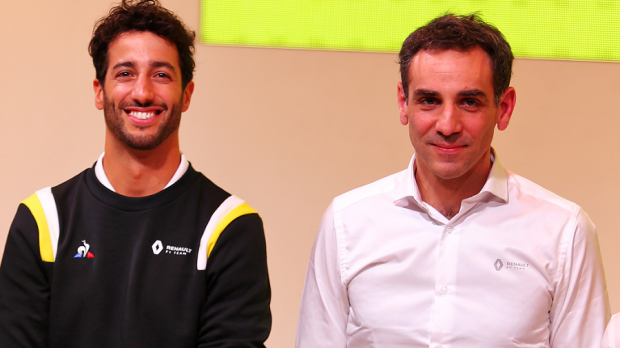 In 2018 it appeared inevitable Ricciardo's Red Bull contract would be extended.
The announcement of his departure to Renault, however, proved a bombshell, catching even Red Bull team principal Christian Horner by surprise.
Accusations were made at the time that Ricciardo was running away from a fight with up-and-coming superstar Max Verstappen and that he was swapping a quicker team for a bigger pay cheque.
Ricciardo's explanation was he simply needed a change of scenery after spending his entire professional racing career with Red Bull.
Upon joining Renault, he made no secret of his ambition for the team, stating he expected to stand on the podium in the second year of his contract.
But after seemingly feeling disillusioned following a tough first year with the team, Ricciardo made the decision during lockdown to move again, this time to midfield rivals McLaren for 2021.
But Ricciardo has remained committed to the Renault cause across the season and, ahead of the Eifel GP, had come close to breaking his and the team's podium drought on a few occasions.
With the added motivation of a much-discussed tattoo wager with team boss Cyril Abiteboul, Ricciardo finished fourth at Silverstone, Spa Francorchamps and Mugello, before finally completing his mission in Germany.
So, leaving at the right or wrong time?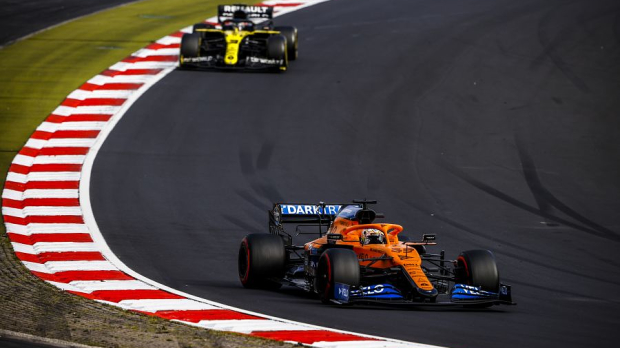 Helped by the nosedive Ferrari has taken in 2020, Ricciardo is currently fourth in the drivers' standings, which if retained by the season's end would be an improvement on his final two seasons at Red Bull as he was fifth and sixth respectively.
Renault's performance has understandably caught the eye of McLaren team principal Andreas Seidl, who claims the French team has jumped ahead by one or two-tenths. This may be good news for Ricciardo now, but possibly not so much for the future.
McLaren, however, is in the midst of completing a major aerodynamic upgrade and is gradually introducing parts, with the true benefits yet to be seen.
The team will also switch power unit supplier to Mercedes for next year. In their 20 seasons together between 1995 and 2014, McLaren claimed three drivers' titles and one constructors' crown, finishing second seven times.
Given the size of the gap between Mercedes, Red Bull and the chasing pack, Seidl concedes it would be unrealistic to suggest McLaren could again win races in the near future.
But with the 2022 regulation changes coming, now may be the moment to make a bold change.
What does the man himself think?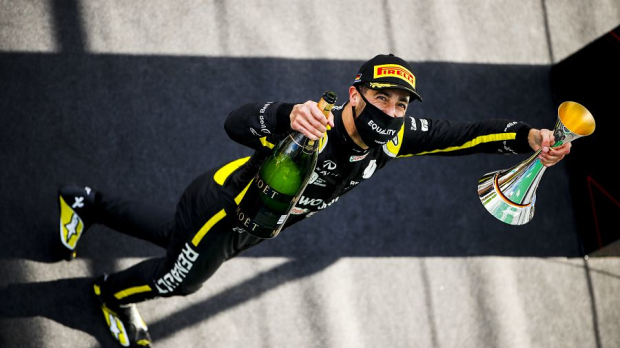 Prior to standing on the podium at the Nürburgring, Ricciardo had insisted he was relaxed over his decision despite the progress of his current team.
"It's obviously no disrespect to Renault and where I currently am, but no, I don't regret it," said Ricciardo.
"Am I happy to see us progress? Absolutely. All well and good, if it means we've got Renault as a competitor next year to push McLaren further then I think it's good for everyone.
"So I'm not regretting it, but I'm also not unhappy with the progress. I want to be racing at the front."
Only time will tell whether Ricciardo jumped too soon but, in the light of the recent form of both outfits, Renault does appear to be the stronger prospect.
Short-term form, however, is no guarantee of long-term success and, with the 2022 regulations a change that could potentially turn the order on its head, if there was ever a time to gamble, this is it.
Comparing the prospects for next season though, yes, it could be said the Australian has pulled the trigger a fraction too early.
Before you go...
Red Bull set end-of-year deadline for power unit decision
No pangs of envy from Russell despite edging closer to unwanted F1 record