Formula E boss Alejandro Agag says that seeing Ferrari in Formula E would be "a great fight", and that they have "an open invitation" to the series.
Since its inaugural race in 2014 FE has risen in popularity both with fans and automakers, with many making the move to the Formula for both the racing and learnings for road cars. Far from appealing only to those already in the competition, it's managed to entice manufacturers from other series to join, with Mercedes closing its DTM programme to focus on Formula E.
Ferrari, meanwhile, have so far remained reasonably quiet on the series, with former CEO Sergio Marchionne commenting before his death that the Scuderia had "not given up on the idea of potentially one day entering".
Formula E boss Agag has stressed that the series is always open to Ferrari should they want to enter, however.
"I would love Ferrari to come, especially with Porsche and all the others here, it would be a great fight," Agag told CNBC. "You know let's see. It's an open invitation.
"You will always have the niche of ultra-high powerful cars that will be able to run fast and I think Ferrari definitely is that. Ferrari would never limit the top speed of their cars, but they will have to adapt in the future to whatever the landscape is and of course, I think the landscape is electric."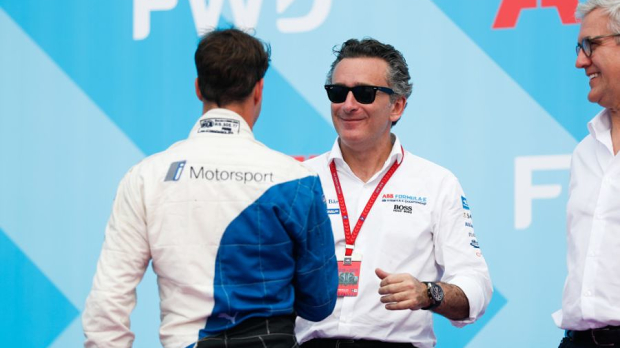 Whilst Ferrari have yet to release a completely electric car, they have announced they will be launching a new hybrid car at the end of the month, signaling that even Maranello is looking towards an electric future.
Turning his attention to another F1 stalwart – Bernie Ecclestone – Agag said that whilst he would welcome the former Formula 1 boss as an investor, he doesn't think the series is "there yet" as there is a lot more room for the series to grow.
"Bernie obviously is a genius," he said of Ecclestone.
"He created Formula 1 as it is today and he has a great vision of the whole map of motorsport and for him to say something like that I think is a great testimony for Formula E.
"Obviously I would welcome Bernie as an investor anytime, but we're not there yet. I think in general there can be very rapid growth in front of Formula E, but also simply because we are a lot smaller. So we have a lot more room to grow, because Formula 1 is bigger."