Lewis Hamilton conceded that whilst team-mate Valtteri Bottas "deserved the win" in the Azerbaijan Grand Prix, he "basically gave him" it at turn one by not being aggressive enough.
Polesitter Bottas made comparatively slow start to second-placed Hamilton and, with Hamilton on the inside line heading into the first corner, the two came close to contact.
This continued through to the second corner, where Hamilton – again on the inside line – ended up behind Bottas on exit, a place where he stayed for the remainder of the race.
This defence seemed soft for the notoriously aggressive Hamilton, particularly as he had the inside line for both corners.
It was something Hamilton admitted to when speaking with Sky Sports after the race, claiming that whilst Bottas had made "no mistakes" and "drove a fantastic race", he essentially handed Bottas the win by being "too friendly" in the first corner.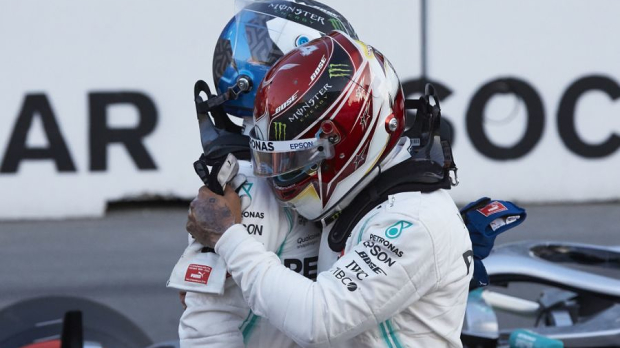 "This is not our strongest race in the season, this has always been a bit of a difficult race for me, so this is a really good result considering, and a fantastic result for the team," he said.
"Valtteri did an exceptional job this weekend, truly deserved the win. I'll say a bit of an under par performance from myself, so I need to work hard.
"I didn't get the job done in qualifying, [Valtteri] did. In the race, I was too friendly at turn one and basically gave it to him, but he drove a fantastic race make no mistakes, so he deserved the win this weekend."