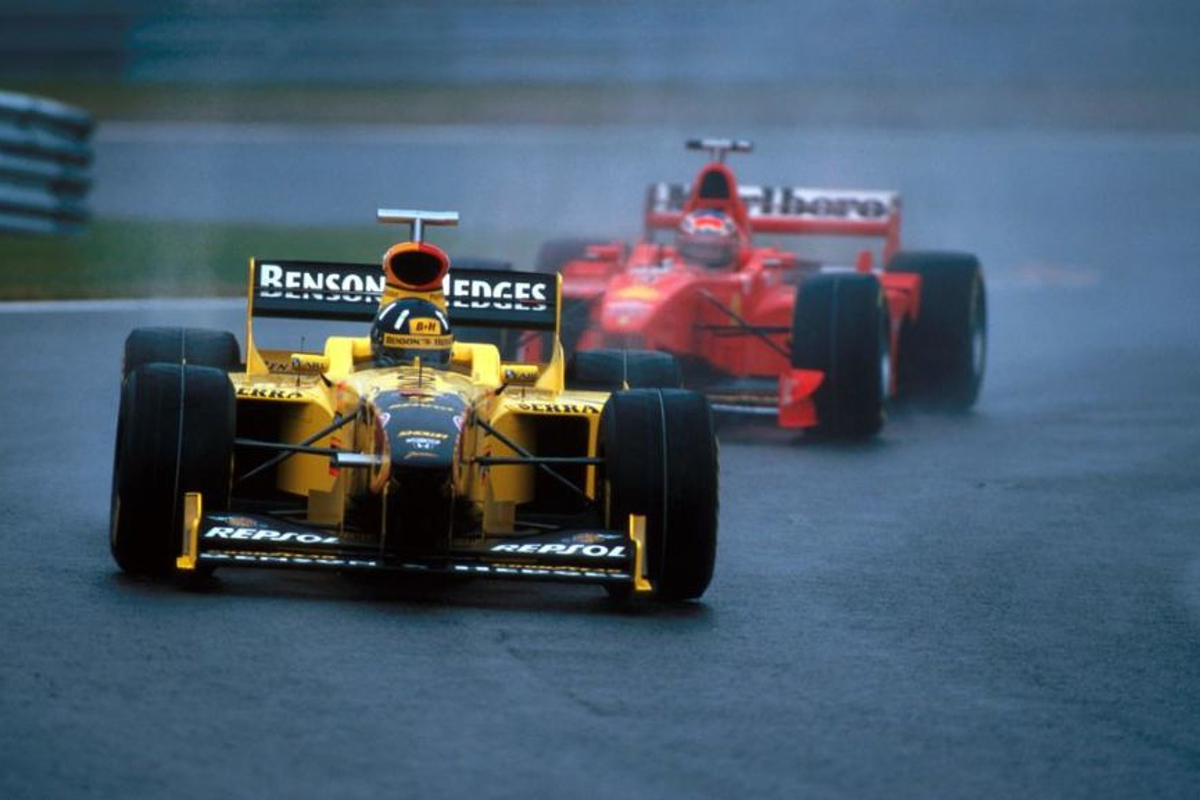 F1 1000: Schumi's fury, Hill's wet win - GPFans' favourite races
F1 1000: Schumi's fury, Hill's wet win - GPFans' favourite races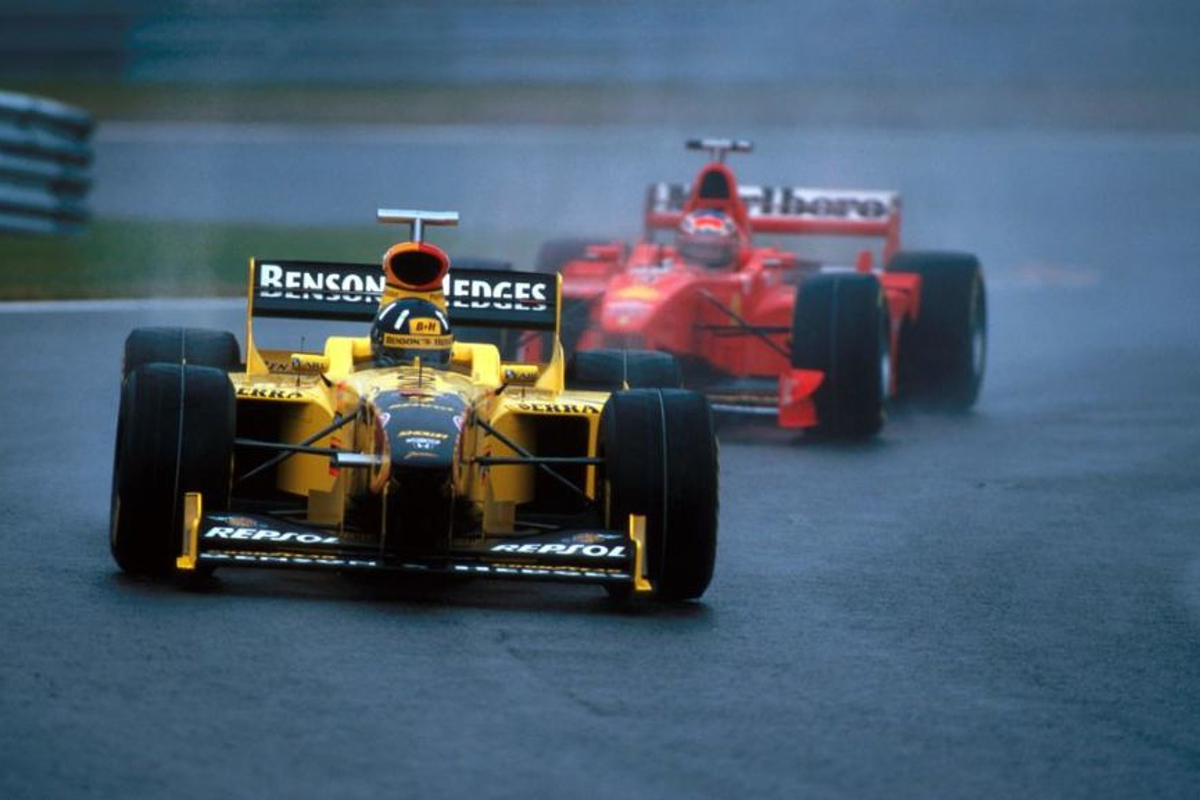 As Formula 1 reaches its 1000th race at the Chinese Grand Prix, GPFans' writers are looking back through the previous 999 to find their favourites. It's Rob Watts' turn to select his most-loved race, with one of the craziest in F1 history getting the treatment.
When asked to choose a race from Formula 1's 69-year history that meant something particularly special to me, it was a very easy decision to make.
The 1998 Belgian Grand Prix encapsulates everything that was exciting about F1 when I first began watching as a young boy. It was the autumn of 1998 and I would have been 14 at the time, and in my second full season of being totally and utterly hooked on F1.
Just two years previously, my interest in motor racing had been sparked by Damon Hill winning the F1 world championship in Japan, and as this race ended up being his 22nd and final grand prix win, it holds particular significance for me.
As a journalist, you're not really supposed to show favouritism to any one driver or team, but I can say with certainty that Damon Hill was, is, and always will be my hero. This may not be the most dominant or the most impressive win of his F1 career, but in my eyes, it was one of his most emotional and still gives me goosebumps to this day.
Setting aside my own personal feeling towards Damon for a moment, I believe this race had everything a true F1 fan could possibly desire. A wet race around Spa, one of the most challenging circuits on the calendar, has always been a spectacle, and on this particular day it served up one of the most dramatic and mesmerising races I've ever seen.
The scale of highlights from this race make re-watching vital, but I'm going to focus two iconic moments, both of which were enhanced by some truly special commentary from the magnificent Murray Walker.
We'll fast forward to lap 25, just beyond half distance, at which point Michael Schumacher held a 40-second lead over the Jordan car of Hill and looked destined to secure the win with his main title rivals out of the running.
While Schumacher was in the midst of a tense championship fight with the McLaren pair of Mika Hakkinen and David Coulthard, Hill was in his first season at Jordan and had scored just six points prior to that weekend as his new team suffered a horrid start to the year.
A podium finish would be crucial for Hill and Jordan, while Schumacher had a different target in mind.
Hakkinen was eliminated on the first lap of the race's restart after a wild first attempt to go racing ended in chaos, and Coulthard had to recover through the field after a first-lap collision of his own, meaning Schumacher knew he would take the championship lead for the first time that season with a win.
As he came up to lap Coulthard on the downhill straight towards Pouhon, the German briefly lost sight in the dense spray, ploughing violently into the back of the slowing McLaren and sending his front-right wheel flying through the air.
Murray Walker was caught off guard by the impact, loudly yelling "Oh God!" as probably myself and many other fans watching around the world did.
He continued at full voice: "Michael Schumacher hits David Coulthard and is out of the Belgian Grand Prix!"
But the drama did not end there. As Coulthard and Schumacher limped back to the pits, the latter memorably doing so on three wheels, there was to be an angry confrontation between the pair as Schumacher, incensed and believing Coulthard had intentionally caused the impact, went marching towards the McLaren garage to voice his disgust.
The pair were dragged apart by members of their respective teams, and while Coulthard was cleared of having brake-tested Schumacher, the pair's rivalry intensified significantly as a result of the incident.
It was pure drama, and as a newcomer to F1 I was on the edge of my seat!
My second memory, and one which still gets my adrenaline pumping to this day, is the tense climax to the race that followed and the memorable commentary that accompanied it.
It soon became clear following Schumacher's retirement that Jordan were heading toward their first ever Grand Prix win but also potentially also a remarkable and historic 1-2 finish.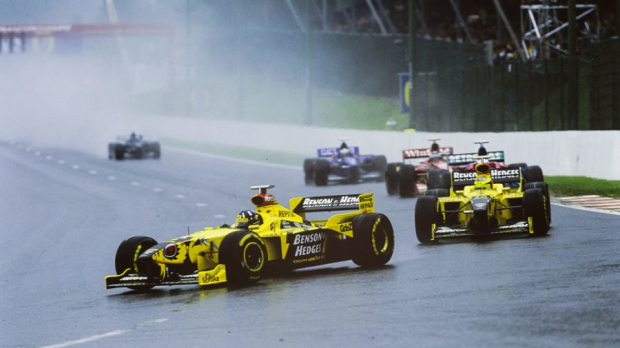 Hill, the senior driver in the team and a world champion just two years prior, had led much of the race but was coming under increasing pressure from team-mate Ralf Schumacher, the younger brother of Hill's long-time rival Michael.
As it happened, the Jordan team were being filmed that season for a behind-the-scenes documentary to be shown later that year on ITV.
As Ralf began to eat into Hill's lead, the footage brilliantly captures the tension within the garage as Hill's abrupt radio message made clear to the team was at stake if the pair were left to fight on track.
"I'm going to put something to you here, and I think you'd better listen to this," Hill said sternly. "If we race, if we two race, we could end up with nothing, so it's up to Eddie (Jordan).
"We've got an opportunity to get a first and second, it's your choice."
What the documentary shows that wasn't played live on air at the time, is the radio instructions sent to Ralf, instructing him to hold station.
Having already told the team of his desire to leave at the end of the year, the team may have been forgiven for thinking their young charger might ignore the order.
'I told Schumacher: F*** off out of my garage!'Eddie Jordan's afternoon in Belgium was intense!Read more
"Ralf, you cannot overtake Damon. That is a team order," came the call.
As all this was playing out on the Jordan pitwall, Walker continued to ramp up the tension, sensing that the whole of the country were probably now anxiously anticipating a win for their home hero.
"Three laps remaining, and if you haven't got your heart in your mouth, you jolly well should have!" Walker says excitedly.
As the chequered flag nears, the emotion can be heard in Walker's voice and his commentary brilliantly captures the magnitude of what was happening on-track.
"He is in the lead. Into the bus stop, he's yards away from the finish," says Walker, calling the moment beautifully. "....and Damon Hill wins in Belgium, faaaaantastic!"
To this day, I've not yet witnessed a race that encapsulated all of what I loved about this sport in the way the 1998 Belgian Grand Prix did.
It was dramatic, unpredictable, at times unbelievable, and for Hill and Jordan, it was a truly historic victory for F1's most colourful team.
If you'll excuse me, I think I'll go and watch it again!