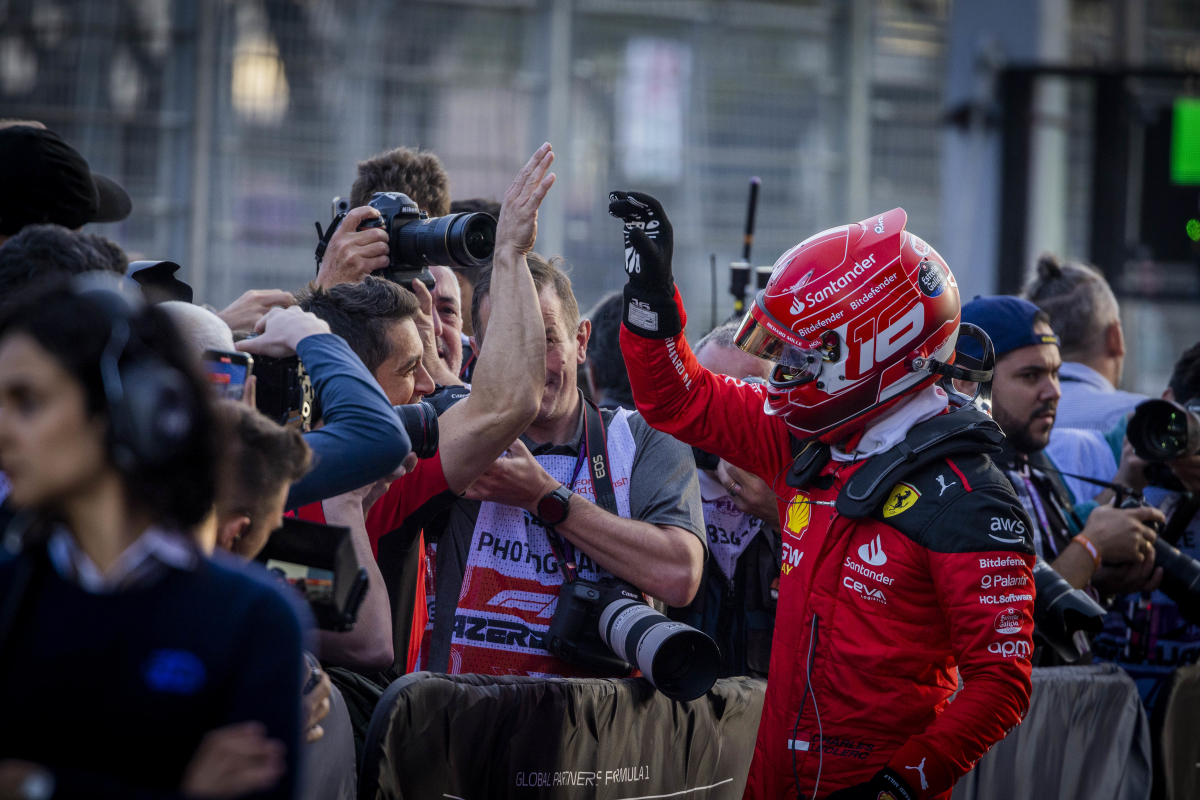 ANALYSIS: Data reveals EXACTLY how Leclerc secured shock Azerbaijan pole
ANALYSIS: Data reveals EXACTLY how Leclerc secured shock Azerbaijan pole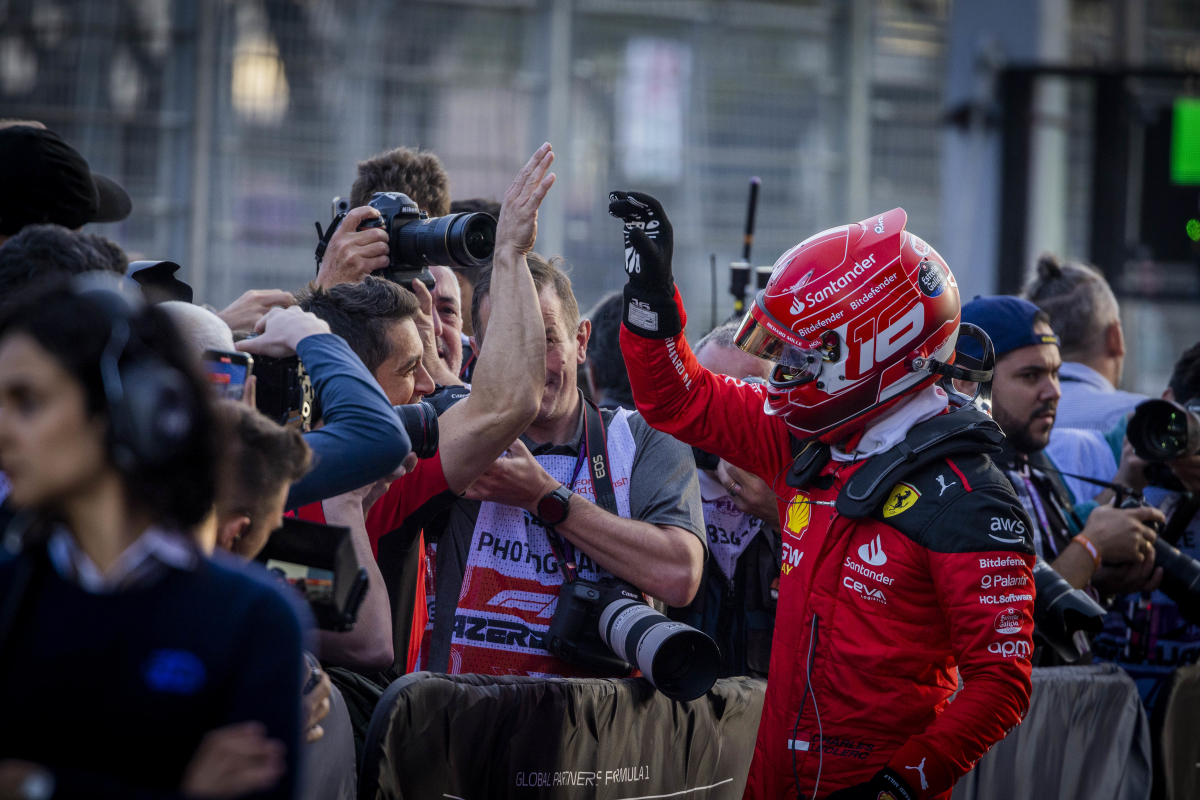 Charles Leclerc pulled out a sensational and brave lap to put his car in pole position for the third time around the streets of Baku.
What made the Ferrari suddenly competitive against Red Bull, and dominant over Mercedes and Aston Martin? Let's dive into the data to figure out how Leclerc lit up the streets of Baku.
LEC vs VER (0.188 sec)
The strength of the Ferrari was in all of the traction zones, i.e. Leclerc was able to maximise all his exits compared to Max Verstappen.
The first sector was evenly matched, with 0.053sec separating the two drivers, but it was in the second where Leclerc made all the lap time – gaining 0.256sec over the reigning champion. The Monegasque pulled off a really brave turn 12, in which he got onto the throttle earlier than anybody else, carrying impressive speed through the exit of that corner which helps him gain around three tenths up to turn 15.
He nailed turn 15 too, being able to be earlier on traction, which gave him another tenth. The high Red Bull efficiency then made up for lost time on the straights in the final sector, pulling back 0.121sec.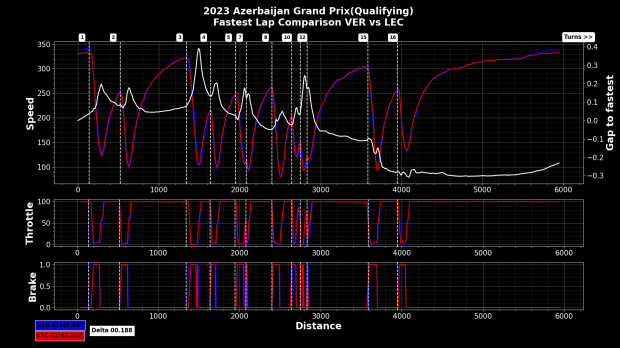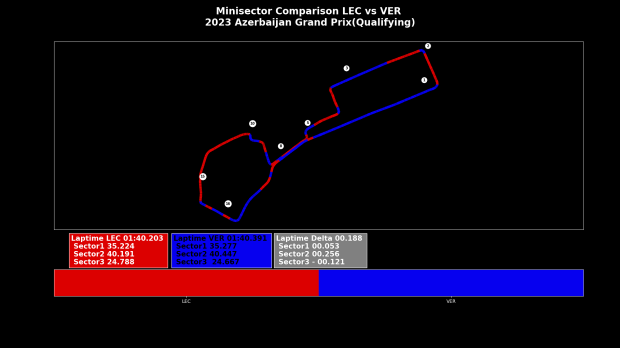 LEC vs HAM vs ALO (~1 sec)
The Ferrari outclassed Mercedes and Aston Martin throughout the entire lap.
Straights, low-speed corners, braking and traction, name it and the Ferraris were faster, gaining lap time throughout the entire lap.
Leclerc gained approximately 0.5sec in both of the first two sectors against both Lewis Hamilton and Fernando Alonso. Particularly in turns 4-5, 12-13 and 15-16, the Ferrari man was able to gain about 0.2 sec over both teams in each of those corners due to his confidence in being earlier on the throttle.
The top speeds at the end of the straights for both Hamilton and Leclerc were pretty neck and neck while the Ferrari – being more efficient – further gained lap time on the straights against the Aston Martin.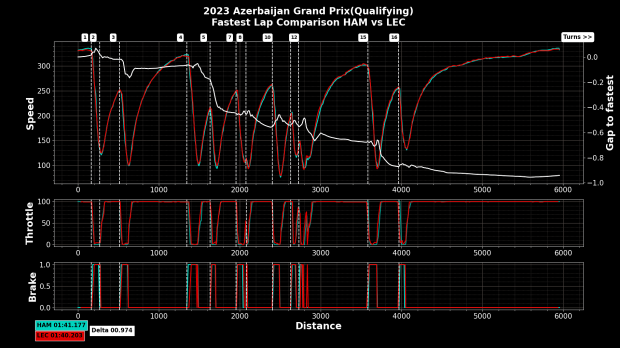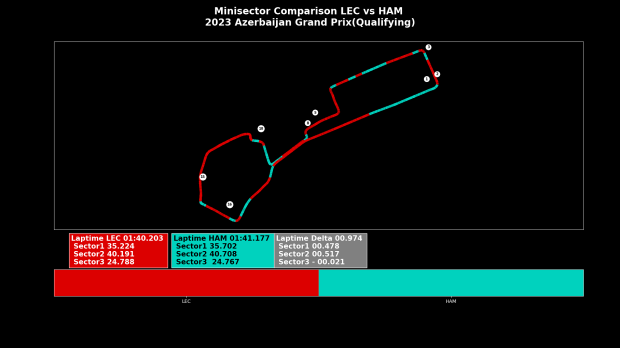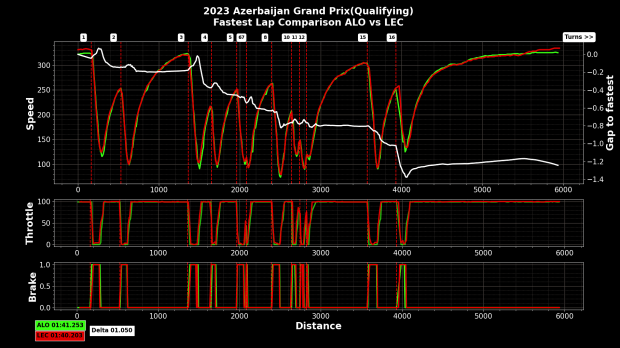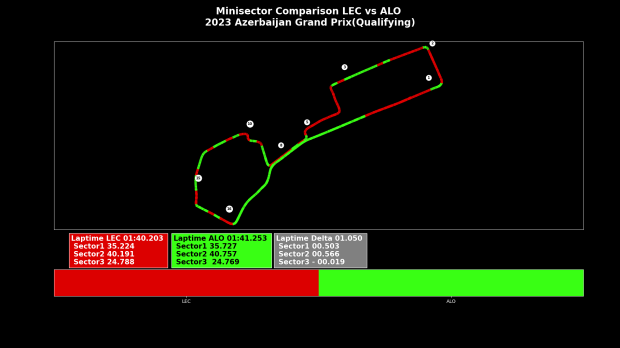 HAM vs ALO (0.076 sec) Both the Mercedes and Aston Martin were equally matched throughout the lap in all three sectors, with less than a tenth between them.
Mercedes was running a medium downforce package compared to Aston's low downforce rear wing, which shows Mercedes has slightly better aero efficiency than Aston even with the latter's new rear wing update. This might help them in the race with tyre management.
Mercedes has better top speed than Aston Martin, which might become a factor in the race.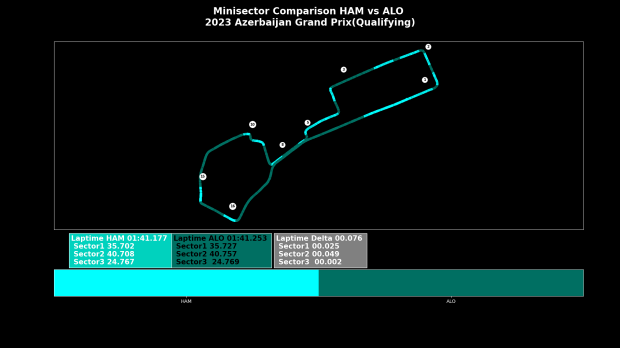 Top speed tidbits
Red Bull led the grid in terms of top speed, followed by Williams.
Red Bull had a 5-6 km/h speed advantage over Ferrari.
Aston Martin looked the slowest of the grid in top speed, with Stroll also facing DRS issues.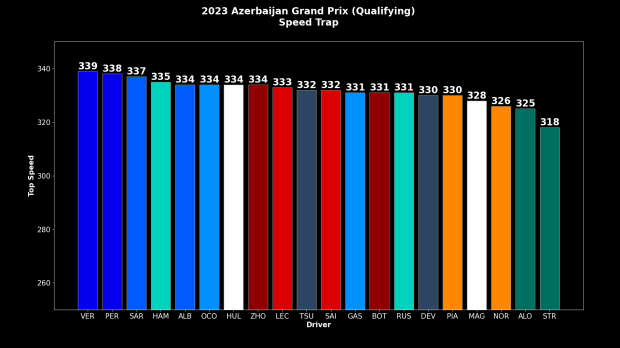 READ MORE: F1 Race Engineers: The stars of team radio with Hamilton, Verstappen and co