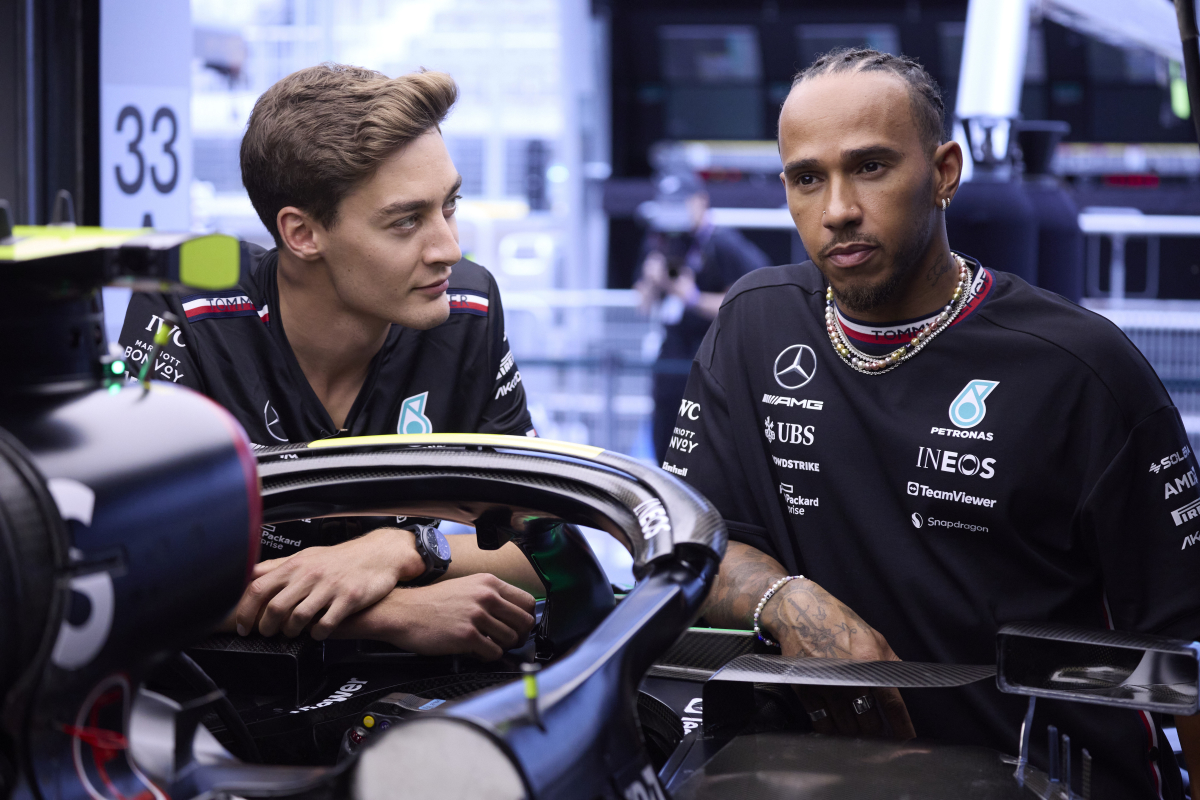 F1 aero expert explains how Mercedes upgrades strengthened WEAK point
F1 aero expert explains how Mercedes upgrades strengthened WEAK point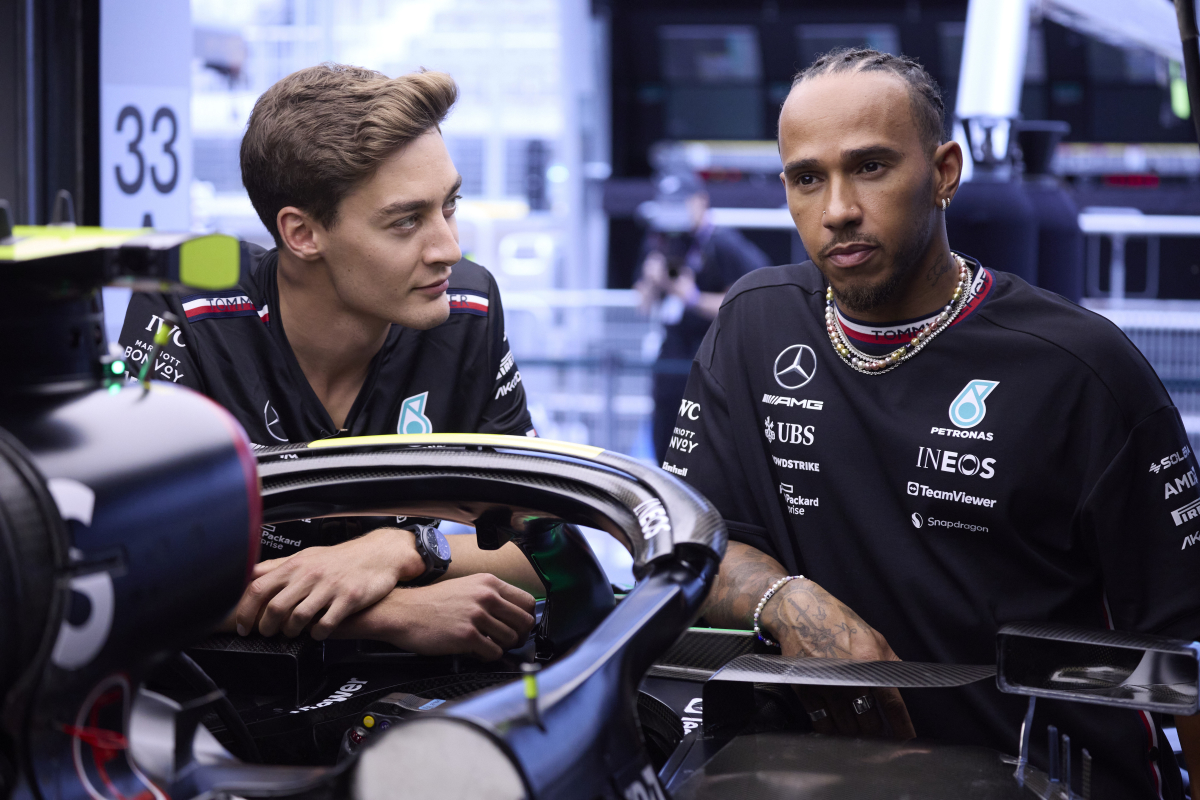 With their pole in Hungary, Mercedes had established themselves to be strong contenders on low to medium speed tracks. However, their high-speed and top-speed performance remained a question mark after poor performances at Silverstone.
Coming into the Belgian GP, the team brought a raft of significant updates on the sidepods which definitely improved their competitiveness around power-sensitive tracks; which had not been the strength of the W14. In this article, let us analyse the upgrades Mercedes brought before the summer break.
Intake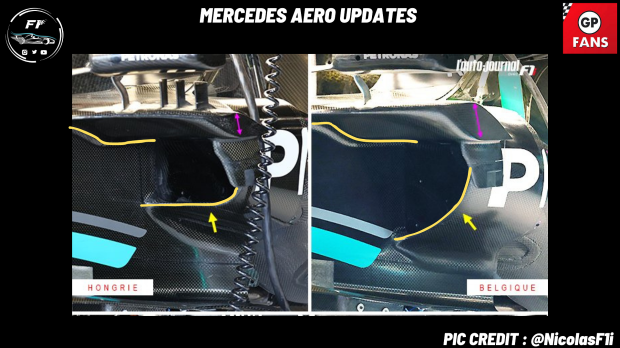 Mercedes have introduced a revised version of their radiator intakes. The intake lip now sits lower down and is more 'arc'-like design rather than a 'boxy' design which helps them change their cooling requirements and definitely is targeted towards managing the front wheel wake more effectively in yaw at high speeds.
Making the inlet area larger has also allowed them to have a smaller number of exit louvres on top of the engine cover for the same cooling. This improves the flow delivery to the rear of the car, especially on the rear wing, thus potentially helping in a drag reduction.
Sidepods
The sidepods are now down-washing, featuring a waterslide-style geometry that was introduced by Aston Martin early this season.
As discussed in other feature articles, this waterslide helps deliver airflow more consistently to the rear end of the car across a range of ride height, yaw and roll conditions and ensures the consistency of rear-end downforce, something that Mercedes have been struggling with this season.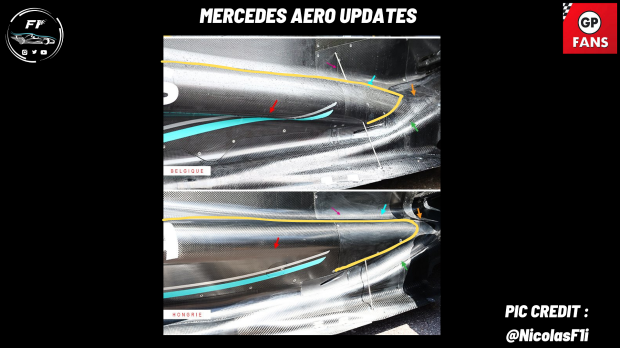 The side area of the sidepod is sculpted to remove volume and make the packaging more compact. This allows more volume for air to specifically be fed through the undercut into the diffuser.
This is a design feature that was led by Red Bull and is slowly being adopted by other teams, as they realise that this aero philosophy is key to extracting maximum performance of the diffusers.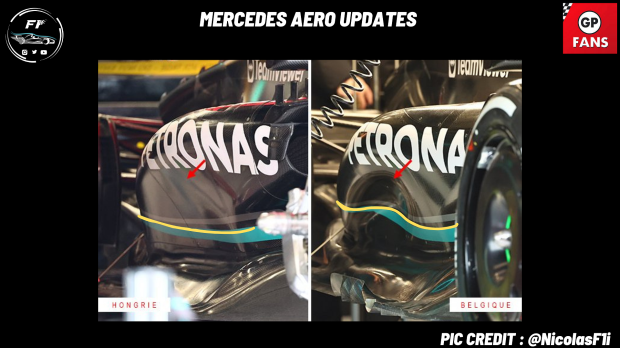 Floor Edge
The floor edge geometry is directly related to the change in sidepod curvature. We can see a change in the number of vortex generators present.
While we expect Mercedes to have taken the opportunity to make other small changes to the floor in this update, the focus on the floor edge that we can see is to improve flow extraction from the front floor which is responsible for front floor downforce and the strength of the vortex structures that govern floor performance.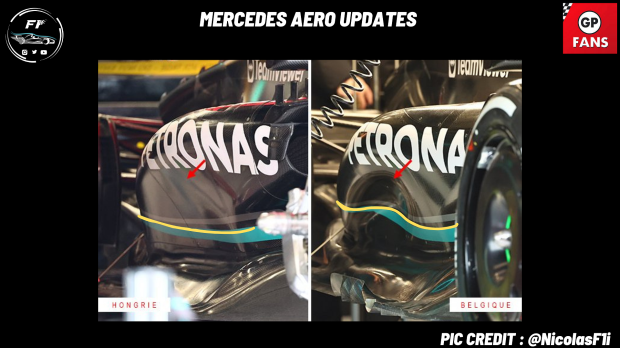 Rear Wing
Mercedes tried two different setups on their cars, with Hamilton trying out the new low drag rear wing and Russell sticking to an older spec of medium downforce level rear wing.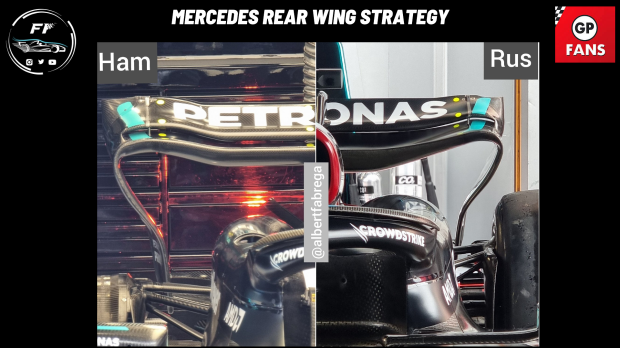 Shubham Sangodkar is a former F1 Aerodynamicist with a Masters in Racing Car Design specialising in F1 Aerodynamics and F1 Data Analysis. He also posts aerodynamics content on his YouTube channel, which can be found here.