Ferrari's thrashing at the hands of Mercedes, and even Max Verstappen's Red Bull, at the Australian Grand Prix caused scratching of heads across the Formula 1 world. Everything we had heard in pre-season, from the Scuderia and their rivals, suggested that Sebastian Vettel and Charles Leclerc might be untouchable in 2019.
So why wasn't that the case in Australia, and will it extend to Bahrain and beyond in 2019? Matt Scott examines why all may not be as it seems…
Ferrari's Melbourne meltdown explained
On the face of it, things couldn't have been much worse for the red cars in Australia.
They were split by a Red Bull-Honda still developing in qualifying, while Vettel could not get within half a second even of either Mercedes.
Ferrari's big strength, which helped them run Mercedes close, last season was drive coming out of corners – thought to have been grounded in the discovery of unique methods of deploying power.
This is effectively neutered on Melbourne's track, which features some of the shortest straights on the F1 calendar, meaning Ferrari's power boost is curtailed before it can really kick in.
It was a similar story last year: Vettel qualified more than six tenths adrift of Hamilton's pole lap, but the man between him and the Mercedes star was not in silver, it was Ferrari teammate Kimi Raikkonen.
With Valtteri Bottas displaced due to a quali crash, Ferrari held a slight strategic advantage, which played out as Mercedes blundered under the Virtual Safety Car.
This year, Vettel's attempt at undercutting Mercedes was doused by Hamilton and Bottas streaked clear to consolidate the win.
Following this, with tyres that could never be pushed across the remaining 44 laps, Vettel's goose was cooked and he had no answer to Verstappen on lap 31 as the Red Bull soared beyond him into Turn 3 with the aid of DRS.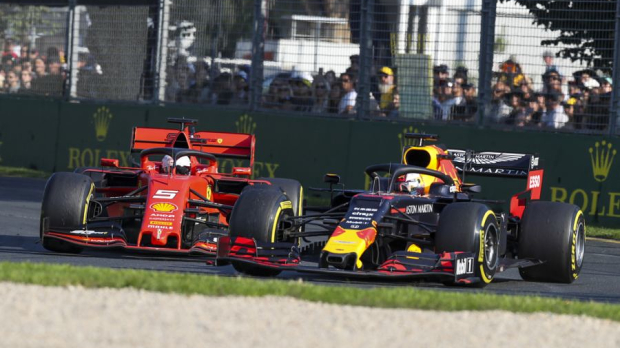 On-board footage of Vettel following this show he spent much of the second half of the race with his power unit in safe mode and using liberal application of lift-and-coast into corners, going some way to explaining his near-minute deficit at the chequered flag to Bottas, who chased and secured the fastest lap of the race after toing-and-froing with Verstappen for the bonus point.
Why Bahrain will be different
Ferrari's bullishness came from their performance during pre-season testing, which saw them routinely topping timesheets in the first few days of the test, before setting lap times on harder tyres that their rivals were simply incapable of matching.
This ensured that Ferrari's advantage was perhaps not shown directly on the timesheets, but their rivals weren't fooled.
Sure, Mercedes' prediction of entering 2019 needing to make up half a second per lap to the red cars was fanciful, but considering Red Bull have no real reason to play mind games with Maranello, their expectations that Ferrari would lead the pack seem much more reasonable.
The face-slappingly most obvious sign that next weekend's race will pass differently comes as you look back to last year's Bahrain GP.
Vettel won from pole, and would have likely been joined on the podium by Raikkonen if not for a botched pit-stop which ended the Finn's race and left a mechanic with a broken leg.
Making soft tyres last way beyond their expected lifetime was key to Vettel holding off Bottas at the last, but his initial pace had been strong enough to give Ferrari the cushion required to make the decision to keep the German out as Mercedes tried to turn the screws with more conventional one-stop strategies.
While that was then, and this is now. There are also signs that Ferrari can expect – at least – to be more competitive again.
The Sakhir International Circuit shares many characteristics with Barcelona, scene of dominant pre-season performances for Ferrari of course.
Indeed, with more straights than the Circuit de Catalunya, and longer ones to boot, Bahrain could play more into the hands of the SF90, if it is as potent in a straight line as its predecessor.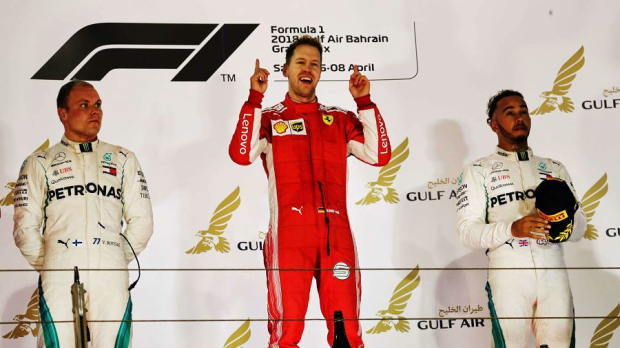 Simple history also tells us that Bahrain is one of the tracks that Mercedes have been unable to dominate quite so much in their all-conquering reign over the V6 Hybrid era.
Bahrain is one of just eight circuits to see two or more non-Mercedes victories since 2014, thanks to Vettel's victories here in each of the past two years – of those eight, only Hungary and Malaysia have seen the Silver Arrows fail to in three times.
Although Mercedes won in Australia last weekend after two years off the top step of the podium, both of those Melbourne victories were secured in the pit-lane, while Vettel's 2017 Bahrain win was mostly down to performance – much like last year's certainly was.
Fans who were expecting a proper title race in 2019 needn't fear just yet.